Fulcrum partners with Chargepoint to drive forward UK's EV ambitions
Fulcrum has entered into a partnership agreement with Chargepoint, a leading electric vehicle (EV) charging network, to drive forward the UK's electric vehicle ambitions.
15th May 2018 by Networks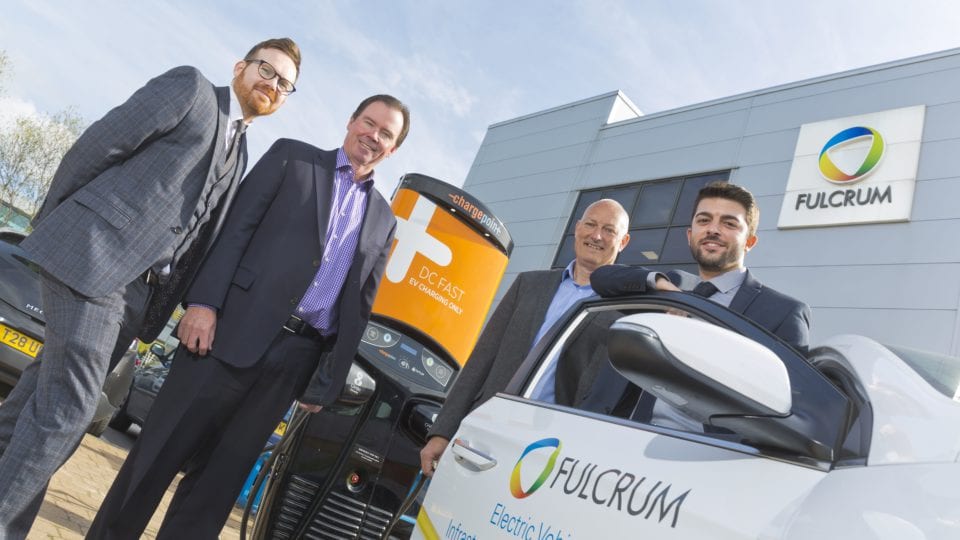 With a European headquarters in Amsterdam, ChargePoint, which has a 70% share of the North American EV charging solutions market, expanded into the UK and Europe in 2017 and now offers a full portfolio of charging solutions and broadening its services for nearly every charging scenario. ChargePoint is now engaging with Fulcrum to deliver an end-to-end service for commercial and residential development customers.
After announcing its entrance to the electric vehicle charging market in late 2017, this new partnership with ChargePoint is a natural next step for Fulcrum. Having made early progress through the successful installation of electrical connections for several EV charging projects across the UK, Fulcrum is expanding its service capabilities through the partnership.
Fulcrum will actively market its holistic EV infrastructure service, including the supply and installation of EV charging stations, with Fulcrum designing, installing and owning the necessary electrical infrastructure. Fulcrum will also become a ChargePoint recommended infrastructure provider to support ChargePoint's operations in the UK.
The partnership will also help overcome the existing challenges of installing EV charging stations, such as dealing with multiple parties. ChargePoint's decade of industry expertise, combined with Fulcrum's capabilities and licence to own and adopt electrical infrastructure will also speed up the installation process.
The electric vehicle market, and the associated supply chain, is expected to grow rapidly over the coming years as the UK Government and public continue to embrace the quickly developing technology. In the 2017 Budget, the Chancellor, Phillip Hammond, pledged to create a £400m fund for a national charging network and subsidies for vehicle purchases.
Martin Harrison, CEO of Fulcrum, said: "We are at the beginning of what is a rapid expansion in the uptake of electric vehicles, with car manufacturers and governments across the world placing an emphasis on developing the technology and associated infrastructure.
"The installation and management of EV charging points is a natural development for Fulcrum, building on our utility infrastructure expertise to enter this exciting new market that has the potential to change the face of transport. Thanks to our partnership with ChargePoint, Fulcrum will be at the forefront of this growing technology.
"ChargePoint is already a market leader in North America, providing innovative technology and payment options for the public and businesses, taking electric vehicles from being a rarity into a widely-available and truly practical and eco-friendly transport solution. We are very much looking forward to working closely with ChargePoint to help drive forward this transport revolution."
Christopher Burghardt, managing director for Europe, ChargePoint, Inc. said: "With more than a decade of experience in the electric vehicle space and a quickly expanding presence in Europe, we are excited to partner with a forward-thinking company like Fulcrum to help accelerate the adoption of EV's in the UK and beyond."
"The United Kingdom is quickly becoming a mobility leader in Europe as the government moves to implement policies to support the adoption of EV's, businesses act to deploy charging, and customer demand reaches new heights. Fulcrum's position as a leading independent utility infrastructure and services businesses coupled with ChargePoint's technology leadership and deep expertise in the category, will help usher in a new era of electrified mobility in the UK."
---
Comments
Login on register to comment