Discovering data
Key figures from across the industry came together in Birmingham to debate how data could enable the transformation of the energy sector. Greg Pitcher reports.
11th April 2019 by Networks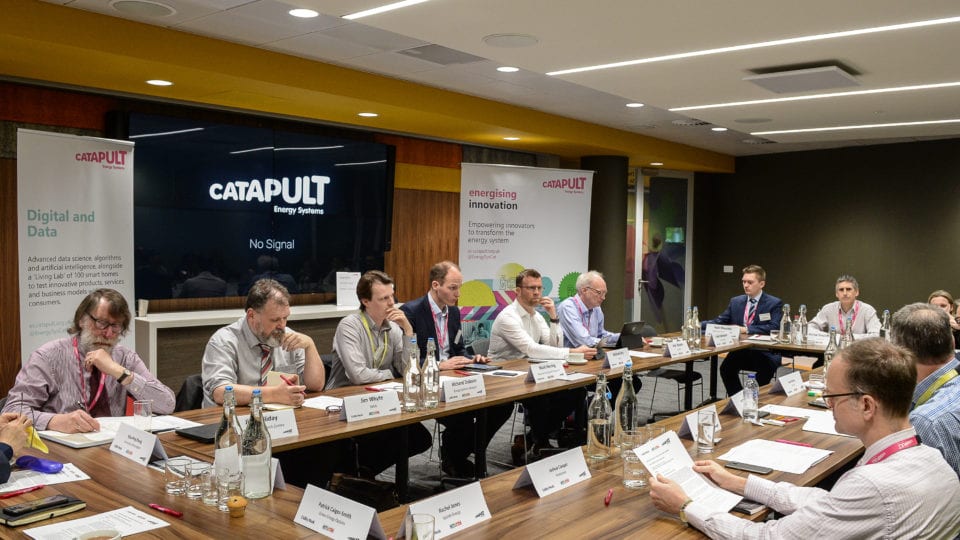 Data is such a buzzword in current business parlance that it is worth taking a moment to consider its true meaning. According to the Cambridge English dictionary, data is information collected to be considered to help decision making.
At a roundtable event – organised by Network and Utility Week in association with the Energy Systems Catapult – leading players from the sector came together for a thorough examination of the best way data could be used to transform the power network.
An anticipated increase in data generation is widely expected from networks.
"What does this data let you do?" asked one attendee. "Can we rethink the way we sell energy? Most of the research is looking at the way industries move to service-based models. Delivering value is giving a consumer what they want, not trying to make them understand what they've got."
There was agreement that considering the consumer was critical in using data to build a better energy network.
"We have to sell consumers a vision that we can sell them a greener world and reduced cost," said one. "We need buy-in to use the data."
One way in which consumers are turned off from energy providers is through devices that don't talk to each other, according to some voices. Cloud systems are not being designed to be interoperable, bemoaned one.
"We are ploughing on with our own systems doing things in different ways. Industry needs better a grip on how we use a common cloud-based platform for data collection."
Interoperability is key
The second set of Smart Metering Equipment Technical Specifications – known as SMETS2 – came in for a hard time, referred to by one attendee as "disastrous".
But another warned that leaving the market to its own devices could "cause some issues later down the line. Interoperability is the right thing to do".
There was recognition that interoperability can mean different things depending on the context and viewpoint. "We need to understand what we're talking about. There is a lot of innovation coming. How do we talk about wires and pipes? How do we define the network?"
Energy Systems Catapult's living labs were suggested as a place to help innovators in the sector test new products. One attendee said the UK had better open access to data than in the US and Australia.
The issue of silos came up.
"Investors will only fund silos," warned one.
"The problem with silos is stopping us from attaining the full benefit of consumer behaviour," said another. "The longer we wait, the more entrenched silos will become. We have a lot of data on consumers, can we not build on that and understand the information we can give people to change behaviours?"
Data security reared its head not long into the discussion. Knowing laughter greeted the admission that now was a terrible time to be trying to get consumers to sign over data, given some of the negative headlines over hacking and sharing of personal information recently.
"We are trying to do something when there is bad press about data extraction. You can't overestimate that problem."
Another warned about public misconception.
"When smart meters came in, people thought the government would spy on them and burglars would target them – it's easier to sit outside a house than use smart meters for these purposes."
A plea was made for research and communication to overcome myths damaging the drive to collect more energy data from consumers. "Let's see if we can solve problems by unpicking trust issues."
One expert suggested the industry would never have the glamour of some online service providers that requested data from individuals.
But another said: "There is tremendous support for decarbonisation. We've just had the coldest February followed by the warmest. Giving access to your data is something people would buy into."
Another said: "One app on someone's phone could be for energy. The telecomms network is no more interesting than the energy network, it's the services at the end of it that lure people."
Another attendee said the industry should be working out how it can attract data to make decisions that don't require public input.
"People don't have the capacity to keep taking on more information. We are monkeys fumbling our way through the world."
Others said communication was critical to negotiating the data minefield and avoiding negative publicity in newspapers.
Driving change
When it came to talk of business models, there was a suggestion that the energy market makes it difficult for new entrants to shake up the status quo.
"We are still reliant on incumbents to drive innovation."
But elsewhere there was a suggestion that the environment was becoming more conducive to positive change.
"Ofgem and the government have been driving this. The consumer is starting to get the opportunity to do things with their meter."
Opportunities for new approaches were outlined.
"It's possible to imagine buying a car with free energy included. Those models are interesting challenges for existing providers," said one.
Another added: "We need to rip the plaster off and see true innovation come through."
As the meeting wrapped up, suggestions were thrown into the ring for measures to enable network transformation.
"The UK trajectory is positive," insisted one attendee. "We are in a revolution in how energy is distributed and consumed. It's like going from BT's fixed network to mobiles. It will get interesting."
But others called for more radical, urgent change.
"If I had access to all data I could want I still couldn't unlock the value until there was wholesale reform of the energy market. We need it to come quickly or innovators will disappear."
Warnings were sounded.
"There is a danger that we will be like squirrels with data hidden away in various places. We need a good metadata directory; secure storage in long term archives; decent documentation. Imagine coming back to data in 10 years' time, would you understand it?"
"Let's not be world class at getting ready," said another. "Let's get going now."
Data was widely seen as an enabler to transformation. "Where there is value there will be vested interests," said one. "We need to have society's best interests in mind rather than fighting among ourselves."
Views from the speakers:
"Trust is only an issue if you are selling trust because you don't have a value proposition. I don't trust Google with my data but I still give them it because they give me a valuable service in return. We need a value proposition to the consumer to change the dynamic."
Ian Rose, professional services director, Passiv Systems.
"This is about national infrastructure and we need leadership or we will have a long time discussing it with nothing happening. We need a focused working group to gather opinion and define which data sets are needed and how to get high quality data in order to support the energy transformation."
Xiao-Ping Zhang, director of smart grid, University of Birmingham.
"If you have a service that allows you to look at an elderly parent 1,000 miles away and make sure they are ok then I'm interested. I tell my mum to get a smart meter and permit me access to the data. Useful services like this will drive demand for smart meters from consumers."
Joshua Cooper, chief executive, Hildebrand.
"One in four of our customers say they don't want smart meters. They don't trust anybody with their data. We need to spend more of our budget on communication about the wider societal benefits of smart including our low carbon future."
Juliet Davenport, CEO, Good Energy.
---
Comments
Login on register to comment