National Grid accurately measures system inertia in 'world first'
National Grid and Reactive Technologies have achieved a "world first" by accurately measuring system inertia in real time.
6th October 2017 by Networks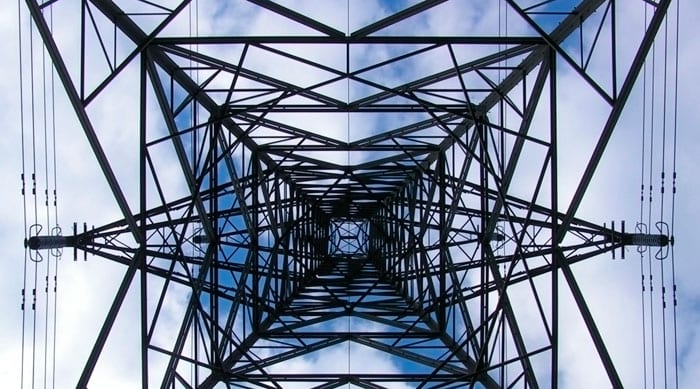 The breakthrough will allow National Grid to respond more quickly to changes in grid frequency and make better-informed decisions about requirements for network reinforcements and ancillary services.
"National Grid is proud to be at the forefront of the energy revolution as we enable the uptake of renewable generation, and deliver value for our customers and consumers."
This is turn is expected to lower costs for consumers and help the system operator to maintain the stability of the power system as more variable renewable generation comes online.
System inertia describes the resistance of the power grid to changes in frequency in response to sudden load losses. It is provided by synchronous forms of generation that store up energy in large rotating masses such as steam or gas turbines which spin in unison with the frequency of the grid.
When abrupt changes to supply or demand occur, some of this energy is transferred to the power system, lowering the rate of change of frequency (RoCoF). A high RoCoF can cause generators to automatically disconnect from the grid to protect equipment, leading to further changes in frequency and possibly outages.
Wind and solar generation is typically asynchronous and so cannot provide system inertia. The rapid growth of renewable generation and accompanying decline in conventional generation means the power system is therefore becoming less stable over time.
Up until recently, grid operators were only able to estimate system inertia at specific moments based on the level of supply and demand on the system.
However, National Grid and Reactive Technologies have now successfully tested a way to accurately measure inertia in real time by deliberately altering the load on the system and monitoring the effect on frequency.
The trial, known as Project SIM, was undertaken using Network Innovation Allowance (NIA) funding and built on a previous NIA project in which National Grid and Reactive Technologies used changes in frequency to transmit data through the power system.
In the earlier scheme, the power consumption of five 600kW resistive heating elements was modulated in a desired pattern – or code – to alter loads on the system and create small corresponding changes frequency. This code was then picked up by 30 frequency monitors dotted around the country.
For Project SIM, the equipment was reused to test how grid frequency was impacted by load changes and thereby gauge system inertia.
National Grid acting director of system operations Duncan Burt said the successful trial of the Grid Metrix solution, as it has been dubbed, marked an important step in the transformation of the power system.
"National Grid is proud to be at the forefront of the energy revolution as we enable the uptake of renewable generation, and deliver value for our customers and consumers," he commented.
"Being part of this innovative project to continuously measure inertia will improve our understanding of how to monitor grid stability in a changing energy environment."
Reactive Technologies chief executive Marc Borrett said: "Grid operators around the world are under pressure to bring new technologies into the control room that allow them to meet their obligations on energy costs, security of supply and decarbonisation.
"With Grid Metrix, we're giving grid operators access to unique direct data measurements from a national level right down to a granular post code level, so they can operate more leanly and better manage the nation's supply and demand in line with accurate, real-time information."
Although the solution can in theory be used to monitor system inertia at specific locations around the country, according to the closedown report submitted by National Grid and Reactive Technologies, they in fact abandoned attempts to measure regional variations in system inertia as the equipment they were using was not powerful enough to induce sufficiently large load changes.
Drax recently told Utility Week that National Grid should create a market for system inertia to ensure that enough synchronous generation remains online to maintain grid stability.
---
Comments
Login on register to comment