Industry anticipates EV surge as conventional cars phased out
The energy industry is expecting a surge in the number of electric vehicles (EVs) on UK roads after government revealed that its plans to improve air quality will include a ban on the sale of new petrol and diesel cars and vans after 2040.
27th July 2017 by Networks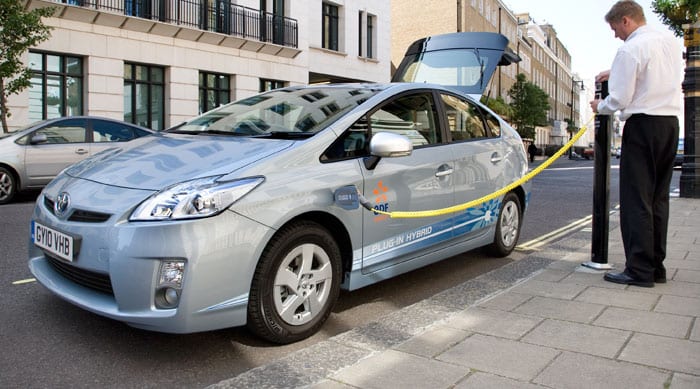 Around 2.7 million new cars were registered in the UK in 2016. From 2040, all such vehicles will be required to qualify as zero emissions vehicles with electric vehicles likely to be dominant.
"Electricity networks are already adapting infrastructure to accommodate a rapid increase in electric vehicles and the impact on the network from EV charging."
Responding to the plan, published by the department for environment and rural affairs (Defra), Tim Yeo, chairman of New Nuclear Watch Europe and formerly chair of the environment and climate change select committee commented: "There are currently in the region of 36.7 million cars on Britain's roads, this could equate to over 9 million electric vehicles in use by 2040, with it being reasonable to assume that there will be total EV roll-out by 2050".
Yeo insisted that this ramp up makes it essential to invest in nuclear new build in the UK.
"Even with developments in battery and storage technology, this [the growth in EVs] will lead to a huge surge in electricity demand. A demand which can only be met by new nuclear, as a domestic, secure, baseload energy source," he said.
However, Yeo's views on the actions needed to accommodate a large increase in the number of EVs on UK roads do not represent a consensus.
Other industry voices reacting to the Defra report advocated investment in smart charging infrastructure and other mechanisms for demand flexibility as a priority over and above building new capacity to serve electric vehicles.
James Court, head of policy and external affairs at the Renewable Energy Association said: "We need smart vehicle charging and price reflective tariffs if the future electric fleet is to be a huge benefit and not a hindrance to our grid.
"There is talk of the need for additional power stations to deal with the increase of EVs, yet they could actually optimise the generation we already have. By using electricity at night or less busy periods during the day EVs can smooth out peaks in demand, but this is reliant on government policy and regulators".
Responses from power network operators also focussed on flexibility as a priority.
National Grid chief executive John Pettigrew said that government's vision for decarbonising the transport system can only become a reality if the UK can "find a way for millions of cars to be re-charged quickly and simply as soon as possible".
He welcomed the "positive" steps government has already taken to enable electric vehicles and called for more support for "technology, automotive and energy industries to work together as closely as possible to plan for the future".
"For example, we will need to make important decisions about the standardisation of charging points, and how levels of demand are managed," said Pettigrew.
The chief executive added that Grid is "already planning for the impact on our energy networks of mass adoption of electric vehicles and how the transmission network could play an important role".
Meanwhile, at a distribution level, UK Power Networks was also keen to emphasize its proactive approach to accommodating EV growth.
Sotiris Georgiopoulos, the network's head of smart grid development, said this is a core part of the company's plan to transform from a distribution network operator to a distribution system operator or DSO.
"We already lead innovative projects that will accommodate the rise in electric vehicles and have published guides for councils and fleet operators on how they can facilitate cleaner, greener transport," he said.
Speaking for the network industry more broadly, David Smith, chief executive of the Energy Networks Association said: "Electricity networks are already adapting infrastructure to accommodate a rapid increase in electric vehicles and the impact on the network from EV charging.
"We are a world leader in the smart network technologies that will provide the platform for electric vehicles and smart charging whilst continuing ensure the reliability of our energy system."
Smith also emphasized that government's ambition to improve air quality and meet environmental targets via the transport system should not overlook the role that green gas vehicles have to play.
A spokesman for Cadent, the UK's biggest gas distribution network, agreed saying: "We're convinced there is a leading role for compressed natural gas in the debate on cleaner air and reducing CO2 emissions in transport.
"It's why we're a partner in the UK's first gas filling station connected to a high-pressure pipeline, just off the M6 in Lancashire, where heavy goods vehicles from supermarket retailer Waitrose, and others, fill up on 100 per cent biomethane CNG."
---
Comments
Login on register to comment