Considering the impacts of localised energy
At a roundtable event organised by Network in association with National Grid, delegates were invited to consider the beneficial impact of localised energy in supporting the whole energy system.
13th May 2019 by Networks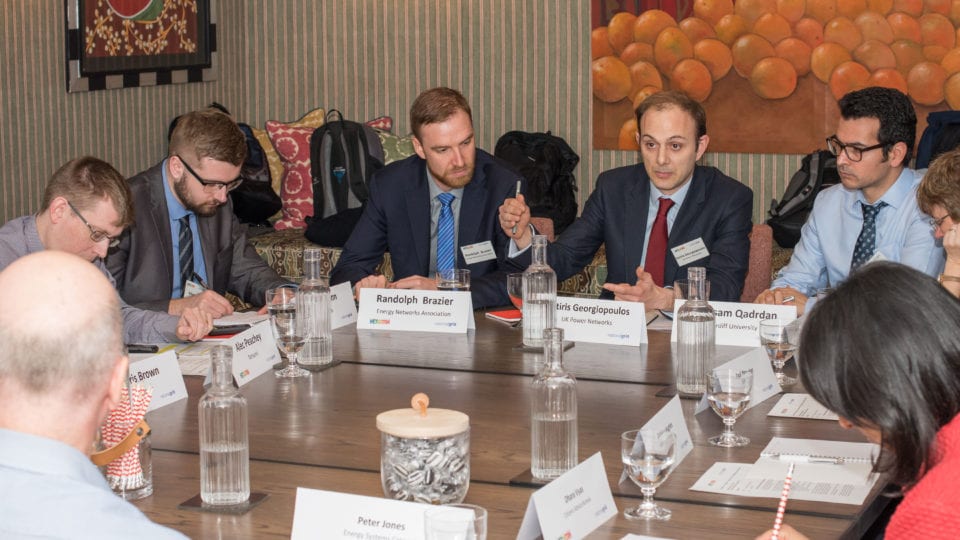 Creating local energy plans as part of a wider whole system was hot on the agenda as delegates from across the sector came together for a thorough examination of the best ways in which to achieve this.
One delegate kicked off the afternoon's discussion at the Charlotte Street Hotel in London by pointing to other areas of the UK, specifically in Scotland where some cities are already talking about implementing local plans as part of a wider course of action.
"We are seeing different degrees and levels of sophistication in different plans from across the different regions," they said.
Another attendee said: "I think what strikes me is I don't know whether there is a belief that there will actually be a whole system. I think there is a potential that it will always be gas, electricity, heat.
"I am surprised that, unless I have missed a trick somewhere, that actually we are not actively talking now we are actively engaged in looking at whole systems even from a regulator's point of view. It has a feeling of being slightly unprepared. It's clear that there is evidence that these vectors will all work together."
One delegate said they had been in discussion regarding local engagement with local planning authorities for "many years".
They remarked: "The additional complexity is that these plans are now very much focused on energy transition.
"The question becomes how can the DNOs and the DSOs help the local authorities with their energy transition plans and what is the incentive to help the communities to move forward?"
Another expressed concerns about local authorities which are facing "immense pressure on a number of fronts".
They intimated authorities need to see the benefits of spending time and money on localised energy.
"Unless you look at it as a whole system you are not going to achieve the benefits," they said.
Incentivisation
Delegates were then asked to consider how whole system outcomes can be achieved through incentivisation.
One delegate suggested: "I don't know if this is a silly idea but why not, when considering the local potential for decarbonising heat, provide incentives for specific technologies and resources for those specific areas? In this kind of manner, we can make sure the national policy and also local potential can move together in order to have decarbonising systems."
Another proposed asking the government why there is not a coordinated energy planning authority at national level.
One delegate pointed out that "whole systems" means something different to everyone and another agreed saying it was important to create a common understanding.
For the second part of the afternoon's discussion delegates were asked to consider the effect of regulation, more specifically whether there are any regulation considerations to enable, optimise and remove barriers to investments.
One suggested the new RIIO framework encourages innovation and the range of demand currently in the market means an environment has been created where people are testing out new ideas to cope with new demands such as EV networks.
Another spoke about how policy implementations from the government and not just the network regulator Ofgem will bring about the transformation of the networks.
One said that in their experience when it comes to barriers to investment it is often not down to regulatory measures.
Instead a combination of cost, technology and the benefits of change were more likely to be a barrier.
Forward planning
For the third part of the afternoon's discussion delegates were asked about the importance of forward planning for future local energy systems.
One pointed out that with a lot of local solutions, when taken on their own, they are not necessarily the right way to create a local energy system.
"There is a lot of wind energy up in Scotland which can be produced in a very efficient and effective way so you're going to still need a grid to transmit that energy from that area down to there.
"I think there always will be a role for the grid and it's about understanding that right balance and how big those pipes ought to be."
Another said they believed the way in which the transmission system is used in the future is going to change radically but there will not be a massive change to the fundamental need for it.
"Even in situations where you have a highly decentralised, decarbonised energy background there are still going to be occasions when the sun doesn't shine and the wind doesn't blow," they added.
Delegates were also keen to share their views on the impact a localised energy approach will have on customers regarding security of supply, decarbonisation and affordability.
One attendee said they believed that market engagement has to be accessible.
Delegates further discussed consumer engagement, with one suggesting customers may not be engaged with a localised energy market so long as their household bills are kept to a minimum.
Another suggested that each household is different and that while it is right to consider what consumers want, it would be wrong to expect a single answer.
For the final part of the afternoon the attendees discussed the role of frameworks and whether they are fit for purpose or if the industry should instead be "looking further ahead".
One suggested looking into the use of data and that by digitising the network its operators can get access to more information that is closer to real-time in order to understand what the network is doing and what its capabilities are.
"That to me is unlocking part of the opportunity that comes about and having to deal with uncertainty in better ways, that we can flex different solutions and see what comes out best," they added.
Another said: "We're doing a lot of work at the moment to allow us to create a model of the network right down to the end user to allow us to start running these scenarios. Once we get those models in place we can start understanding what this all means."
In the closing section of the discussion, the delegates were asked what one thing can be done in the short term to support a whole systems approach to localised energy.
One said: "Local energy is all about local opportunity otherwise a central system with scale is always going to be cheaper and better to do it. What does local bring to the table and are we really focusing on that?"
"I think we need to come up with a logical model that allows various communities to come together as an overall coordinated plan, but it is not necessarily driven by the centre," another stated.
Views from the speakers
"Being able to take those local things but build them perhaps around a more national-level policy I think will be something that will really help get to a genuine whole system type of position."
Duncan Hughes, electricity transmission power systems manager, National Grid.
"I think we should have local energy plans, in Scotland there is legislation going through that would require local authorities to start doing local energy/energy efficiency planning and some cities are thinking about it.
"To me that is probably one of the key routes into whole systems in its biggest space. I think some of those conversations are beginning but I don't think we yet have anything that you would pick up off the table."
Maxine Frerk, director, Grid Edge Policy.
"I think there is quite a lot of research that does demonstrate that people do like decentralised energy systems but always with something underpinning it to make sure the lights don't go off."
Dhara Vyas, future energy systems, Citizens Advice.
"There is growing evidence that even at a local level you have got to get cooperation to get efficiency. Really we should be looking at what the possible frameworks of regulation could be to deal with a system that is so highly interrelated."
Peter Jones, technical manager, Energy Research Partnership.
---
Comments
Login on register to comment