Plans for 100 fast charging EV forecourts unveiled
GRIDSERVE has announced plans to build a UK-wide network of more than 100 forecourts designed specifically for the needs of electric vehicle (EV) drivers.
4th April 2019 by Networks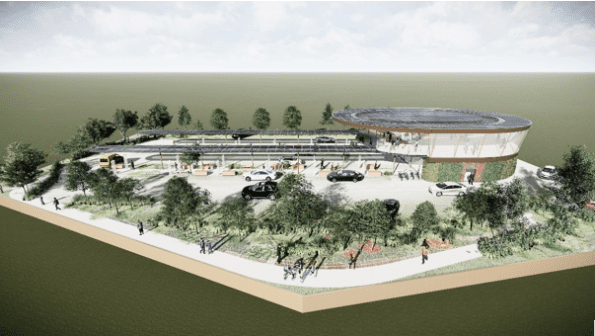 Each 'Electric Forecourt' will include ultra-fast charging for all types of EVs.
The Electric Forecourts have been designed in partnership with Arup and GRIDSERVE has partnered with ChargePoint, which operates the world's largest EV charging network.
They will have dedicated zones for both private and fleet vehicles, such as taxis, buses, delivery vehicles and heavy goods vehicles, and offer a new and compelling customer-focused charging experience. It will take less than 30-minutes to charge most vehicles, and during this time drivers will be able to take advantage of a range of facilities including a coffee shop, fresh food, convenience supermarket, and airport-style lounge with high-speed internet, which will also serve as an education centre and hub to explore a broad range of electric vehicle solutions.
GRIDSERVE's £1 billion programme, which the government promoted in the UK's first Energy Investment Portfolio, involves the company building new solar farms to supply the Electric Forecourts with clean, low cost energy, and installing multi-megawatt batteries to provide grid services that support the rapid uptake of EVs and additional renewable energy capacity. Construction is scheduled to start on the first sites later this year including at York and Hull, where GRIDSERVE is building the UK's most advanced solar farms.
Toddington Harper, CEO and founder of GRIDSERVE, said: "We plan to make charging electric vehicles as easy as using petrol stations. The latest generation of electric vehicles are awesome, and ready for mainstream adoption, but drivers still worry about if or where they can charge, how long it will take, and what it will cost. We plan to eliminate any range or charging anxiety by building a UK-wide network of customer-focused, brand new Electric Forecourts that will make it easier and cheaper to use an electric vehicle than a petrol or diesel alternative.
The company wants to have more than 100 Electric Forecourts in use within five years.
"This infrastructure will accelerate the electric vehicle revolution, serve the grid, and help the UK meet climate and clean air targets," added Harper. "We are partnering with operators of fleet vehicles, developers, financiers of vehicles and infrastructure, EV manufacturers, retailers, local authorities, and others who share our vision."
---
Comments
Login on register to comment