Reforms set out to support electric vehicles
Ofgem has set out proposals which will allow more electric vehicles to be charged from the existing grid and reduce the need for expensive new power stations and extra grid capacity to be built.
23rd July 2018 by Networks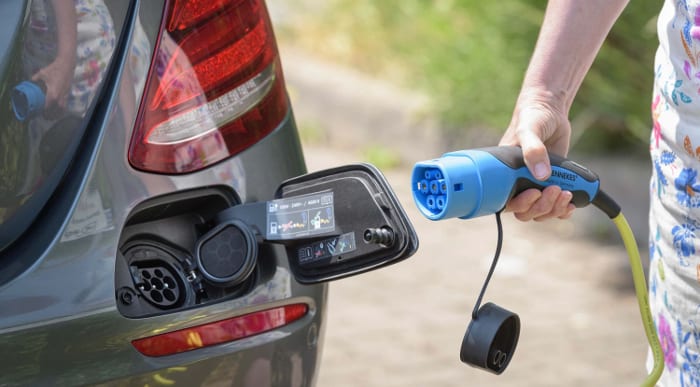 Research from the energy regulator shows that more flexible use of the energy system will allow at least 60% more vehicles to be charged if EV owners only top up outside peak demand times on the grid.
Ofgem is consulting on plans which will reduce the cost to consumers of meeting the extra demand from electric vehicles as well as connecting them and more renewable generation, battery storage and other new technologies to the grid.
According to Ofgem analysis published today (23 July 2018) if owners use 'flexible' charging – where they only top up outside peak demand times on the grid – at least 60% more EVs could be charged up compared with 'inflexible' charging where electric vehicles are only charged at peak times.
Flexible charging does this by allowing electric vehicles to be charged when energy prices are cheapest, for example when wind and solar power is generating lots of electricity or when there is less demand across the system.
Ofgem's proposed reforms will give incentives for customers to charge their electric vehicles at the right time.
Jonathan Brearley, executive director, systems and networks, Ofgem, said: "Ofgem is working with the government to support the electric vehicle revolution in Britain which can bring big benefits to consumers. Our reforms will help more users charge their electric vehicles and save them money.
"The proposals we have announced today will also harness the benefits of electric vehicles and other new technologies to help manage the energy system and keep costs down for all consumers.
"The way we generate, transport and use electricity – and power our cars – is undergoing a radical transformation in Great Britain.
"Ofgem will ensure that the energy system is fit for this exciting, cleaner future and at the lowest cost for consumers."
Flexible charging also helps to keep energy costs down for all consumers as technology allows stored electricity from electric vehicle batteries to be sent back onto the grid when it is needed.
The reforms will free up existing grid capacity to allow new generators, including businesses or other organisations which want to generate their own power on-site, to get connected to the grid more quickly. The reforms would make the electricity system more efficient by giving generators and other users more choice and flexibility on how they connect to the grid.
David Smith, chief executive of Energy Networks Association, said: "This welcome initiative by Ofgem is fundamental to making sure that the regulatory framework is up to date, and that consumers are able to see all the benefits from their electric vehicles while helping the network companies to deliver them at the lowest cost.
"Electric vehicles are a key component of the transition to a smarter, cleaner energy system – both in terms of their impact on our energy networks and the opportunities they create for managing the grid in a smarter way that is cheaper for bill payers. We therefore share Ofgem's drive to make sure that the future energy system is fair for all consumers, especially for those who may be vulnerable or struggling to pay their bills.
"As well as enabling the electric vehicle revolution, the energy networks have already begun to deliver a low carbon, low cost energy system. Energy Networks Association's world-leading Open Networks project has seen the network companies working with a wide range of other stakeholders to transform the way our energy networks operate. The energy networks will therefore continue to innovate while also delivering a safe, reliable network and excellent service for their customers."
---
Comments
Login on register to comment