EV market at tipping point, report suggests
The UK electric vehicle market is at a tipping point with levels of consumer adoption far outstripping the infrastructure, according to a report.
25th October 2018 by Networks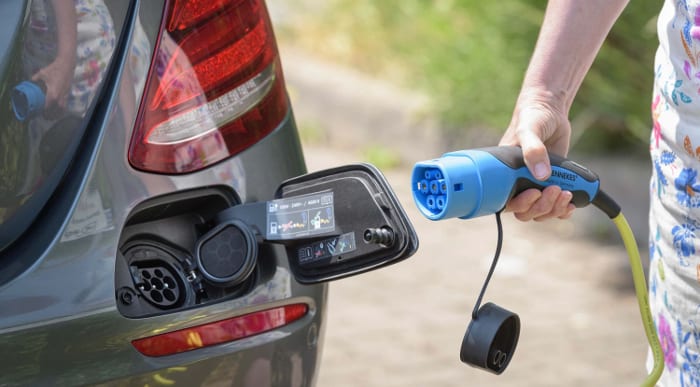 PwC Strategy&'s Powering Ahead report, written in conjunction with Energy UK, reveals that the UK's EV stock reached 134,000 vehicles in 2017 – a 54% increase on 2016 figures.
Consumer demand for EVs is growing rapidly and is set to continue, in what is a fragmented and nascent charging market. While there are a few large incumbents providing charging infrastructure services, there are many smaller new entrants.
The sector is already showing early signs of consolidation with BP's acquisition of Chargemaster earlier this year. If the UK is to become a leader in electric vehicles and low carbon transport, access to a range of convenient charging will be critical, the report suggests.
Steve Jennings, UK leader of energy and utilities at PwC, said: "The UK EV charging market is arguably one of the most advanced in Europe. We have one of the largest EV stocks of any EU country with a large conventional car fleet. We also rank alongside Germany when it comes to the number of publicly accessible fast chargers – an indicator of the UK's efforts to provide the best service to consumers.
"Therefore, it is essential we retain the momentum of success. We need to nurture the commercial environment that allows multiple business models to flourish and provide a diversity of charging options for customers."
PwC surveyed some of the leading operators in the electric vehicle charging industry alongside interviews with other key stakeholders including transmission companies, electricity suppliers and distribution businesses.
Industry data shows EV stock has grown by a compound annual growth rate (CAGR) of 89% between 2011 and 2017, virtually doubling year-on-year. Plug-in hybrid electric vehicles (PHEVs) have driven the bulk of that growth compared to a far smaller number of pure battery electric vehicles (BEVs), the report finds.
As a result, in order to keep pace with the increase in EV stock, the UK's charging infrastructure has significantly increased. But infrastructure is struggling to keep up, growing at half the rate of electric vehicle stock (44% CAGR between 2011 and 2017). The number of publicly accessible charge points – both slow and fast chargers in 2017 has risen to more than 13,500 publicly accessible charge points across the UK ( 2014: 7,742: 2015: 9,377, 2016: 11,208).
The deployment of charge points to date has been strongest across Greater London (22%), Scotland (15%) and the South East (14%). These regions account for more than half of all UK EV points. The main reason for the uptake has simply been more EVs on the road in London and the South-East.
Relating to Scotland, the government-backed incentive scheme, 'Charge Place Scotland', has given charge point operators, installers and third party destinations the financial incentives to roll out infrastructure.
Generally, a supportive regulatory environment and growth in demand for charging infrastructure has attracted many companies into the space. PwC's experts have identified at least 60 charge point operators (CPOs) or hardware players in the UK, ranging from electrical conglomerates through to data-focused start-ups.
However, with demand likely to pick up as the deadline for phasing out diesel and electric vehicles draws closer, CPOs – especially those looking to capitalise on the home charging sector – will have to balance providing more charging points against the installation costs.
According to the report, home charging will be a relatively easy segment for charge point operators to develop as EV demand grows. The research indicates the majority of homeowners (78%) have access to off-street parking, so charging at home will be straightforward. Moreover, investment costs and regulatory complexity are relatively low, compared to rapid charging – but there is still a long way to go.
Adrian Del Maestro, director of research at PwC Strategy&, said: "There is still a sizeable proportion of people without access to home charging, so alternative models, from rapid to street lamp charging solutions will need to evolve to meet this demand if the UK is to realise its ambitions as a leader in low carbon transport.
"Currently it costs about £1000 to install a 7 kilowatt slow home charger socket, whereas a 50kW rapid charger is likely to cost upwards of £30,000 a connector."
---
Comments
Login on register to comment