Charging infrastructure prioritised in Road to Zero strategy
The government has set out proposals to install electric vehicle charging points in new homes, business parks and lampposts as part of its Road to Zero Strategy.
18th July 2018 by Networks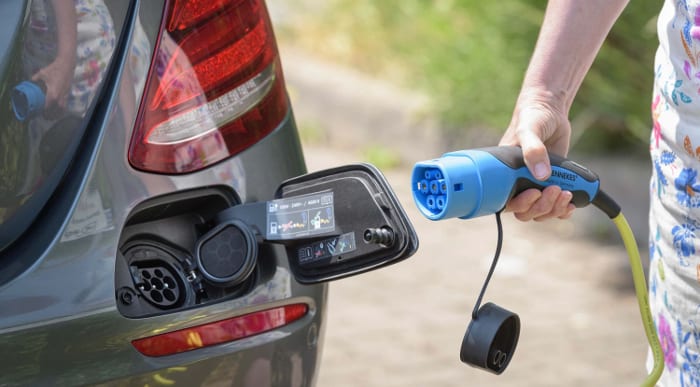 It has also confirmed its ambition to see at least half of new cars to be ultra low emission by 2030.
The strategy sets out plans to enable a massive expansion of green infrastructure across the country, reduce emissions from the vehicles already on the UK's roads, and drive the uptake of zero emission cars, vans and trucks.
As set out in the government's Air quality plan, the UK will end the sale of new conventional petrol and diesel cars and vans by 2040. According to the Government, the Road to Zero Strategy will build on this commitment and outlines how it will work with industry to support achieving this.
The government will work alongside industry, businesses, academia, consumer groups, devolved administrations, environmental groups, local government and international partners to enable the deployment of one of the best electric vehicle infrastructure networks in the world and prepare for a greener future for the UK's roads.
Chris Grayling, Secretary of State for Transport, said: "The coming decades are going to be transformative for our motor industry, our national infrastructure and the way we travel. We expect to see more change in the transport sector over the next 10 years than we have in the previous century.
"The Road to Zero Strategy sets out a clear path for Britain to be a world leader in the zero emission revolution – ensuring that the UK has cleaner air, a better environment and a stronger economy."
The government has already committed to investing £1.5 billion in ultra low emission vehicles by 2020 and the Road to Zero Strategy outlines a number of ambitious measures including:
A push for charge points to be installed in newly built homes, where appropriate, and new lampposts to include charging points, potentially providing a massive expansion of the plug-in network.
The launch of a £400 million Charging Infrastructure Investment Fund to help accelerate the roll-out of charging infrastructure by providing funding to new and existing companies that produce and install charge points. The request for proposal to appoint a fund manager will be launched in the summer.
Creating a new £40 million programme to develop and trial innovative, low cost wireless and on-street charging technology.
Providing up to £500 for electric vehicle owners to put in a charge point in their home through the Electric Vehicle Homecharge Scheme. And an increase in the value of grants available to workplaces to install chargepoints so people can charge when they are at work.
The extension of the Plug-In Car and Van Grants to at least October 2018 at current rates, and in some form until at least 2020, allowing consumers to continue to make significant savings when purchasing a new electric vehicle.
The launch of an Electric Vehicle Energy Taskforce to bring together the energy and automotive industries to plan for the increase in demand on energy infrastructure that will result from a rise in the use of electric vehicles.
The government is also taking powers through the Automated and Electric Vehicles Bill to ensure chargepoints are easily accessed and used across the UK, available at motorway service areas and large fuel retailers and will be smart ready.
The government expects the transition to be led by industry and consumers and a review of the uptake of ultra low emission vehicles will take place in 2025 to consider what interventions are required if not enough progress is being made.
Industry reaction:
David Smith, chief executive of the Energy Networks Association and a member of the Government's Electric Vehicle Energy Taskforce, said: "Britain's network operators warmly welcome the Strategy and its recognition of the importance of energy networks in delivering it. Low carbon transportation is not only good for the environment – it will enable energy networks to be run in a smarter way, creating a whole range of new and exciting opportunities for homes and businesses to benefit from that.
"Under the regulatory system, network operators have been pioneering a wide range of different low carbon transportation projects. They are ready to connect the charging points and refuelling stations that will give consumers and businesses a choice of different options for their transport. It is important that networks have visibility of where and when new infrastructure is needed, so they can use the latest technology available and access the data needed to do that. That's vital to join the whole system up, use the existing grid more effectively and keep costs down for our customers to deliver a smarter, cleaner and more efficient energy system."
Graeme Cooper, project director for electric vehicles, at National Grid said: "We welcome the road to zero strategy and its emphasis on investment for charging infrastructure before 2030.
"In particular we support the idea of trialling greater charging capacity at motorway service areas. We know that 'range anxiety' is consistently given as a major reason for not buying an electric vehicle and we've put forward a solution that means EV drivers could travel across the country, when they need to and without the worry of charging their car. Upgrading the transmission network at 50 motorway service areas would avoid queues at peak times and mean that drivers can charge in 5-15 minutes.
"This announcement is a positive step forward in helping to facilitate the growth of EVs through local initiatives, but a structured and co-ordinated roll out of EV infrastructure across the country is required to tackle range anxiety. We look forward to working with Government and Highways England to pilot our solution so that as the EV market grows, the infrastructure is in place to support it. It's about doing it once and doing it right."
Fulcrum's head of EV charing solutions Foad Albakri said: "The Government's consultation needs to be clear on housebuilders' responsibilities for installing charge stations and understand the cost implications and infrastructure requirements.
"The strategy needs to set out housebuilders' obligations to ensure they can establish a robust supply chain that can deliver on the requirements in such a way that doesn't dramatically push up house prices or increase build times.
"For example, major housing developments may require larger electricity cables and the construction of an additional sub-station to ensure car charging can be successfully delivered.
"We are currently talking to housebuilders about incorporating charge stations in their developments and how it is possible to overcome these challenges to make sure the country's environmental ambitions and our housebuilding targets can be met."
Erik Fairbairn, CEO and founder of Pod Point, the UK's largest independent chargepoint provider, said: "The governments Road To Zero strategy shows the government's ongoing positive support of zero emission transport.
"In headline, the strategy shows some sensible proposals to increase the amount of EV charging infrastructure across the UK, with a good understanding of the need to rollout charging across homes, workplace, and public locations.
"The rollout of EV charging has been accelerating rapidly over the past couple of years, mainly through heavy investment from private companies such as Pod Point who are dedicated to building national infrastructure. It is good to see this additional support from the government, which will allow for further acceleration.
"The strategy however is disappointing in that there is no movement on the Government's 2040 ban of internal combustion vehicles. At Pod Point we see a clear path which would allow internal combustion vehicles to be banned in 2030, some 10 years earlier."
---
Comments
Login on register to comment