So much more than blackout
The lights going out is the least of the trouble caused by power cuts today.
7th September 2016 by Networks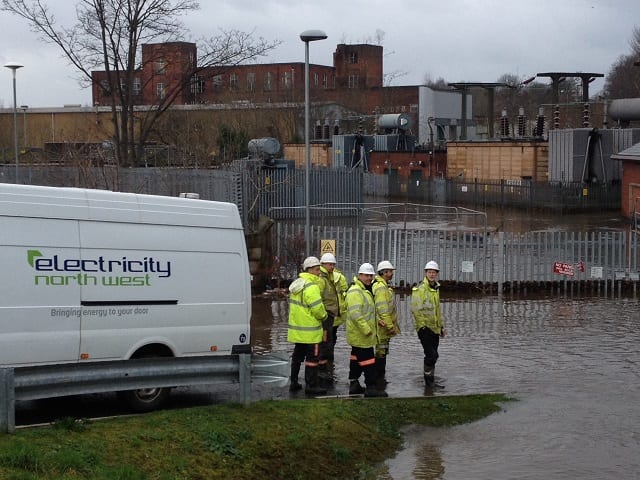 In December 2015, Storm Desmond hit the UK with disastrous effect. Nowhere were these felt more acutely than in the North West where, at 10.45pm on 5 December, electricity supplies to 61,000 properties in Lancaster alone were cut.
A chaotic week ensued with power being restored only to be cut again and flooding making lives a misery and many business activities impossible.
Electricity North West put on a good show in the face of this disaster and was widely praised in the aftermath for its responsiveness and attention to detail. Not only did the DNO mobilise to get supplies back up and running as soon as possible, it also went above and beyond to ensure customers had basic needs – 25,000 hot meals were served up to disconnected customers and those forced out of their homes.
All of this took place well before Peter Emery joined ENW as chief executive in the spring of 2016. Nonetheless, he says his early months in the role have included many reviews of lessons learned.
See Network's interview with Peter Emery here.

He talks about the impact of partnerships on innovation, scope for network returns on innovation activity and ENW's customer satisfaction performance.
Quick to recognise the dedication of employees, Emery says that, rightly, "the business and the people here are very proud of what they have achieved". But he adds: "Nevertheless, there are quite a lot of issues that come out of it.
These include lessons for ENW to help it further improve storm response and network resilience in anticipation of increasingly frequent extreme weather – a consequence of climate change. However, the region's misfortunes also highlight some important points for broader economic and infrastructure strategy which Emery is keen for government to take on board.
Speaking about business interests first, Emery says that Storm Desmond highlighted the "inadequate" forecasting methodologies used to set investment allowances for storm and flood resilience by industry, government and the Environment Agency. "That's not good news for us," says Emery, "because we are having to revisit capital investment schemes that were put in place to address these issues." It's also not good news for customers, he adds, "because everybody thought that we were on top of this and it looks like we're not".
Living without Electricity: report insights

The better the internet becomes, the more people rely on it.

Charities, volunteer groups and church councils were challenged in deciding how to respond to the additional level of vulnerability for thehomeless. The instinct to respond clashed with safety policies, which require volunteers to be contactable.

Late on Sunday 7 December, there were still many people wanting to buy groceries, contrary to Sunday trading regulations. It was not obvious which national or local body had the power to relax these laws in an emergency.

When telephone and electricity networks were first established, Lancaster Corporation acted as the "system architect". Subsequent reorganisation, nationalisation, privatisation, restructuring and the contracting out of services resulted in these services being run by a large number of organisations, contractors and subcontractors, with no-one having an overall view of "the system".

The full Living without Power report can be downloaded at www.lancaster.ac.uk
On a macro level, however, Emery wants to emphasise the extent to which last winter's storms show that government and media obsession with "keeping the lights on" is almost an irrelevance when compared with the growing risks of prolonged power outage.
"These days, the lights going out is the tip of the iceberg," he says. "If you look at the experiences of Lancaster in particular last year, the loss of communications – internet and mobile – was a shock to many people and it really showed how critical electrical resilience is today and will be tomorrow."
In a world of electrified transport, and – to some extent – heat "the consequences of failure in the system will be much greater in the future than they have been in the past".
Backing up Emery's words of warning, a recent report published by Lancaster University in partnership with the Royal Academy of Engineering and the Institution of Engineering and Technology explores the growing social and economic costs of power outages.
Lancaster University found itself at the heart of the North West's storm damage last year and in the report, Living Without Electricity, it recalls how "the loss of power quickly affected many other services that people take for granted. Most mobile phone coverage was lost within an hour; although most landline phone services were available, many people who had replaced their traditional handsets with cordless phones were unable to connect.
"The internet was lost over most of Lancaster and, even where it was available in the street, electricity was not available to supply domestic routers and Wi-Fi hubs. Electronic payment systems were unavailable and most automated cash machines did not work. The local TV booster station lost power, which also affected digital radio services."
The report makes it clear that the future will require far broader thining about the implications of extended power cuts. It calls for better collaborative planning amongst stakeholders, including energy networks, telecoms and broadband providers, local government and business in order to avoid severe economic and social problems in the wake of increasingly common sever weather events.
---
Comments
Login on register to comment