Work begins on heat network scheme
Work on a £24 million collaborative local heat scheme between Fife Council, RWE and the Scottish Government is underway.
7th June 2018 by Networks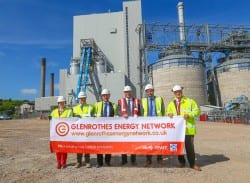 A ground-breaking ceremony marked the start of work on Glenrothes Energy Network with members of RWE's management team joined by Fife Council officials, along with representatives from Balfour Beatty and Vital Energi.
Vital Energi were awarded the contract for the design and development of the Energy Centre by RWE after a comprehensive tender process. Balfour Beatty have been appointed as main contractor for the heat network, and they also appointed Vital Energi as their specialist sub-contractor.
Over the past few weeks, Vital Energi have established site accomodation and started the civil engineering works. A full works programme will begin at the end of June, starting with the building of the external structure.
Glenrothes Energy Network is a £24 million collaborative local heat scheme between Fife Council, RWE and the Scottish Government. It will provide sustainable low carbon heat to a mix of industrial, commercial, community and domestic properties in Glenrothes as well as the Fife House complex. There will be an opportunity to expand the network to supply further homes across Glenrothes.
RWE will own the Energy Centre and provide the heat required for the network from its biomass plant; Fife Council will own the network and act as service provider and the Scottish Government is supporting the development through its Low Carbon Infrastructure Transition Programme (match funded by the European Regional Development Fund). The project will be operational by the end of January 2019.
Steve Hicks, RWE project director, commented: "RWE is proud to be a part of this project. It is the first district heating scheme that we have been involved with in the UK. This project is important in providing low carbon heat to support national environmental ambitions. The success of this project is down to ongoing collaboration, energy and commitment from across all of the teams and businesses involved. District heating schemes are key to providing local communities and businesses with access to cheaper heat from efficient local sources, thereby cutting CO2 emissions."
Cllr Ross Vettraino, Fife Council's spokesperson for the environment said: "I'm delighted to see construction work starting on Glenrothes Energy Network. This project has been in the planning stages for a number of years and is an exemplar of partnership working and what it can achieve.
"Fife is once again leading the way in tackling climate change. Bringing a district heating scheme to Glenrothes will help us reach our goal of reducing carbon emissions by 42% by 2020.
"This is a major investment of nearly £24 million for Glenrothes town centre. It will not only provide clean sustainable energy but will help to secure jobs and reduce fuel poverty in Glenrothes."
Minister for Business, Innovation and Energy Paul Wheelhouse said: "The Scottish Government are proud to support the Glenrothes Energy Network project through our Low Carbon Infrastructure Transition Programme. This innovative and collaborative scheme is set to deliver low carbon and affordable heat to a range of domestic, commercial and industrial users, helping to tackle fuel poverty, providing lower cost, local energy for businesses and supporting our transition to a low carbon economy."
Stephen Scott, managing director of Balfour Beatty's Central Scotland Delivery Unit, said: "Together with our partners, we will help deliver the vast network needed to supply low carbon heat to a range of businesses, public premises and homes in Glenrothes which on completion, will help reduce carbon emissions and ultimately tackle climate change."
Vital Energi regional director, Mike Cooke added: "Vital Energi are delighted to have been appointed as RWE's design and construction partner on this unique district energy project which will utilise renewable heat to serve the community of Glenrothes. The design and construction of the energy centre will be the quickest of its kind with heat on during the autumn having commenced construction in April. Close liaison with heat customers during system connections will see existing gas connections displaced by renewable heat generating improvements to air quality and a reduction in carbon emissions."
---
Comments
Login on register to comment