Wasted resource – the future of energy from waste
Advanced Plasma Power and National Grid have joined forces to commercialise the decarbonising potential of energy from waste.
3rd January 2017 by Networks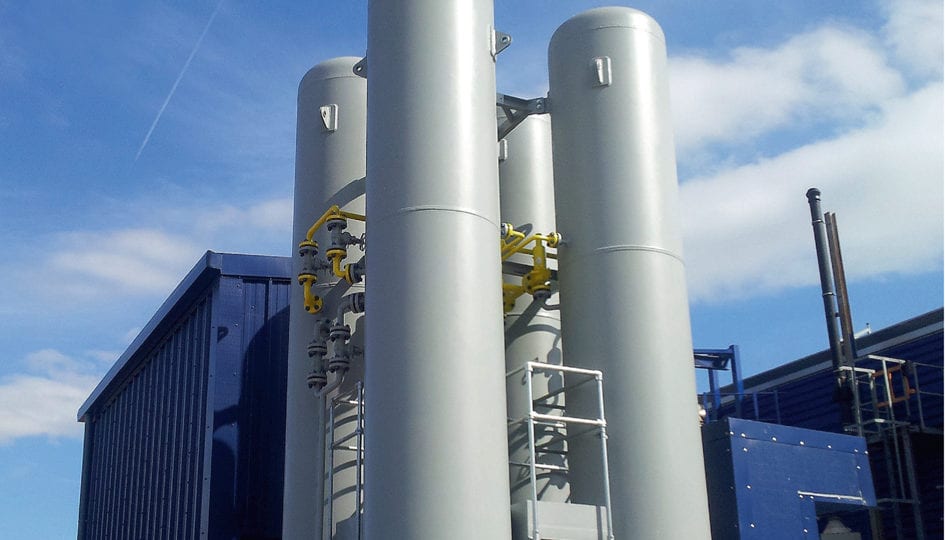 Municipal waste has long been a source of energy, through incineration, for heat. The UK has not historically capitalised on this potential directly, instead choosing to send large quantities of rubbish to countries with high heat needs like Sweden and Denmark. However, in late November, an important milestone was passed in a project that will build the world's first grid-connected bioSNG plant fuelled by waste and run commercially. The pioneering plant is intended to prove the business case for a technique that would let the UK harness the potential of its waste as a homegrown energy feedstock.
National Grid has worked in partnership with Advanced Plasma Power since 2014 to develop a technique for the gasification of municipal waste to produce grid-quality methane. The work has been funded through the network innovation competition.
To date, the process has been trialled at a small-scale pilot plant in Swindon, but in November, National Grid and its project partners hosted a celebratory event to mark the start of construction for a full-scale commercial facility.
The new plant will sit on the same site as the pilot facility but will operate at 10-20 times the scale. It will process 10,000 tonnes of waste a year and have an energy generating capacity of 22GW. It will also create synergies with the low carbon transport sector since the bioSNG produced by the novel waste gasification process is also suitable for use in gas-fuelled heavy goods vehicles.
"BioSNG links together a number of things. It establishes the utilisation of the existing gas network. All of the work that we have been doing around replacing the network – taking out the old cast iron pipes and replacing them with polyethylene – gives you a robust network to build off that whole process of decarbonising heat and transport." Chris Train, chief executive, National Grid Gas Distribution
The process that National Grid and Advanced Plasma Power have trialled takes shredded and dried municipal waste and coverts it to a clean syngas using a close coupled gasifier and plasma converter. The syngas then undergoes further cleaning to reduce contaminants to very low levels and is passed through a series of catalysed reactions to convert it into methane and carbon dioxide. The CO2 is removed to leave a green gas that can be injected into the grid.
As well as extending the life of the gas grid, this new waste to energy process has multiple environmental benefits. It reduces CO2 emissions by up to 80% compared with fossil fuel-derived gas and offers a tidy solution to the perennial issue of how to dispose of waste.
The production of fuels through gasification – from coal, for example – is not new, but, historically, applying the same process to waste produces a gas contaminated with tars. These tars foul catalysts preventing any conversion of the syngas.
In the Swindon pilot plant, this problem was solved by using plasma technology to efficiently crack the tar into syngas, making waste a viable fuel source.
Although the underlying technology is well-proven, the process has evolved as lessons have been learnt at the pilot plant. For example, the process was originally planned to run at atmospheric pressure to minimise risks, but it became clear that the reaction process must be carried out at higher pressure to be effective.
In addition, one of the plant's main objectives is also to produce CO2 of a quality suitable for use in the food industry.
To do that the CO2 must be very clean, and a different technique has been chosen for the commercialisation plant to ensure the gas meets the necessary standards. It will now be processed into a liquid, pushing up the refinement to 99.99%.
With processes and technologies largely proven and construction underway, attention has turned to proving the commercial model for the new plant when it begins operation in 2018.
Local Logistics Company Howard Tenens has agreed to come on board as the "anchor client" to prove the plant's ability to contribute to the decarbonisation of transport – an important goal in meeting the UK's overall decarbonisation targets.
The criticality of this aspect of the plant's potential is emphasized by the £11 million pounds of funding offered up by the Department for Transport. This adds to £6m of Network Innovation Competition support.
Rob Wakely, deputy director for the Department for Transport, speaking at the plant's groundbreaking ceremony, said low-carbon gaseous fuels such as bioSNG are vital to tackle sectors that are currently beyond electrification such as aviation, heavy goods vehicles and shipping, while not affecting food crops and land use. He said the economic benefits of advanced fuels could total £15 billion, of which the UK could claim a large slice through intellectual property gained in projects such as this.
National Grid Gas Distribution's chief executive Chris Train told Network it is keen to see the plant succeed in order to prove bioSNG can "play its part in a basket of technologies" needed to answer the energy trilemma.
"The feedstock is black bag waste, that deals with two issues, it gives you a product out of the black bag waste which is useable and low carbon. One of the challenges we have in the UK is what do we do with our black bag waste? Burning to generate is hugely inefficient, and burying it, there's not a lot of land mass to be burying black bag waste, so it's a really great project because it brings all of that together." Chris Train
So far, he said it has been shown bioSNG could be a uniquely flexible addition to that basket because it can be used to produce both methane and hydrogen. In addition the energy from waste bioSNG process does not require carbon capture and storage to be viable, unlike other forms of gas manufacture, and it does not require any modification of the Wobbe Index (see p18) before injection into the gas grid. This points to infrastructure cost avoidance and makes full use of the investment already made in the gas system through the iron mains replacement programme.
National Grid suggests that the bioSNG can be used to extend the utilisation of the gas network and put the UK on the right trajectory to meet its carbon-reduction targets, before tackling the longer-term challenge of a hydrogen conversion.
While other options for renewable gas exist, such as gas produced via anaerobic digestion, National Grid says these options are limited by both feedstock and rural gas grid penetration. It believes that bioSNG has the potential to deliver ten times the quantity of gas that can be delivered by AD – potentially accounting for a third of the UK's domestic heating needs, or 100% of the UK's HGV fleet.
"I don't know how long it will be before this process can become business as usual, but building this plant is a critical part of developing that opportunity, an opportunity that is potentially huge since every council has to deal with its black bag waste. Once we have demonstrated the commercial model it's just a question of getting the funding and getting the plants out there. I think it could be huge."
With the ribbon just cut and commercial operation not due until 2018, it will be some time before this technology can really prove its worth. But the launch of this commercial venture has shown investors are serious about the potential.
---
Comments
Login on register to comment