UK needs 'Olympic' delivery body to drive shift to net zero heating, says think tank
MPs and members of the public are equally in the dark over the urgency of decarbonising the heat network, raising the need to establish a powerful new body to coordinate the complex task, according to a report by cross-party think tank Policy Connect.
17th October 2019 by Networks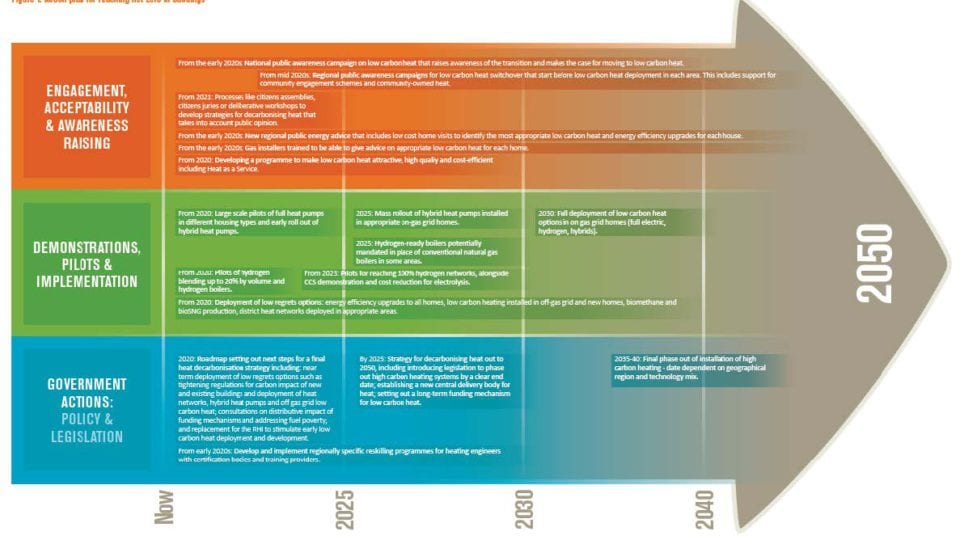 The report – Uncomfortable Home Truths: why Britain urgently needs a low carbon heat strategy – calls for the creation of an Olympic-style delivery body to catalyse efforts to convert 27 million UK households to running their central heating systems on "green heat".
The report emphasises that the next five years will be critical in kick-starting the deployment of low carbon heat if the UK is to meet its newly-adopted target of net zero carbon emissions by 2050.
It calls for a "bold" new national roadmap by 2020 which puts consumers and households at the heart of a revolution in green heat innovation.
To raise public awareness, it also calls for a nationwide information campaign and a network of publicly-funded advice centres across the UK to give impartial advice on households' future heating options, similar to centres currently operating in Scotland.
This report shows we have just five years to trial and scale new macro and micro solutions for our gas grid and home heating systems to keep costs and carbon down.

Alan Whitehead MP
The report forms the third part of a series called "The Future of Gas", sponsored by Baxi Heating, the Energy and Utilities Alliance (EUA), and the Institution of Gas Engineers and Managers (IGEM).
Its findings and recommendations will form the basis for upcoming lobbying work aimed at influencing the forthcoming 2020 Heat Roadmap from the Department for Business, Energy and Industrial Strategy (BEIS).
The report's co-chair was Alan Whitehead MP, shadow Labour minister for energy and climate change. Launching its findings, he said: "This report shows we have just five years to trial and scale new macro and micro solutions for our gas grid and home heating systems to keep costs and carbon down.
"It's a welcome wake up call for politicians, utilities, customers, planners and house-builders that we all need to work together on long-term policy framework that puts households first, cuts emissions, cuts bills and keeps British homes warm."
The proposed "Olympic" Central Delivery Body would share learning between regions, coordinate pilot projects and develop upskilling programmes for gas engineers, the report says.
It can also:
provide a central point for expertise, data and information for low carbon heat planning and whole-house energy efficiency retrofits;
monitor and evaluate the delivery and impact of regulation and policies that sit across departments, such as Energy Performance Certificates and building regulations; and
coordinate and link together awareness raising and engagement programmes.
The BEIS strategy roadmap should set out an action plan for the "immediate deployment of at-scale low regrets low carbon heat retrofit around the UK, including a national energy efficiency retrofit programme and a mandatory target for energy efficiency of new homes".
It should also secure funding for pilots of low carbon heat in homes around the UK, and set out a timeline to deliver a strategy for complete heat decarbonisation by 2025.
The roadmap could also explore new payment models, such as the "heat as a service" model, while also bolstering grid resilience to cope with increasing low carbon supply and flexible demand.
The roadmap should also address the urgent need to invest in re-training and re-skilling the nation's gas heating engineers and boiler installers in new low carbon technology solutions for a "just" transition that does not leave certain groups behind.
UK homes are primarily heated by fossil fuels and contribute 13% of UK's carbon footprint, equivalent to all the UK's 31m cars, the report says.
Commenting on the report, Matthew Lipson, business leader for consumer insight at the Energy Systems Catapult said that there was a need to apply the technology we already see in other areas of our lives to the green heat agenda.
He said: "Innovation is critical if households are to get the heating experiences they want at home without emitting carbon. We've seen very rapid changes in practically every aspect of our lives, from how we use our mobiles and how we shop for food, to how we relax in front of the TV. We can decarbonise heat by applying the same techniques these sectors have used to martial complex supply chains and deliver experiences consumers enjoy."
Paula Higgins, representing the Homeowners Alliance, said: "We cannot continue to heat our homes with warm words and outdated technologies. Homeowners are tuned into the impacts of poor local air pollution and would be appalled to think that their boiler might be a contributing factor.
"Government needs to come up with a clear plan so all regions and industry sectors can work together to deliver the low carbon heat that consumers want. It also needs to convince the public of its long-term commitment to this plan so homeowners don't end up being guinea pigs or taken for a ride."
---
Comments
Login on register to comment