Storing energy
Technologies such as power-to-gas offer the opportunity to store energy for long periods at scale for electricity networks, and provide an important decarbonisation strategy for heat. This article examines the technology.
23rd July 2018 by Networks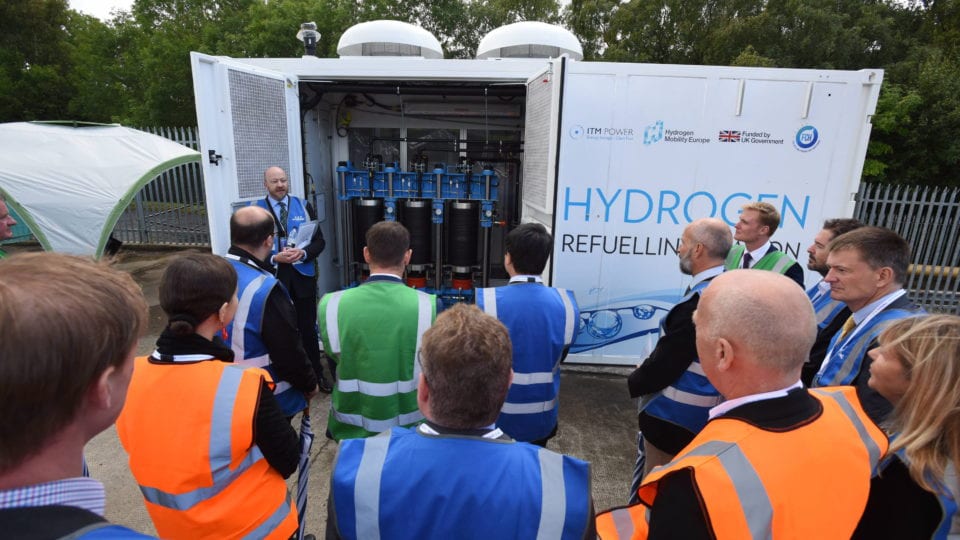 ITM Power's recent feasibility study, carried out in collaboration with Northern Gas Networks, yielded some compelling results about the gas network's capacity to support this green technology.
Funding for the study was secured from the Department for Business, Energy & Industrial Strategy (BEIS) last year, as part of its Energy Storage Feasibility Study Competition launched in January 2017.
As the UK moves towards a low-carbon future, the whole energy systems approach is gaining in support.
By exploring the interactions of different energy types – power, heat, transport – to better understand their interdependencies, the approach aims to solve all three challenges of the energy trilemma: delivering a secure supply of low-carbon energy, at a lower cost for the customer.
Until recently, energy storage has been largely dominated by the use of batteries to store electrical energy. While power-to-gas is growing in popularity in Europe, it remains relatively unknown, and untested, in the UK.
This cutting-edge energy storage technology is capable of absorbing surplus power from the electricity grid at times when supply exceeds demand, and when intermittent renewable generation causes network stability problems.
Through an electrolyser, electrical power is converted to chemical energy in the form of hydrogen which can then be injected and stored in the gas network from Megawatt to Gigawatt scale.
The gas network then becomes a giant renewable energy store for use in heat, electricity generation or transport via hydrogen fuel cell vehicles.
Back in April, Sheffield-based clean energy company ITM Power released the results of its power-to-gas feasibility study, funded by BEIS, and carried out in collaboration with Northern Gas Networks.
The desktop study was produced using network planning models and data from the gas distributor for the North of England.
As renewable electricity increases in the UK, effective storage and transmission of excess power is set to become ever more important.
The ITM study demonstrates an opportunity available to the UK to take a lead in green energy storage and clean gas solutions, with blended hydrogen helping to decarbonise the heat used in UK homes and industry. Multiple sites across the NGN region were identified, each being suitable for locating a power-to-gas system and/or a hydrogen refuelling station.
H21 project
NGN has led gas industry research into hydrogen as an energy source and is actively pursuing its use for heating in the UK through the pioneering H21 project. This work is focused on converting the UK gas network to 100 per cent hydrogen in order to drastically reduce carbon emissions from heat.
The BEIS/ITM power-to-gas study examined potential deployment of large-scale electrolyser capacities of 50 megawatts (MW) and above within the boundaries of the respective gas and electricity distribution networks of NGN and Northern Powergrid.
After detailed analysis of NGN's network, accounting for seasonal variations in gas demand and the amount of hydrogen able to be produced and blended with natural gas, the study revealed that a large area of the NGN grid could support power-to-gas.
In particular four sites were identified, with the InTEGReL facility at Low Thornley, Gateshead representing the ideal location for a first-of-kind large-scale demonstration between 50 and 100MW, able to supply blended hydrogen to domestic and industrial customers. This installation would consist of a group of 10MW electrolyser modules, each based on rapid response proton-exchange membrane water electrolysis.
Mark Horsley, CEO of Northern Gas Networks said: "Power-to-gas technology has the potential to answer some of our key energy storage challenges because of the gas network's sheer size and flexibility.
"This study has delivered some compelling results and insight into how a whole systems approach and green hydrogen can facilitate decarbonisation across all energy vectors."
Whole energy systems
InTEGReL, launched by NGN in 2017 in partnership with Northern Powergrid and Newcastle University, was opened last year as the UK's first whole energy systems research and demonstration facility. Based at a 15-acre gas site, it seeks to break down traditional barriers between gas, electricity and oil and provide a base for testing and integrating new technologies and approaches.
If power-to-gas was carried out in a real-world setting, hydrogen injected at the InTEGReL site could deliver stored energy in the form of blended low carbon gas to over 243,000 domestic and industrial customers.
And its close proximity to the A1 and urban centres of Newcastle and Gateshead would provide opportunity for local export of hydrogen necessary to develop a local hydrogen refuelling station network, enabling fuel cell electric vehicles to travel from London to Aberdeen.
Recommended next steps for the project are for a Front End Engineering Design (FEED) study to examine the build of a large-scale power-to-gas demonstrator at the InTEGReL site. This would be in the size range of 50-100MW and the scope would establish the cost of building, installing and commissioning the facility.
Development of a UK-wide gas network industry strategy is also planned in order to agree wider power-to-gas energy storage as a near-term contribution to the decarbonisation of heat, and as a means to support wider deployment of renewable generation by providing a route to a proven technology bridging the gas and electricity networks.
Graham Cooley, CEO of ITM Power, said: "This feasibility study resulted in a close working relationship with Northern Gas Networks and the results are very exciting for the deployment of large scale power-to-gas energy storage on their network. Northern Gas Networks have emerged as leaders in the use of hydrogen in the UK gas network for both energy storage and for renewable heat. "
Horsley added: "The work has shown our network is capable of power-to-gas over several sites with InTEGReL the ideal base to explore the technology, and hopefully can lead to a firm commitment for real-world power-to-gas projects in the UK in the near future.
"By bringing gas and electric together, there is an extremely valuable opportunity to drive down costs for customers, increase resilience and improve sustainability."
---
Comments
Login on register to comment