Shaping the FLEXIS vision
FLEXIS (Flexible Integrated Energy Systems) is a £24.5 million research operation designed to develop an energy systems research capability in Wales which will build on the world class capability that already exists in Welsh universities. FLEXIS principal investigator Phil Bowen looks at who is involved and what progress is being made.
2nd April 2018 by Networks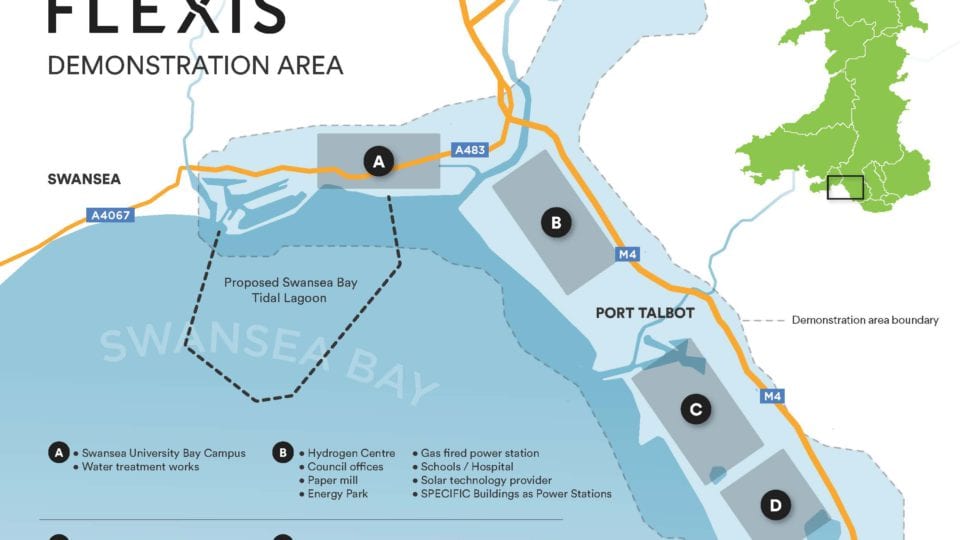 The FLEXIS vision is to achieve a resilient, sustainable, affordable, secure energy system across Wales with potential for global application. FLEXIS aims to support the transition to the 2050 emission reduction targets by de-risking, and therefore accelerating the deployment of flexible integrated energy systems over the next decade.
The energy trilemma posits developments in sustainability against affordability and security of supply. Whilst de-carbonisation often dominates the energy debate, it is worth recognising that the stakes are extremely high for all components of the trilemma – exemplified by 'dieselgate' and regional blackouts in other parts of the developed world – emphasising the need to maintain a balanced approach without prejudice.
In practice, FLEXIS is a pan-Wales, university-industry partnership pioneering energy systems research within Wales. Funded to the tune of £24.5m, with just over £15m from the European Regional Development Fund (ERDF) via the Welsh Government, the five-year project is tackling diverse and inter-dependent energy challenges from innovative technologies to storage and fuel poverty.
The main thrust of the project is to increase the research capacity of the Welsh partner universities (Cardiff, Swansea and the University of South Wales), to attain a target of over £20m of additional competitive research income by 2020.
Whilst the ERDF funding source demands growing the academic base in Wales, the consortium is devoting 25 per cent of its project resource to the application of its research for the benefit of Wales, through the development of a FLEXIS demonstration area. This is consistent with the attention that Welsh HEIs have afforded the impact of their research over the past couple of decades, as recognised in UK Research Excellence Framework of 2014.
Unique in nature
FLEXIS is unique in terms of its approach to whole energy systems research and aims to demonstrate this at a regional scale in Neath Port Talbot – one of the UK's most industrialised areas. Home to FLEXIS' industrial partner, Tata Steel Port Talbot (the UK's largest steel-making plant), the project is fully supported by Neath Port Talbot County Borough Council.
The development of energy systems research in Wales stretches back over a decade. In 2007, Welsh researchers won the Research Council UK (RCUK) Science and Innovation competition (£3.8m) for renewable energy adopting the then novel approach to target the integration of energy systems – the nerve centre of the engineering system – rather than any siloed renewable technology. RCUK funded the Centre for Integrated Renewable Energy Generation and Supply (CIREGS), led by FLEXIS principal investigator, Professor Nick Jenkins.
For over 10 years, this highly-successful team of seven academics has contributed significantly to EU and international developments, particularly in China, on topics such as smart grids, grid integration of renewables and related energy infrastructure. CIREGS also enabled dialogue and sharing of expertise with the National Grid High Voltage Centre and the former DERA Gas Turbine Research Centre in Port Talbot, giving rise to well-founded research projects anticipating the future flexibility requirements of power generators such as Combined Cycle Gas Turbines (CCGT).
By 2013, a broader understanding of energy systems was developed, appreciating that the challenges facing the UK energy system were not purely technology-driven, but also involved the public as prosumers – potential producers as well as consumers – requiring new business models and commercial arrangements. FLEXIS includes one of the leading UK teams in energy-related social science research by way of the Understanding Risk Research Group led by Professors Nick Pidgeon and Karen Henwood.
Other partners within the FLEXIS team contribute internationally-leading research to de-risking future energy infrastructure and processes, guided by the projections from the multi-vector models and social science research. USW's Hydrogen Research Centre in Port Talbot has developed an outstanding international pedigree for its research and innovation with over 15 years' work on the generation and utilisation of hydrogen as an energy vector. Hydrogen has seen a resurgence of interest in the UK recently, partly due to the challenges in de-carbonising the heat sector, which underpins studies such as the H21 Leeds Citygate project.
Swansea University has invested over £38m in its Energy Safety Research Institute in Neath Port Talbot and delivers FLEXIS research comprising of de-carbonisation through carbon capture and utilisation, with potential application at TATA Steel, Port Talbot, as well as power electronics and H2 energy storage, and public engagement.
FLEXIS advisory board
Fundamental to the direction of FLEXIS was the establishment, engagement and support of its advisory board. Chaired by John Scott, former technical director of OFGEM, the board includes representation across the whole energy systems chain, including distribution companies (Western Power Distribution, Wales & West Utilities, SP Energy Networks); transmission (National Grid); utilities (Welsh Water); manufacturers (Siemens, Toshiba, ITM Power, Tata Steel UK, Compound Semiconductor Centre); national energy advisory bodies (Energy Technologies Institute, Energy Systems Catapult, Natural Resources Wales); academia and national government.
Scott said: "FLEXIS has been launched at just the right time to respond to the challenges of the expanding energy agenda. Universities and businesses in Wales can contribute strongly to the revolution that's taking place globally to harness renewable energy, improve air quality and provide attractive new services to customers. The advisory board members, representing large and small companies and wider stakeholders, have been active contributors to shaping the FLEXIS vision and look forward to closer engagement as the project moves into its practical stages, with special interest in the opportunities that the unique demonstration area concept will bring."
Demonstration area
Based in Neath and Port Talbot, the scope of the demonstration area makes it the largest multi-vector demonstration region in the UK. This has enabled Neath and Port Talbot County Borough Council to offer facilities and data in support of the FLEXIS goals.
In addition to the UK's largest steelworks, the proposed site for the UK's first Tidal Lagoon and a 500 MW CCGT power station, the area also faces significant challenges relating to fuel poverty, housing stock and air quality. FLEXIS will develop a multi-vector energy modelling approach to provide informed, quantified projections of the future impact of energy system development in the region, alongside social science analyses to understand risk and its perception.
Examples of other ongoing demonstration projects where lessons learned could be brought to bear in Neath Port Talbot include: the use of underground mine water from a disused colliery to heat 150 properties in Caerau, awarded £6.5m in EU funds by the Welsh Government and run as a partnership between FLEXIS (led by Professor Hywel Thomas), Bridgend County Council and the Energy Systems Catapult; an ammonia-storage-to-wind power demonstrator funded by Innovate-UK with Siemens, Oxford and the Science & Technology Facilities Council (STFC) and partnering with SP Energy Networks on a project to build the UK's first medium voltage DC circuit.
Four pillars of expertise and cross-cutting theme
Given the particular energy systems approach proposed and adopted by FLEXIS, its research remit is based upon four main pillars:
Integrated energy networks
Integrated energy storage and generation
Smart living in the built environment
Fuels and earth energy systems.
These are underpinned by the cross-cutting themes of sustainable development; equal opportunities and gender mainstreaming; tackling poverty and social exclusion; responsible innovation and supporting the Welsh language policy.
Early progress
The contribution of the CIREGS group is addressing how energy networks must evolve to provide sustainable, secure and affordable supplies over the next 30 years. Particular emphasis is on the integration of energy networks across scales and vectors. The work builds on the ongoing research of CIREGS and includes: modelling and simulation of energy supply; optimal planning and design; reliability and risk assessment; smart grids and energy storage.
Director of CIREGS, Professor Nick Jenkins reflects: "Even during the short life of the FLEXIS project so far we have clearly seen the increasing need to integrate energy networks."
FLEXIS' social science team is conducting interviews with experts and external stakeholders to map future uncertainties to which the project may need to adapt. Community interviews are enabling the team to better understand the importance of energy within everyday life, as well as how new innovations may affect people. Interviews have already taken place with residents of Caerau, concerning the mine water heat source project.
Joint principal investigator Professor Karen Henwood comments: "As social scientists within FLEXIS, we're exploring how energy system transformation will matter to citizens, communities, scientists and society. Our investigations will gain momentum as we embed them within demonstrator sites such as Port Talbot."
Led by Professor Andrew Barron, the energy safety research strand is investigating the technological developments required for the extraction of shale gas with minimal environmental impact and minimal resource needs, based on laboratory experiments and field research as well as computational modelling. Professor Barron's team is also looking at carbon capture and utilisation, specifically advanced carbon capture materials to application; new catalysts for the conversion of CO2 to fuel and flow cells for the total gas phase conversion of CO2 to fuel.
The Sustainable Environment Research Centre (SERC) team is investigating routes to de-carbonise energy supply from optimised production of hydrogen and methane from waste biomass such as sewage sludge, food wastes and straw, to developing bio-electrochemical systems to convert organic waste streams to hydrogen based fuels. Biological based reaction systems are also being developed to convert carbon found in biomass wastes with hydrogen to green chemical intermediates for use in the paint and coating industries. In addition, SERC is developing hydrogen energy storage equipment in support of management strategies for intermittent renewable supply, whilst developing and demonstrating a range of fuel cell technologies including PEM for transport and stationary power and solid oxide fuel cells (SOFC) for heat and power from industrial syngases.
International in nature
Whilst FLEXIS has been funded to support development in the Welsh energy sector, its aspirations clearly have an international context.
In August 2017, FLEXIS was launched globally at the 9th International Conference on Applied Energy hosted by Cardiff University. This leading annual international meeting for applied energy attracted over 630 delegates from more than 55 countries. A special plenary session of keynote speakers from across three continents (North America, Asia, Europe) presented their interpretation of energy system development across continents. FLEXIS hosted dedicated panel sessions with international guest experts on topics ranging from multi-vector energy systems to ammonia energy storage.
FLEXIS principal investigators Professors Alan Guwy and Phil Bowen represent the UK on the International Energy Agency (IEA) Technology Collaborative and Advisory Committees concerning hydrogen energy storage and clean and efficient combustion respectively.
What's next for FLEXIS?
The research will continue, effectively disseminated, whilst research associates will continue to be trained to contribute as future leaders in this challenging field. A major focus of attention over the next six months will be the crystallisation of ideas for effective, timely development of the Neath Port Talbot demonstration area.
For further information visit www.flexis.wales or www.flexis.cymru
Don't miss Professor Jianzhong Wu of Cardiff University presenting the "Integration of the networks: the FLEXIS project" at Utility Week's Wales Energy Conference on 16 May in Cardiff. For further information about the event and Professor Wu's talk follow: event.utilityweek.co.uk/wales
---
Comments
Login on register to comment