Power-to-gas energy storage study results published
Gas distributer Northern Gas Networks (NGN) has hailed the results of a power-to-gas feasibility study which suggest that hydrogen's potential as a form of energy storage could be delivered at scale.
26th April 2018 by Networks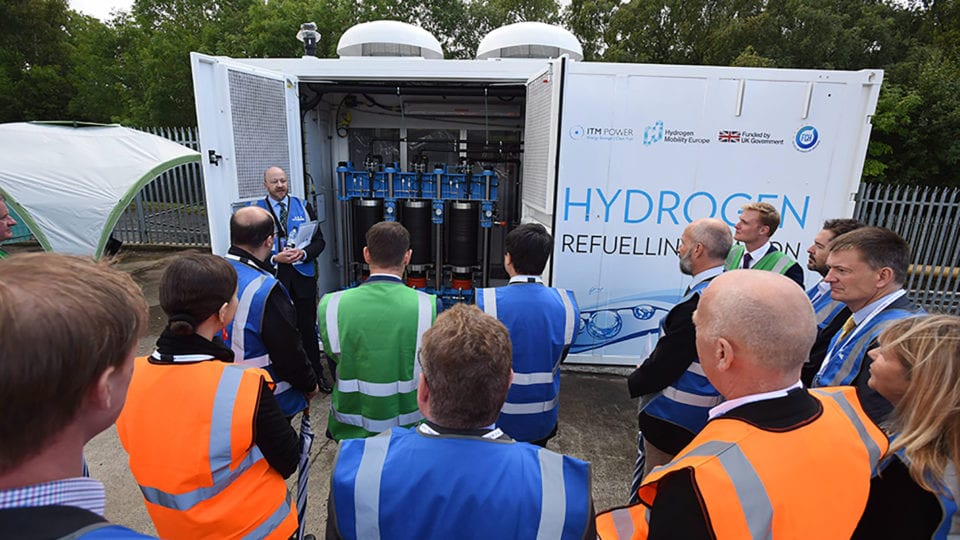 The collaborative desktop study, funded by the Department for Business, Energy and Industrial Strategy (BEIS), was led by Sheffield-based energy and clean fuel company ITM Power, using network planning models and data from the gas distributer for the North of England.
It highlights the opportunity available to the UK to take a lead in cutting edge energy storage technology, and the potential for a new era in green gas solutions for customers.
As renewable electricity increases in the UK, effective storage and transmission of surplus power is set to become increasingly important.
Power-to-gas technology turns this excess power into hydrogen, injected into the natural gas network using it as a renewable energy store for use in heat, electricity generation or transport via hydrogen fuel cell vehicles.
Using nothing more than clean water and electricity, power is turned into zero-carbon hydrogen through an electrolyser developed by ITM Power.
A blend of natural gas and hydrogen would then help to decarbonise the heat used in UK homes and industry.
Mark Horsley, CEO of Northern Gas Networks said: "Power-to-gas technology has the potential to answer some of our key energy storage challenges because of the gas network's sheer size and flexibility.
"This study has delivered some compelling results and insight into how a whole systems approach and green hydrogen can facilitate decarbonisation across all energy vectors.
NGN has led gas industry research into hydrogen as an energy source and is actively pursuing its use for heating in the UK through the pioneering H21 project, focused on converting the UK gas network to 100% hydrogen.
The BEIS/ITM Power-to-Gas study examined potential deployment of large-scale storage capacity of 50 megawatts (MW) and above within the boundaries of NGN's distribution network.
After detailed analysis of NGN's network, accounting for seasonal variations in gas demand and the amount of hydrogen able to be produced and blended with natural gas, the study revealed a large area of the NGN grid could support power-to-gas.
Four sites were identified with the InTEGReL facility at Low Thornley, Gateshead representing the ideal location for a first-of-its kind large-scale demonstration between 50 and 100MW.
Launched in partnership with Northern Powergrid and Newcastle University, InTEGReL (Integrated Transport Electricity and Gas Research Laboratory) was opened last year as the UK's first Whole Energy Systems research and demonstration facility, exploring the opportunity to break down traditional barriers between gas, electricity and oil.
If power-to-gas was carried out in a real-world setting, hydrogen injected at the InTEGReL site could deliver stored energy in the form of blended low carbon gas to over 243,000 domestic and industrial customers.
Horlsey added: "The work has shown our network is capable of power-to-gas over several sites with InTEGReL the ideal base to explore the technology, and hopefully can lead to a firm commitment for real-world power-to-gas projects in the UK in the near future.
"By bringing gas and electric together, there is an extremely valuable opportunity to drive down costs for customers, increase resilience and improve sustainability. NGN and ITM Power look forward to delivering a live project following the successful outcome of the recommended next steps."
Graham Cooley, CEO of ITM Power, said: "This feasibility study has resulted in a close working relationship with Northern Gas Networks and the results are very exciting for the deployment of large scale power-to-gas energy storage on their network. Northern Gas Networks have emerged as leaders in the use of hydrogen in the UK gas network for both energy storage and for renewable heat. "
---
Comments
Login on register to comment