Offshore wind to provide 30% of UK electricity by 2030
Thirty per cent of electricity will come from offshore wind by 2030, with the launch of the new joint government-industry Offshore Wind Sector Deal.
7th March 2019 by Networks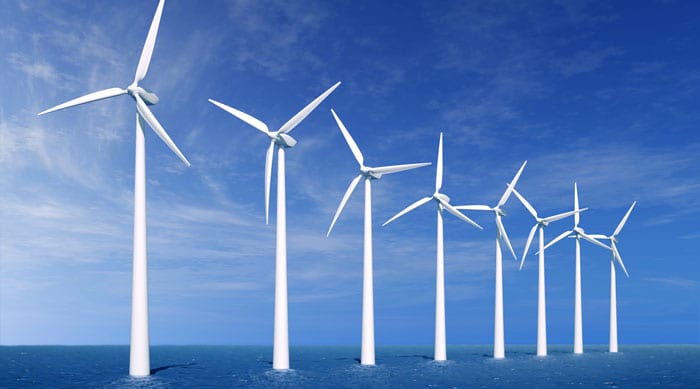 This deal will mean for the first time in UK history there will be more electricity from renewables than fossil fuels, with 70% of British electricity predicted to be from low carbon sources by 2030.
Claire Perry, Energy & Clean Growth Minister said: "This new Sector Deal will drive a surge in the clean, green offshore wind revolution that is powering homes and businesses across the UK, bringing investment into coastal communities and ensuring we maintain our position as global leaders in this growing sector.
"By 2030 a third of our electricity will come from offshore wind, generating thousands of high-quality jobs across the UK, a strong UK supply chain and a fivefold increase in exports. This is our modern Industrial Strategy in action.
The deal is backed by UK renewables companies and could see the number of jobs triple to 27,000 by 2030.
The deal will also:
Increase the sector target for the amount of UK content in homegrown offshore wind projects to 60%, making sure that the £557 million pledged by the government in July 2018 for further clean power auctions over the next 10 years will directly benefit local communities from Wick to the Isle of Wight.
Spearhead a new £250 million Offshore Wind Growth Partnership to make sure UK companies in areas like the North East, East Anglia, Humber and the Solent and continue to be competitive and are leaders internationally in the next generation of offshore wind innovations in areas such as robotics, advanced manufacturing, new materials, floating wind and larger turbines.
Boost global exports to areas like Europe, Japan, South Korea, Taiwan and the United States fivefold to £2.6 billion per year by 2030 through partnership between the Department of Trade and industry to support smaller supply chain companies to export for the first time.
Reduce the cost of projects in the 2020s and overall system costs, so projects commissioning in 2030 will cost consumers less as we move towards a subsidy free world.
See Crown Estate & Crown Estate Scotland release new seabed land from 2019 for new offshore wind developments.
UK government alongside the deal will provide over £4 million for British business to share expertise globally and open new markets for UK industry through a technical assistance programme to help countries like Indonesia, Vietnam, Pakistan and the Philippines skip dirty coal power and develop their own offshore wind projects
Industry reaction:
Keith Anderson, ScottishPower chief executive, said: "ScottishPower is proof that offshore wind works, we've worked tirelessly to bring down costs and, having transitioned to 100% renewable energy, will be building more windfarms to help the UK shift to a clearer electric economy. Two of our offshore windfarms in the East Anglia will replace all of the old thermal generation we've sold and we are ready to invest more by actively pursuing future offshore projects both north and south of the border.
"We have a fantastic supply chain already in place in the UK, from businesses in and around East Anglia to across England, across Scotland as well as Northern Ireland. The Sector Deal will attract even more businesses in the UK to join the offshore wind supply chain and we are excited to see the transformative impact this will have on our projects."
A spokesperson for the National Infrastructure Commission said: "Today's offshore wind sector deal is a clear demonstration of the numbers of jobs that this industry could create – especially as it continues to grow both here and internationally.
"Our National Infrastructure Assessment – the first of its kind for the UK – recommends that Ministers aim for half of the UK's electricity generation to come from renewables by 2030. Today's deal emphasises how a move towards that could not just benefit our environment, but also our economy – and form a key part of the Government's Industrial Strategy."
Chris Claydon, chief executive of the ECITB, said: "The ECITB welcomes the Offshore Wind Sector Deal. Over a quarter of engineering construction companies support the renewable energy sector and, as the statutory skills body for the engineering construction industry, we have a crucial role to play in developing the workforce to meet current and future demand.
"The ECITB supports a wide range of training across the sector and has developed industry-leading standards, such as the Wind Turbine Blade Repair Standard. Our work to boost transferable skills in the offshore oil and gas sector, through the Connected Competence programme, is highly relevant to offshore wind. We look forward to exploring how the programme might align with the proposed Offshore Energy Passport in the coming months.
"The ECITB will help further with the implementation of the deal by plugging skills gaps and supporting new entrants to embark on careers in Offshore Wind. We also strongly support the commitment to boosting diversity and will continue to play our part in helping industry attract more women and BAME groups to pursue careers in this exciting sector."
---
Comments
Login on register to comment