Networks set to pocket £7.5bn in 'unjustified profits'
Energy networks are set to pocket £7.5 billion in "unjustified profits" during the current RIIO price controls, research by Citizens Advice has found.
12th July 2017 by Networks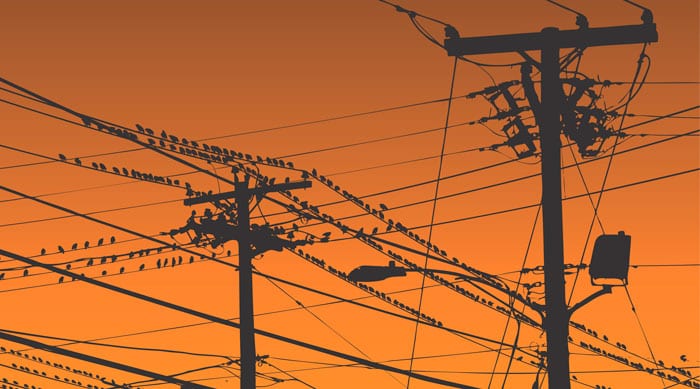 They charity says they are expected to enjoy an "eye-watering" 19 per cent average profit margin over the eight-year period and has called for consumers to be given a rebate through lower energy bills.
In a new report out today (12 July) entitled Energy Consumers' Missing Billions: The profits gifted to energy networks, Citizens Advice says the companies are forecast to generate returns of more than £25 billion for their investors and creditors – £19.7 billion in base returns and a further £5.6 billion in incentives.
"Our central estimate is that £7.5bn of these returns are excess profits – that is, profits that are entirely unjustified, not reflective of performance, and in excess of what is required," the report states. "The regulator intended the best-performing companies to earn double-digit returns while the worst earn only enough to pay the cost of their debt."
They are instead projected to earn a return on equity of 10 per cent on average, according to modelling by the charity, and none of them less than seven per cent. The average profit margin on base revenue is expected to be 19 per cent.
"Even considering these are more capital-intensive businesses, when compared to the four per cent margins the CMA [Competition and Markets Authority] stated are enjoyed by the big six energy suppliers, these are eye-watering amounts."
The report says the excess profits stem from three key decisions made by Ofgem as part of the RIIO settlement process.
Firstly, Ofgem overestimated the business risk for investors in the networks, costing consumers £3 billion. It estimated they would be 90 to 100 per cent as risky as a typical company when 60 per cent would have been a "more reasonable" figure.
Secondly, the regulator assumed interest rates and yields on government bonds would be higher than they have been, adding another £3.4 billion to bills.
Finally, at a cost of £1.1 billion, the incentive mechanisms which Ofgem put in place to encourage efficiency "actually rewarded companies that inflated their initial estimates for the cost of staff and materials".
Echoing recent comments to Network's sister title Utility Week by Helen Poulter, a researcher from the Exeter Energy Policy Group, the report says the information quality incentive which was meant to penalise companies for mispresenting information puts "relatively little revenue at risk".
"For the latest electricity distribution control, Ofgem tried to incentivise accurate business plan by fast-tracking high quality applications. But there's little evidence this has worked – the slow track companies are earning profits at similar rates to the sole fast track company."
Recommendations
Citizens Advice chief executive Gillian Guy said: "Decisions made by Ofgem have allowed gas and electricity network companies to make sky-high profits that we've found are not justified by their performance.
"Through their energy bills, it is consumers who have to pay the £7.5bn price for the regulator's errors of judgment. We think it is right that energy network companies return this money to consumers through a rebate."
Citizens Advice says if the networks fail to offer a rebate voluntarily then the government must act to force their hand.
To prevent the problem arising again, the charity recommends that Ofgem, "as far as possible", stop trying to make long-term forecasts and instead rely on market data to index companies' costs. The equity beta – a measure of financial risk – should be adjusted to reflect the comparative safety of the companies as investments.
At the same time, Ofgem should also set "much tougher" incentives for companies, using less carrot and more stick by putting some of investors' capital at risk for failing to perform. Furthermore, the charity says consumers bodies, such as itself, should be given more power to request a review of price controls.
Reaction
Responding to the report, the Energy Networks Association said in a statement: "We don't agree with the modelling used and to produce an excess profit forecast of £7.5bn by 2023 whilst stating that long-term forecasting is an impossible task simply doesn't make sense.
"We feel it's important that both industry and consumer groups alike contribute to the public debate on energy in a well-thought through approach that is fact based and on sound policy analysis."
The trade body said many of the reports' claims were "reviewed and rejected" by the CMA in 2016 as part of a case brought forward by British Gas.
"ENA members have engaged consistently with Citizens Advice throughout the drafting process and made clear its concerns about its content," the statement added. "External analysis is most welcomed but it must reflect the long-term nature of the investment and not be based on the short term simply to deliver a desired outcome."
Ofgem chief executive Dermot Nolan commented: "We are constantly striving to ensure that customers pay no more than they need to for networks. Ofgem has already cut costs to consumers by six per cent in the current price control and secured a rebate of over £4.5 billion from network companies and is engaging with the industry to deliver further savings.
"Today we are setting out our plans for the next price control and along with other utility regulators are signalling that the next price control will be tougher for investors.
"While we don't agree with its modelling and the figures it has produced, the Citizens Advice report raises some important issues about network regulation which will be addressed in the next control."
---
Comments
Login on register to comment