Natural gas now powering Kerry Ingredients plant in Listowel
Gas Networks Ireland has connected the Kerry Ingredients plant at Listowel to its natural gas network.
14th June 2018 by Networks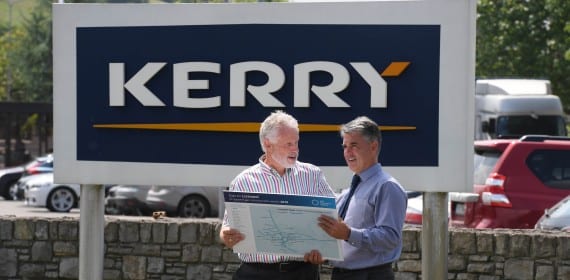 This is the first time that the plant has been powered by natural gas. The plant is acting as the Gas to Listowel project's 'anchor load' tenant and this has made the extension of the natural gas pipeline to Listowel possible.
The €20m extension of the natural gas network has already been connected to the Kerry plant, which has now started to operate with the new energy source. Work continues to connect Listowel town.
The Gas to Listowel project comprises laying 41kms of polyethylene gas pipeline from the transmission station near Foynes to the Kerry Ingredients plant in Listowel. The first phase of the project, connecting to Kerry ingredients, commenced in 2017.
At the peak of the works there were over 100 personnel on-site at up to eight different locations along the route, drawing out thousands of tonnes of stone and soil and welding, laying miles of pipe, backfilling trenches, and drilling under rivers, culverts, underground cattle crossing and underground ESB power lines along the route. The works continued through Ballyhahill, Moyvane and Listowel where a dedicated distribution gas network is being installed.
Work is continuing in Listowel Town, where a total 9km of network is being installed.
Gas Networks Ireland will only extend the natural gas network to towns which are not yet connected to the network if a viable business case can be made for the project.
The importance of Kerry Ingredients' commitment to the project was explained by Ian O'Flynn, head of commercial, Gas Networks Ireland. He said: "Gas Networks Ireland is deeply grateful to Kerry Ingredients for being the anchor for the extension of the natural gas network to Listowel, quite simply without Kerry Ingredients we would not be here today. The delivery of natural gas to Listowel brings with it massive opportunity for local businesses and communities to benefit from safe, efficient and cost effective heat and energy. We have also opened up the potential for customers to access renewable gas, which will be coming on stream and will be an increasingly important element of Ireland's energy supply for the future."
Jim Lee of Kerry Group added: "In line with Kerry's commitment to supporting dairy farming and milk processing in the Southwest of Ireland and maximising the sustainability of our operations, switching to natural gas allows us to substantially reduce emissions and waste from our Listowel manufacturing site. The availability of natural gas has also enabled us to undertake a significant investment in Combined Heat and Power (CHP), which will be commissioned in early 2019, and will further reduce our energy use and emissions. We are delighted that a further benefit of GNI's decision to bring gas to Listowel is that the local community can enjoy the benefits of this €20m investment in a modern gas network."
---
Comments
Login on register to comment