'Liquid air' battery tech firm scales up to 50MW plant
Highview Power, the company promoting "liquid air" as a storage medium for surplus electrical energy, last week announced plans to construct the first commercial scale battery facility using the technology, at a decommissioned thermal power station in the north of England.
24th October 2019 by Networks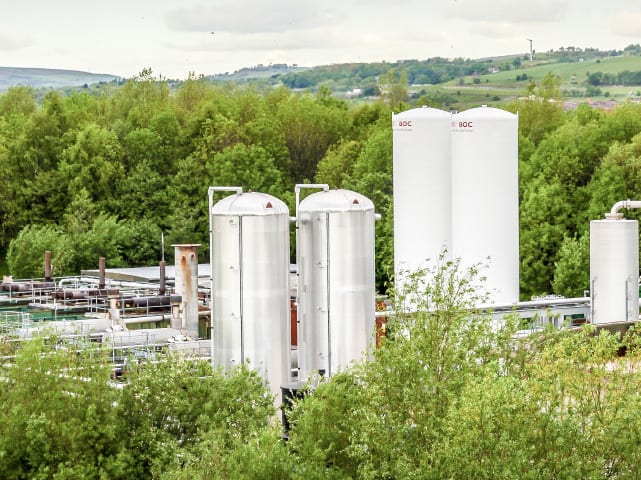 The 50MW/250MWh commercial scale project will have the capacity to power 25,000 homes, the company said.
It follows a 5MW/15MWh demonstration plant at Pilsworth, Greater Manchester (pictured above) that has been operational since early 2018 and was developed with project partner Viridor.
The Pilsworth project was grant-funded by both Innovate UK and the erstwhile Department of Energy and Climate Change.
A pilot demonstrator plant was also developed at Scottish and Southern Energy's biomass plant in Slough, and was in operation from 2011 to 2014.
Highview's system uses surplus electricity to compress air and lower its temperature to minus 196 degrees Celsius, a branch of low temperature physics known as cryogenics.
The air condenses into a liquid, which is then stored in low-pressure insulated containers.
To recover electricity, the air is removed from the containers and reheated, causing it to evaporate back into a gas and rapidly expand. The expanding air is used to drive a turbine and generate power.
Long-duration, giga-scale energy storage is the necessary foundation to enable baseload renewable energy and will be key to a 100% carbon free future

Javier Cavada, chief executive, Highview
The project was announced by Highview Power's chief executive Javier Cavada at the Bloomberg New Energy Finance (BNEF) summit in London.
Cavada said: "We are excited to begin working on our first commercial UK project at scale to become the largest battery storage system in Europe and support the National Grid. This cryobattery plant will provide the critical services needed to help maintain a stable and reliable grid".
He added: "Long-duration, giga-scale energy storage is the necessary foundation to enable baseload renewable energy and will be key to a 100% carbon free future."
Along with this first large-scale facility, Highview Power's Cavada said that it is developing a portfolio of projects in the UK and is in the process of securing sites.
The company argues that its "cryobattery" technology has multiple benefits over forms of long-term storage of surplus power, such as pumped-hydro facilities or compressed air.
It has a relatively small footprint, can be installed in a wide variety of locations, and uses only non-hazardous materials, with zero emissions and zero water impact.
Facilities could be scaled to deliver up to 200MW/1.2GWh of energy, it says, and would offer a lifespan of 30 to 40 years.
Energy could be stored for weeks, at a price the company says represents the lowest levelized cost of storage for large-scale applications.
As well as helping to integrate non-synchronous generation from renewables, Highview also suggests that it could offer other services to the energy system, including market arbitrage, frequency management, reserve, and grid constraint management services.
Highview says that is currently in discussions with potential customers to contract for the capabilities and services the facility can provide.
---
Comments
Login on register to comment