HyNet project on track to be operational by 2024
Cadent's HyNet project is on course to be operational by 2024 after being awarded over £800,000 in support from UK Government and project partners.
27th June 2019 by Networks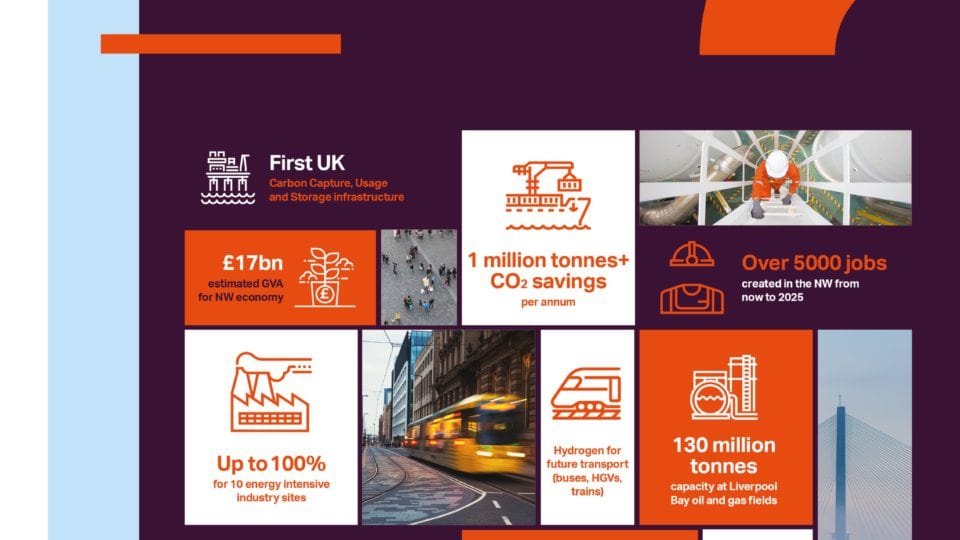 HyNet will capture and store over a million tonnes of carbon dioxide (CO2) from industry and store this offshore in depleted gas fields in Liverpool Bay, which are currently operated by Eni. HyNet will also subsequently produce hydrogen as a fuel for both heating, power and transport. A UK-first at such large scale, the first phase will be operational by 2024.
Since its launch in May last year, HyNet has attracted significant industry and political support, both regionally and from Westminster. Led by Cadent and project developer Progressive Energy, the wider consortium now also includes Essar Oil UK, CF Fertilisers, Peel and the University of Chester.
The financial support – announced today – from the Department for Business, Energy and Industrial Strategy (BEIS) enables the HyNet consortium to begin the next phase of engineering design for the Carbon Capture and Storage (CCS) element of the project. This CCS infrastructure is the critical enabler for decarbonisation of the major parts of the North West economy.
Energy intensive industry in the North West operates in a competitive global market, and is subject to UK and EU carbon 'taxes'. The new CCS infrastructure will not only enable long-term, low carbon production but will help both maintain existing, and attract new, industry to the region.
The first phase of the HyNet project would see around £300 million invested in constructing CCS infrastructure. Longer term, the overall investment in CCS and hydrogen infrastructure in the region is planned to reach around £1 billion.
This will bring a range of economic benefits, including up to 5,000 jobs from the planning, construction and ongoing operation of these new facilities, with the prospect of more jobs and investment as the technology rolls out to other regions of the UK.
Ed Syson, chief safety and strategy officer at Cadent, said: "This a critical step towards achieving huge carbon savings for UK industry and to enable its clean growth. HyNet is game-changing and positions the North West as a world leader in carbon capture and hydrogen technologies. With a range of partners, we are building a project here that will help decarbonise heat in homes and industry, along with providing cleaner fuel for transport like trains and buses."
Overall, the government has committed £26m to nine CCUS projects.
The full list of projects which have secured funding is as follows:
Carbon Capture, Usage and Demonstration (CCUD)
Drax – Fuel Cell Biogenic Carbon Capture Demonstration, £500,000 towards a £1 million project
Origen Power – Oxy-Fuelled Flash Calciner Project, £249,000 towards a £356,000 project
Tata Chemicals Europe – Carbon Capture and Utilisation Demonstration, £4.2 million towards a £17 million project
Call for CCUS Innovation
C-Capture – Negative CO2 emissions from BECCS, £4,915,070 towards an £11.1 million project
Pale Blue Dot Energy – Acorn storage site, £4,795,017 towards an £8.1 million project
TiGRE Technologies Limited – Integration of CCUS technology to a 200MW OCGT TiGRE Project located in the North Sea, £163,909 towards a £243,000 project
Translational Energy Research Centre (PACT-2) – Led by University of Sheffield / Pilot-Scale Advanced Capture Technology (PACT), £7 million toward a £21 million project
Progressive Energy – HyNet Industrial CCS, £494,626 toward a £765,500 project
OGCI Climate Investments – Clean Gas Project, £3.8 million toward an £18 million project
---
Comments
Login on register to comment