Hydrogen boilers: here today, in your home tomorrow
Martyn Bridges, director of technical communication and product management at boiler manufacturer Worcester Bosch, says that he doesn't need a crystal ball to discern the future of domestic heat - in the company's labs, prototype hydrogen boilers are up and running.
6th December 2019 by Networks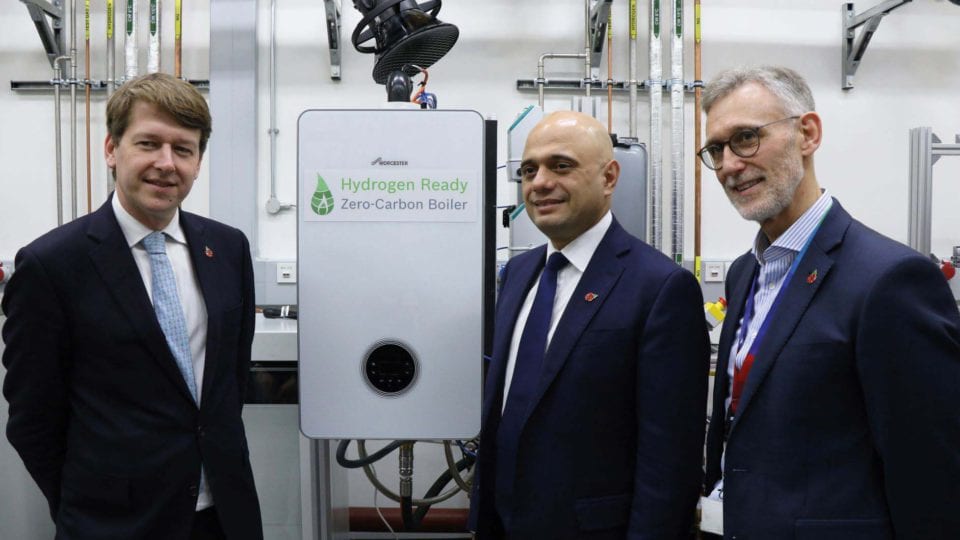 With climate change becoming such a huge topic of interest, and new net-zero goals being enforced by the government, discussion on how to reduce carbon emissions in homes has never been so rife.
Around 20 years ago most people weren't that concerned with how they heated their homes as long as it was warm. Natural gas was plentiful, as was oil. There was no indication of any other method taking first place in homes.
In the last 10 years, particularly the last two years, the topic of climate change has been brought to the masses. Every country in the world has woken up and realised that we really need to lower our carbon emissions. As more efficiency and low-carbon regulations are put into place, we must begin to consider how we will continue to heat our homes in the future. Around 18% of carbon emissions in the UK come from home heating, making the heating industry a focus for change.
It's widely agreed in society that we would all like to, and need to, see carbon emissions reduced. There is pressure on the heating industry to "clean up" as it were, and quite rightly so. Everyone is talking about heat pumps, a great solution for new homes. However, I wouldn't be so convinced on installing these into the majority of existing homes.
For a heat pump to work efficiently, you need to keep the flow temperature as low as possible, ideally around 40 to 50 degrees Celsius. With this lower flow temperature, you need larger radiators than most homes would presently have, larger diameter pipework and better insulation. All of this is quite expensive and invasive. Consequently, if we could use an existing heating system and use a carbon-free boiler, we'd be hitting the jackpot.
This is where hydrogen comes into play. Whilst I can picture electric systems – such as heat pumps -being the norm for new builds, I simply don't see how these would beat a hydrogen alternative for existing homes.
We see boilers in today's market that are able to run on 20 per cent hydrogen. Unfortunately, this isn't good enough for our net-zero targets, therefore I believe that over at Worcester Bosch we are set to have the solution. A 100 per cent hydrogen boiler has been created in our lab, so I know that the best solution rides on this clean gas.
From this boiler, you could be running along smoothly with natural gas, and when hydrogen was ready to be used in your home, an easy transition would be made to change over from natural to "clean gas", or hydrogen if you prefer to use the technical name. Whilst not at a production position yet, we certainly do have prototypes up and working. With every step forward with this boiler, I get excited to think about the future of clean heating.
A series of trials are going to take place in the next couple of years, where around 300 homes in Scotland will be run on hydrogen. We have a further two expected trial locations in the north of England too. In my opinion, we are inching ever closer to the point where the government can put its faith in hydrogen, just as we have over in Worcester.
In fact, I would imagine that the government, say in the late 2020s, will mandate that hydrogen ready boilers must be fitted into existing properties. This would be a well thought-out plan as then, by 2035, when we get near the time that hydrogen will be ready, the transition won't be disruptive or challenging to a homeowner.
If you think about it, the digital TV switchover, completed in the UK between 2007 and 2012, offers an analogy. Whilst not similar in technology, the idea of the transition is the same: get the digital TV ready, and then when we had the analogue to digital switchover, there was minimal disruption.
So, taking it back to the million-pound question… is hydrogen for heating feasible? My answer is absolutely. I've seen it working in our labs with my own two eyes. I see no reason as to why this great, clean gas shouldn't, or won't, be a key part of the changing landscape for heating.
As I mentioned earlier, whilst new builds may take up heat pumps, I'm certain that hydrogen will be used for those existing properties where residents or owners want as little disruption to their lives as possible. Whilst this might not be for a couple of years, I can assure you it'll be worth the wait.
Martyn Bridges is director of technical communication and product management at Worcester Bosch
---
Comments
Login on register to comment