Hydrogen boilers, CCUS and biogas critical to net-zero heat, says ENA report
The government should mandate "hydrogen ready" boilers for new installations in domestic properties as part of a radical strategy to deliver a zero carbon heat network by 2050, concludes a major new report outlining a viable pathway for decarbonised heat in the UK.
1st November 2019 by Networks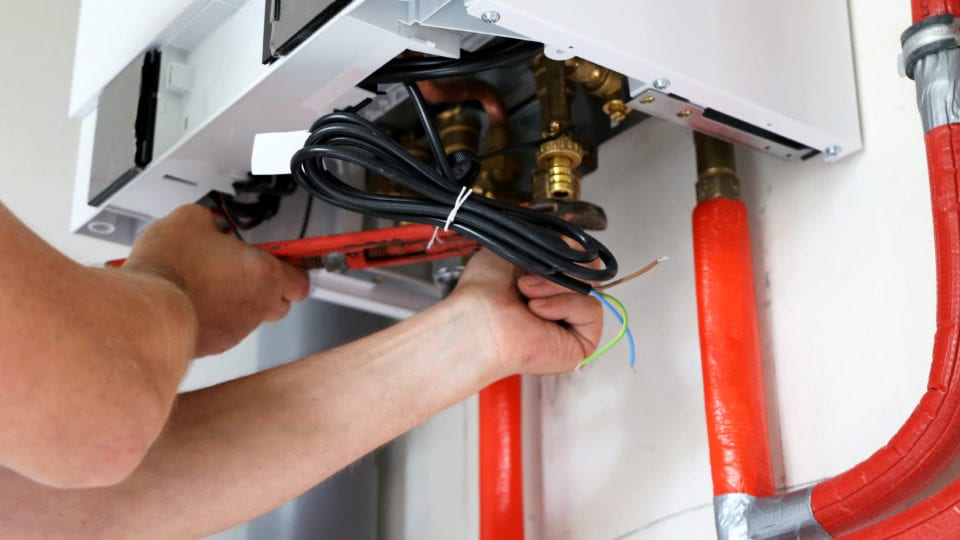 The report also calls for an urgent replacement for the Renewable Heat Incentive scheme to facilitate a scaling up of biogas production, and the development of regional hydrogen "clusters" expanding to form hydrogen "zones".
However, it also warns that net-zero may not be reached if carbon capture, usage and storage (CCUS) schemes are delayed, even if alternative mitigating policies are introduced.
"The biggest risk to achieving net-zero emissions by 2050 is the commercial viability of CCUS," it argues.
Written by management consultant Navigant, and commissioned by the Energy Networks Association (ENA), Pathways to Net Zero sets out a detailed technical plan to deliver a zero carbon gas grid, along with the operational and regulatory actions that will be needed to achieve it.
The report was also independently reviewed by Imperial College.
It argues that a "pathway" using more low carbon and renewable gases along with further electrification could save around £13bn a year compared to a pathway that relies on electricity alone.
One "easy win" for government would be to mandate that new boiler installations in existing homes are "hydrogen ready", when the appliances come to market in the coming years.
To achieve net-zero emissions by 2050, urgent action is required across all fronts and the gas networks must have a prominent role

Richard Bass, director, Navigant
These appliances and equipment are designed so that they can operate at up to a 20% blend of hydrogen, or otherwise at 100% hydrogen, with manufacturers indicating that they will be commercially available from around 2026.
Other key steps would include:
introducing a comprehensive energy efficiency programme to help keep peoples' homes warm and alleviate fuel poverty;
increasing the volume of green gases, like biomethane and hydrogen, in the energy system;
providing support for large-scale trials including carbon capture, usage and storage (CCUS), hydrogen production and "smart hybrid" heating systems that combine electric heat pumps and boilers;
changing gas safety, metering and billing regulations to allow hydrogen into the system.
The report makes certain technical assumptions about future green gas capacity, predicting that 20 anaerobic digestion plants will be built each year from 2020 to 2028, followed by 40 a year from 2029 onwards.
However, this would require that government creates a replacement for the Renewable Heat Incentive funding mechanism, which is due to come to an end in 2021. The replacement scheme would also need to financially support hydrogen production, it says.
Green hydrogen production (or hydrogen production from excess renewables) should begin in 2026.
Navigant also assumes the development of a green gas solution for every part of the country. Hydrogen "clusters" would develop around the initial anchor end-users (eg heavy industry).
As the hydrogen clusters expand geographically, they will merge to form larger hydrogen zones. Outside of the hydrogen zones, the gas transmission network will continue to carry biomethane.
As well as providing heating and hot water for the domestic housing stock, the report points out that low carbon and renewable gases will provide heat for industry, help to manage peaks in power and balance the use of renewables and be used extensively in the transport sector, in particular for international shipping and also for heavy road freight.
The report links the UK's success in greening its electricity grid to its system of regulation, and says that the underlying legal framework will also allow the gas network to achieve flexibility and decarbonise.
It says: "The gas network companies are already playing their part: building on their experience which has already seen nearly 100 green gas production plants connected across the country and developing innovative research which has seen hydrogen emerge as a key policy option for heat decarbonisation.
"Now is the time to act: Government, Ofgem and all key stakeholders must come together to make sure that not only are the public at the heart of their thinking but that the policy and regulatory framework supports the further delivery of the private investment needed to deliver a Net Zero gas system for the country."
David Smith, ENA chief executive, said: "We are facing a climate emergency and now is the time for action. Cutting emissions from heating has historically been complicated which is why I am delighted Navigant's report shows the pathways we need to take to deliver low carbon heating for 23 million homes and businesses and getting us to net zero.
"The country should be proud of the innovation and engineering expertise that has led to Britain being a world-leader of renewable energy, including green gasses. It is now for government, the regulator and industry to build on that success and create the right policy and regulatory environment to attract the investment required to deliver the world's first net zero emissions gas network for the public".
Richard Bass, director of energy, sustainability and infrastructure at Navigant said: "To achieve net-zero emissions by 2050, urgent action is required across all fronts and the gas networks must have a prominent role.
"Our analysis demonstrates that there are technically viable and cost effective pathways for low carbon and renewable gas to contribute to the decarbonisation of the GB energy system in combination with electrification, carbon capture and storage, and improvements in energy efficiency."
---
Comments
Login on register to comment