Helicopter used to install composite power poles
More than 100 new composite poles that connect the Dorenell Wind Farm to Scottish and Southern Electricity Networks' (SSEN) Blackhillock substation, near Keith, have been successfully installed - with the help of a helicopter.
20th February 2018 by Networks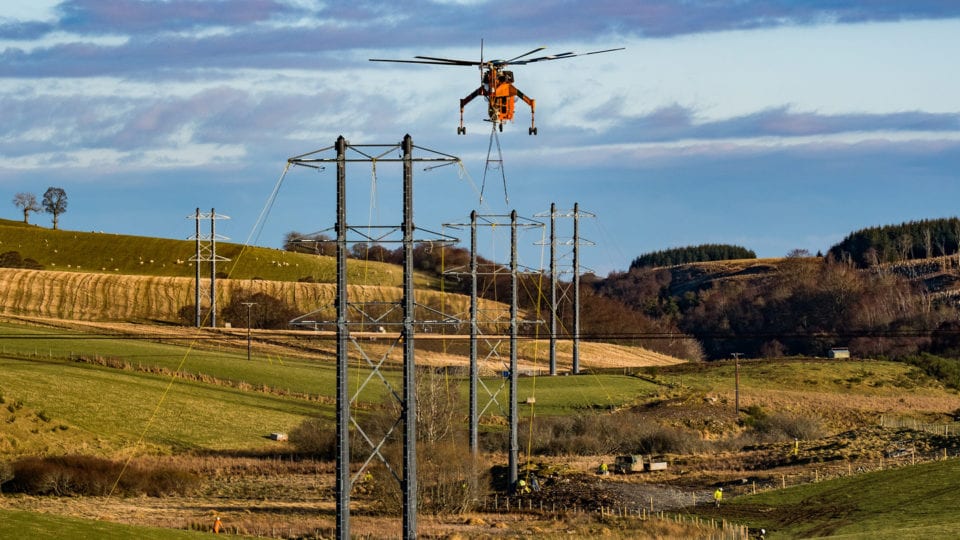 This innovative technology, which uses a durable composite plastic instead of the traditional timber, is the first of its kind to be installed on the GB transmission network, and has been specially adapted to meet the unique terrain and environment of the north east of Scotland.
SSEN utilised a specialist Erickson S-64 air-crane helicopter from the USA to successfully install the poles. The helicopter, which can hold up to a 10-tonne load, allowed the construction team to overcome the rugged terrain whilst minimising disturbance to the environment and community.
Paul Higginbotham, lead project manager at SSEN, said: "This is a new way of delivering electricity in Scotland and I am proud that we are the first transmission network owner to use composite poles in Great Britain. The use of composite materials means they have a stronger strength/weight ratio than the traditional wood pole alternative. They are also less visually intrusive than steel lattice towers.
"We shipped in a S64-F Air Crane from the USA to lift and install the poles. This innovative installation method meant that we did not require access tracks for the erection process and were able to install the poles quickly in locations that would have been difficult to access by crane."
SSEN has engaged Balfour Beatty as the principal contractor to supply, install and connect the 140 composite poles that will link Dorenell Wind Farm to SSEN's substation at Blackhillock, near Keith.
Andrew Smith, operations director for Balfour Beatty's power transmission and distribution business in Scotland, added: "At Balfour Beatty, we are continually assessing how we can utilise technology and innovation to mitigate safety risks, increase project efficiencies and overcome challenges faced by the sector.
"Working in collaboration with SSEN, we have developed an entirely new infrastructure solution which meets industry specifications in both the UK and Europe. This includes modifying the pole structures to be less intrusive, enhancing the durability of the insulators and utilising cutting edge conductors to enable real-time monitoring of windfarm and substation performance."
Composite poles are environmentally friendly and require no preservatives. They eliminate the need to harvest trees, which helps reduce greenhouse gas emissions, carbon consumption, and the degradation of ecosystems. In addition, composite poles demonstrate a longer lifespan and can be repurposed or recycled at the end of their useful life.
---
Comments
Login on register to comment