Getting the power back on
National Grid ESO is aiming for a world first - coordinating multipe distributed energy resources (DERs) to provide a safe Black Start service in its Distributed ReStart project. Alec Peachey spoke to project lead Peter Chandler.
6th November 2019 by Networks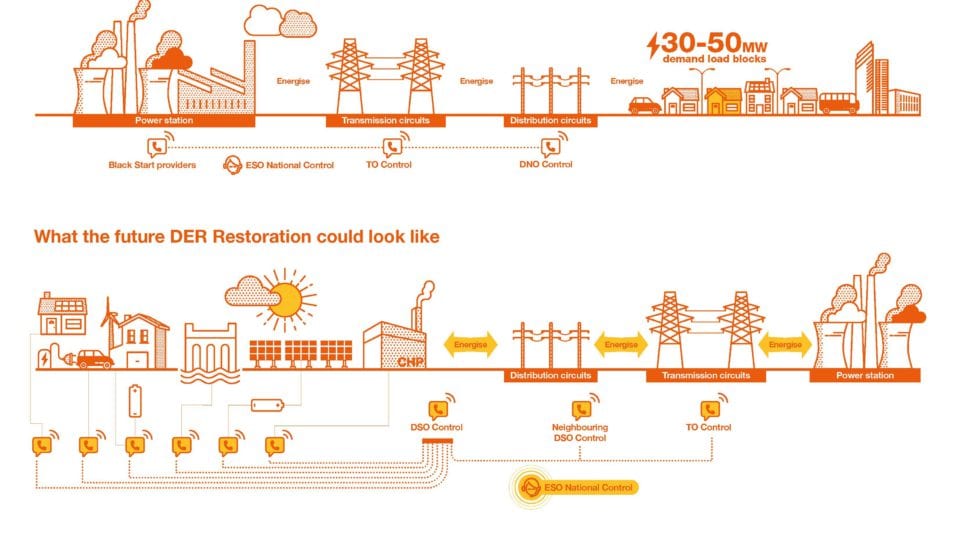 Disruption to travel, no access to money, problems with telecommunications and petrol pumps rendered out of service – these are just some of the issues that would be faced by the public in the event of a blackout. "Catastrophic" is the word used by Peter Chandler (pictured below), project lead for the Distributed ReStart project at National Grid ESO, to describe the extent of the problems caused in this situation. Nor would the effects be over in a hurry, with Chandler indicating that restoring full power across the whole country could take up to a week in a "Black Start" scenario.
Recent blackout incidents in other countries have served as a timely reminder that power cut prevention and protection remains a key priority. In June, a massive blackout left almost 50 million people without electricity for a day in Argentina, Uruguay and Paraguay following what the Argentine president, Mauricio Macri called an "unprecedented" failure in the countries' power grid.
So what is Black Start? Black Start is the process of restoring power to consumers and restarting the whole of the electricity system, in the event of a blackout. At National Grid ESO, it is envisaged that its Distributed ReStart project will demonstrate a world first – coordinating a bottom-up approach from distribution networks to transmission level to provide an effective and cost-efficient Black Start service.
A national blackout event would touch the day-to-day lives of everybody in this country. It's so important to have an insurance policy.

Peter Chandler, National Grid ESO
As Chandler explains, Black Start is currently a transmission-led approach to starting large generators and energising a skeleton transmission network. However, the GB electricity system is undergoing a revolution driven by decarbonisation and decentralisation, and Black Start services need to evolve accordingly, he notes.
Chandler says: "Current Black Start is all about restoration of electricity supplies when we've had a blackout. Historically, the way we would restore supplies following a national blackout event is by starting big fossil-fuelled power stations using their own backup generators.
"Today this would mean energising the transmission system down to the distribution level and then restoring domestic supplies. These power stations are kept in a state of readiness and can be instructed to start quickly, but due to decarbonisation and decentralisation of the electricity system a lot of these large, traditional power stations are closing down. The costs of Black Start services are rising as a result and these are being paid for by consumers.
"Our project is looking at ways of doing Black Start differently from traditional methods, by looking at utilising Distributed Energy Resources [or small power stations connected at distribution level]. Effectively we're turning the whole methodology on its head. It's a whole new way of doing it."
Head start in renewables
Generation sources likely to be included in the project include:
• natural gas turbines;
• biomass generators;
• embedded hydro-power stations;
• wind turbines; and
• solar panels.
The Distributed ReStart project, funded by Ofgem's Electricity Network Innovation Competition to the tune of £10.3m, aims to recommend technical, organisational and commercial solutions to create market access for distributed energy resources (DERs) to participate in Black Start services, in ways that would also reduce CO2 emissions, create competition and bring down the cost of Black Start services.
National Grid ESO is working in partnership with SP Energy Networks and energy consultancy TNEI on the project.
Essentially, the project will draft in far more generation sources than has hitherto been the case, explains Chandler. "The fact that we're looking at smaller generators of between 10-15MW as opposed to 500MW large power stations, means we're going to need a lot more of them. If we don't have enough of them it's going to delay the whole restoration process."
There's a whole lot of learning to be gained from whatever we come up with. Whatever solution we come up with has to be able to be translated across the whole of Great Britain

Peter Chandler, National Grid ESO
The project features a number of workstreams covering the following areas: project direction; power engineering and trials; organisational, systems and telecommunications procurement and compliance; knowledge and dissemination.
Chandler adds:"The first 18 months is the development phase where we have been doing a lot of our optioneering. We've been working with our partner SP Energy Networks to create 10 case studies. These case studies are options of how we can utilise distributed energy resources to do Black Start. As we go through the development phase of this project we'll do further detailed optioneering work on those case studies.
"When we get to the second half of the project that's the demonstration phase where we'll use these case studies and hone them down to a smaller subset. Ultimately, we'll get to a point where we will do live trials on two or three of these."
Chandler wants to complete live trials in 2021, and expects to have a number of options that can be adopted soon after this.
"I'm hoping that it turns out that way because the electricity system is changing so fast. We're thinking that rather than doing a big bang suite of trials at the end of the project it would be more sensible to build up in stages. I hope to start an initial series of trials in the summer of 2020. We want to see if our approach is the right one, and if not then see what needs to change and then test it. A big bang approach is too risky."
The project was established in January 2019 and runs until April 2022. Chandler is confident that things are progressing well, saying: "There's a whole lot of learning to be gained from whatever we come up with. Part of our remit is to engage with all the other stakeholders, certainly DNOs and other DER stakeholders as well. Whatever solution we come up with has to be able to be translated across the whole of Great Britain.
"When we prove the two or three case studies at the end, they'll have to be representative of other potential DNO options elsewhere."
The blackout risk
Whilst there has never been a complete blackout in Great Britain, Chandler says the ESO can't afford to be complacent. "We're an island and we didn't necessarily have interconnectors in the past going back to when the grid system was built in the 1960s. Our security standards to plan, build and operate the network are quite stringent, a lot more stringent than say some of the European member states. It has meant that we haven't had any national blackout incidents.
"However, we can't be complacent. What would happen if we had a blackout? There are a lot of interdependencies that would play out. No power across the whole of Great Britain would impact on our ability to travel, communicate, heat our homes, buy essentials, respond to emergencies. It would be catastrophic.
"A national blackout event would touch the day-to-day lives of everybody in this country. It's so important to have an insurance policy. National Grid ESO is well prepared and has Black Start recovery plans in place already but landscapes are changing and these plans need to reflect that."
But if, as suggested above, fully re-powering the electricity system after a Black Start would take up to week, could these timings be improved when achieving Black Start from DER?
"Potentially yes," answers Chandler. "This would be a national expectation for restoration. Each region within Britain is different. Due to the physics of the electricity system, the south east is one of the last regions to be restored under the current Black Start strategy. Our project could improve that at a regional level."
---
Comments
Login on register to comment