First live hydrogen trials on campus 'living lab'
Keele University campus has become the site of the UK's first live trial to inject hydrogen into a gas network, in the first of a series of demonstrations by the HyDeploy consortium.
6th January 2020 by Networks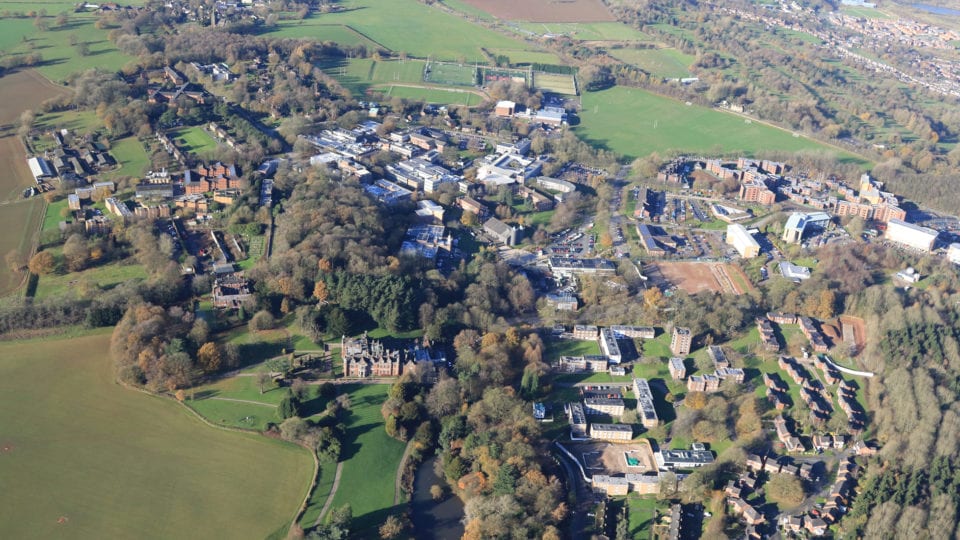 Buildings on the Staffordshire campus are now being heated by the 20% hydrogen and methane blend, after the trial was sanctioned from a safety perspective by the government's Health and Safety Executive (HSE).
HyDeploy, led by Northern Gas Networks and Cadent Gas, plans to progress to series of blended hydrogen demonstrations on public gas networks across the north of England from December 2020.
HyDeploy has received a total of £22m in innovation funding from Ofgem to explore the technicalities of converting the UK's 176,469 miles of gas pipework, connected to 23 million homes, to carry hydrogen or hydrogen blends.
The Keele trial involves 100 homes and 30 faculty buildings and a 20% hydrogen blend – the highest trialled in Europe, together with a similar project by Engie in northern France.
The 20% volume blend means that customers can use their gas supply as normal, without any changes to gas appliances or pipework, while still cutting carbon emissions.
HyDeploy is a pioneering landmark national demonstration project, using our campus as a genuine 'living laboratory' for low carbon and energy-efficient technologies

Professor Mark Ormerod, vice provost, Keele University
In 2016, HyDeploy secured £7m from Ofgem's Network Innovation Competition for a three year trial in partnership with Northern Gas Networks, Keele University, the HSE Science Division, energy systems manufacturer ITM-Power and clean energy company Progressive Energy.
The hydrogen used in the trial is produced by from water using an electrolyser, built by ITM Power, to split water molecules into hydrogen and oxygen.
Keele University was a suitable location as it owns and operates its own private gas network, which could be safely isolated from the wider UK gas network.
In 2018 the HSE granted the HyDeploy consortium an exemption to the current safety limit of 0.1% hydrogen in the UK gas network, under the UK Gas Safety (Management) Regulations.
The exemption to allow 20% hydrogen for the project at Keele came after the project partners gathered extensive evidence, scrutinised by the HSE, to demonstrate the hydrogen blend would be "as safe as natural gas".
Gas safety checks were carried out in the homes and buildings in the trial area and laboratory tests were carried out on a range of gas appliances, as well as extensive research on the effect of hydrogen on the different materials found in the gas network and the appliances.
A similar approach was used to allow the first bio-methane producers to inject biogas into the natural gas network.
Heating for domestic properties and industry accounts for half of the UK's energy consumption and one third of its carbon emissions, with 83 per cent of homes using gas to keep warm.
Professor Mark Ormerod, deputy vice chancellor and provost at Keele University, said: "Sustainability and low carbon energy is a key overarching institutional priority for Keele University, and we are delighted to be a key partner in HyDeploy.
"HyDeploy is a pioneering landmark national demonstration project, using our campus as a genuine 'living laboratory' for low carbon and energy-efficient technologies. HyDeploy has the potential to be hugely impactful and lead to a step change in the reduction of carbon emissions associated with heat."
Ed Syson, chief safety and strategy officer for Cadent, said: "It is impossible to overstate the importance of this trial to the UK – this is the first ever practical demonstration of hydrogen in a modern gas network in this country.
"Hydrogen can help us tackle one of the most difficult sources of carbon emissions – heat. This trial could pave the way for a wider roll out of hydrogen blending, potentially enabling us to begin cutting carbon emissions from heat by the early 2020s, without customers needing to change their gas appliances or behaviour.
"HyDeploy could also prove to be the launchpad for a wider hydrogen economy, fuelling industry and transport, bringing new jobs and making Britain a world-leader in this technology. Urgent action is needed on carbon emissions and HyDeploy is an important staging post on that journey in the UK."
Mark Horsley, chief executive at Northern Gas Networks, said: "Hydrogen is a key piece of the decarbonisation jigsaw, and this milestone allows us to take a huge leap forwards in terms of its use in meeting climate change targets.
"Customers are ready to embrace cleaner, greener solutions in their homes, and projects like HyDeploy give us the opportunity to start making a difference to emissions today. We're very excited to be a part of it."
Keele University is also working with businesses, academics and graduates to create multi-energy-vector Smart Energy Network Demonstrator (SEND) project – where new energy-efficient technologies can be researched, developed and tested in a real world environment.
In May 2019 Keele became one of the first UK universities to declare a "climate emergency", with a target of being carbon neutral by 2030.
---
Comments
Login on register to comment