Energy and transport integration
Faye Banks (director of energy) and Phil Proctor (associate director - smart grid technologies) from Costain discuss meeting climate change targets through the integration of energy and transport sectors.
5th December 2018 by Networks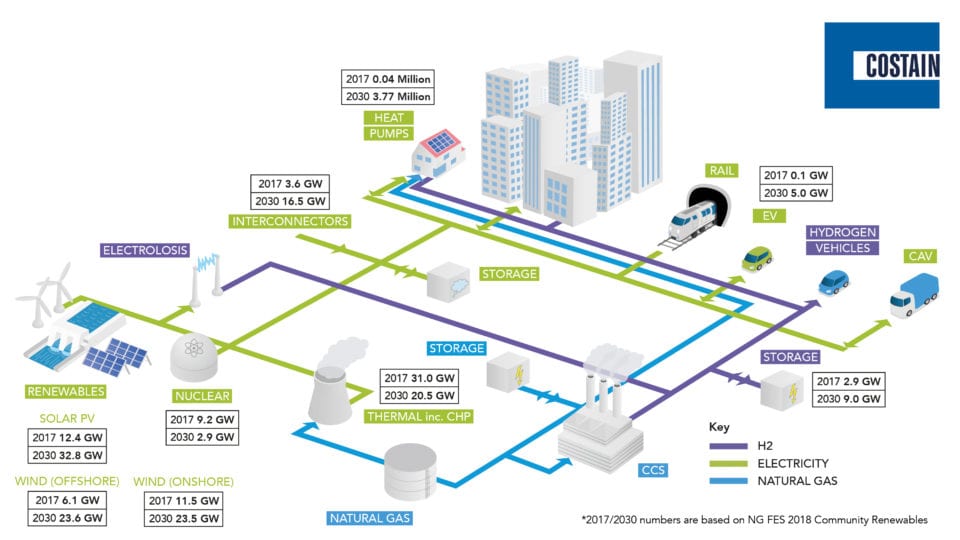 The energy industry is going through major transformational change driven by the need to decarbonise and enable the UK to hit its targets under the Climate Change Act 2008. Whilst the initial focus on meeting carbon budgets has been through the decarbonisation of power resulting in the closure of coal stations and decentralisation of generation through the deployment of renewables; these actions in themselves will not achieve the targets.
Other sectors who utilise energy must also decarbonise. The transport sector in the UK accounts for over a quarter of national Greenhouse Gas (GHG) emissions; 91.6 per cent of which are due to road transport1. Recent legislation has been implemented which means that by 2040 there will be no more sales of cars or light vans that rely on fossil fuels. This policy change is already resulting in substantial changes to how the transport sector is considering its infrastructure choice and local authorities are now driving strategy in public transport.
The automotive industry is responding with new offerings. Hybrid and electric vehicle model ranges are being rapidly expanded and the energy retail sector is innovating with new packages being offered to vehicle users; whilst energy services such as the potential for vehicle to grid are starting to look like real possibilities.
National Grid's Future Energy Scenarios predict somewhere in the order of 10m cars could be on the road with 5.0GW of peak energy requirement2. The planned Hinkley C nuclear station is 3.2GW as a comparison. Therefore, this represents a considerable energy requirement to be accommodated in the energy infrastructure over and above current energy demand.
At Costain, our considerable experience of delivering infrastructure solutions in these sectors, across the full delivery supply chain from energy production, storage and distribution, coupled with our capabilities of applying best practice and the latest technologies around digitisation and visualisation, means we can enable this transformation to happen. Our focus is on the application of current technologies and the investment in research, including sponsoring 21 PhD students, means we are constantly pushing the boundaries to ensure that the UK's aspirations for meeting 2050 climate change targets are entirely possible.
For example, we are working closely with one client, offering them a variety of technology solutions to improve operational effectiveness and asset reliability. Our UAV technologies are being utilised to identify high priority failure modes on their existing OHL network and we are utilising the concept of machine learning to proactively monitor their OHL network.
Decarbonising transport
The move to electrification of transport is not the answer to all transport segments. In 2015, 76 per cent of all goods were moved by road, with the remainder by water (15 per cent) and rail (nine per cent)3. The recent legislation does not apply to HGVs and the technologies available today make decarbonisation of this segment not viable. Emerging technologies around fuel cells and hydrogen combustion are becoming more viable making multi-vector solutions possible where a mixture of electric and decarbonised gas could be the answer. Other transport segments may also benefit from this approach including emergency service vehicles where range and charging times may be an issue.
Costain's pioneering work, led by Highways England, is to transform journeys with innovative technology allowing vehicles and the roads to 'talk' to each other. A high-tech 'corridor' is being created on the A2/M2 in Kent to let specially-equipped test vehicles interact with roadside infrastructure in a move which promises safer, more reliable journeys and speedier maintenance, to reduce delays and carbon.
The right infrastructure solutions to deliver on these challenges will need an integrated and optimised planning approach across the transport and energy sectors recognising the full multi-vector energy supply chain. Considerations around minimising investment in capacity and reducing energy costs through optimising the use of energy resources are key to underpinning any viable solution.
For more information, please contact Faye Banks and Phil Proctor: https://www.linkedin.com/in/fayebanks15/ and https://www.linkedin.com/in/philproctor/
References:
1 D. Nicolaides, D. Cebon, and J. Miles, "Prospects for Electrification of Road Freight", https://www.repository.cam.ac.uk/bitstream/handle/1810/264646/Final-version.pdf?sequence=1, 2017
2 National Grid FES 2018 Community Renewables
3 DfT, "Domestic Road Freight Statistics, United Kingdom 2016" Department for Transport, 2017
---
Comments
Login on register to comment