Driving innovation forward
David Smith, chief executive of the Energy Networks Association (ENA), reflects on the recent Low Carbon Networks Innovation (LCNI) Conference and gives his views on the sector.
13th February 2018 by Networks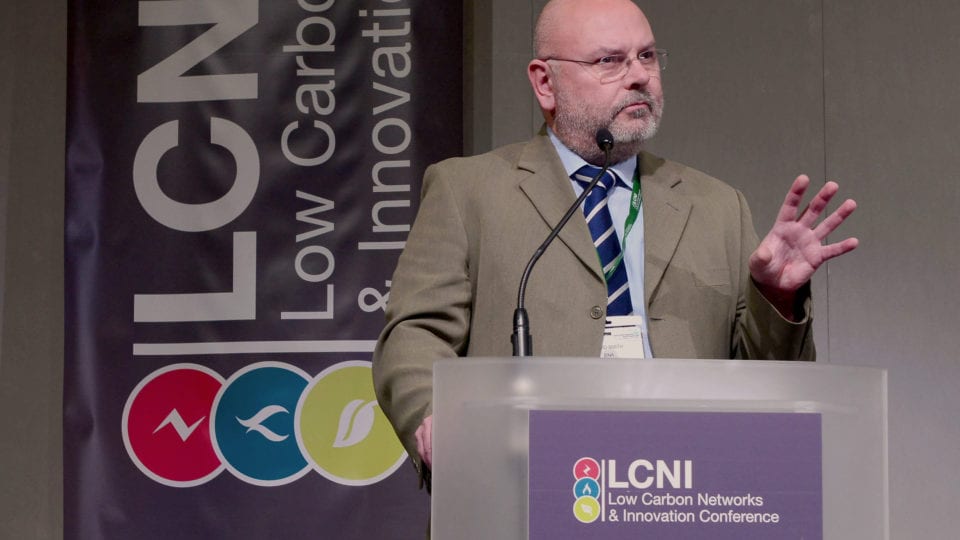 "You learn, you change, you adapt and you move forward." The pace of innovation across the gas and electricity networks is perhaps best summed up by this phrase.
But speaking to me over coffee in London, David Smith warns that this pace must continue. "The big danger is if you stop innovation things will slow down. You need to keep pushing because we're going through a point where we're learning as we're developing. We look after engineering standards within the ENA and we know that those standards are going to have to change because as we go through we're learning and therefore we need to change and develop."
My chat with Smith comes just a week after the ENA's Low Carbon Networks Innovation (LCNI) Conference, which took place in Telford.
The event provided an opportunity to explore key learnings from electricity and gas network innovation projects. It also featured networking opportunities in addition to project focused presentations and workshops.
Smith is pleased with how the event went, but with the show in its seventh year he admitted there were challenges around ensuring it continues to improve. He said: "Is there still a desire for the information to be out there? Last year we had a lot of feedback."
The 2016 event was run over three days, but following feedback the ENA took the decision to reduce it to two.
"When I was walking round the exhibition had a real buzz about it," continues Smith. "Lots of people were able to pick up and have conversations. It felt like there was a really good vibe."
So what were some of the key trends talked about at the 2017 show? Here comes that word innovation again.
"For me there's a need to drive innovation forward," remarked Smith. "Through innovation we're changing the whole dynamics of the sector, but we're doing it at a pace that many people thought we couldn't do."
There was an international feel to this year's event with delegate representation from across Europe and America.
"They use it as an exemplar of how the regulator and companies can work together," notes Smith. "It's important to be close to your regulator because it benefits the customers."
Setting the tone
During the conference programme, Jonathan Brearley, Ofgem's senior partner for networks, talked about the increasing need for network companies to use innovation in everyday working practices rather than relying solely on incentive programmes.
Smith was encouraged by his comments: "It's about how we innovate to bring other sectors, who we might not traditionally talk to, into this whole partnership approach.
"We know what we can do and how we can innovate, but how can we use others to help us innovate? How are we going to use suppliers to help us innovate? How do we bring the consumers along with us?
"I was very encouraged by Jonathan's comments and I think he sounded the right note. It set a nice tone for the conference."
One of the key things highlighted at the 2017 event was a focus on a 'whole systems' approach – where gas and electricity networks work together.
Smith says: "People forget there's lots of innovation in gas as well. We've been very clear that it is a whole system energy approach which we're taking. I believe the future of gas is there, whether that is natural gas, synthetic, bio-methane produced gas, or hydrogen. That future and the use of our networks, which are probably some of the most comprehensive in Europe, will really help to deliver for the consumer over the next 30, 40 or 50 years.
"The systems complement each other. There's not a box that says this is gas or electricity. There are points where they touch over and can help complement each other. That's why we've been very clear at the ENA that it's an energy system approach."
At the LCNI, Great Britain's electricity network companies announced a joint commitment to "create new markets to enable flexibility services that will compete alongside traditional investment".
The ENA has published a new report entitled 'Opening Markets for Network Flexibility' as part of its Open Networks project – a pan-industry initiative to establish the future roles and responsibilities of network companies.
According to the ENA, the development of a national smart grid could deliver £17 billion back to the economy by 2050.
The figure of £17bn is based on analysis conducted by Imperial College London and The Carbon Trust for the smart systems and flexibility plan published by the government and Ofgem in July.
"The movement from a distribution network operator (DNO) to a distribution system operator (DSO) is important," comments Smith. "We've seen a lot of distributed energy coming onto the networks, probably at penetration levels we wouldn't have expected – I'm thinking particularly about solar PV. That's driven by technology, because solar PV has become more efficient and cheaper to produce. Therefore, people can use it.
"We weren't expecting these penetration levels until about 2030. That means the role and responsibility of the networks is that they're seeing it and need to be able to manage it locally. Open networks is about how we facilitate that change, it's about how a system operator would work, and it's about how the TSO/DSO interface will work. Right down to very local levels. We're going to go right down to the low voltage networks. This really gives us visibility across the networks that wouldn't have been seen before."
Highlighting progress
When it comes to delivering innovation does Smith think that some network operators are more advanced than others?
"I think the innovation is across the board," he states. "If you look back at LCNI all the companies were there doing projects. All of them are there with the DSO system. They need to see locally what's going on, and it's simply because of the amount of distributed generation that's going on at that level. They need to get right in and see that, so all of them are leading or doing work on DSO, or they're heavily involved with the Open Networks project – and taking a very active part in it."
Finally, what does Smith think we'll be talking about at this year's event?
"I think we'll be building on all of the projects. I think we'll be reaffirming the Open Networks commitment. This blurring of the line between gas and electricity I think will come closer to fruition. I think the whole systems approach will become the normal words. Whole system is where we're going."
It's clear from talking to Smith that innovation will play a key role in driving the sector forward and ensuring that the operators are prepared to meet the changing demands put on networks.
The Low Carbon Networks Innovation (LCNI) Conference will return to Telford on 16 and 17 October 2018.
---
Comments
Login on register to comment