Cadent unveils plans for large-scale use of hydrogen
Low-carbon hydrogen could power industry and heat two million homes in North West England, according to plans unveiled by Cadent.
11th May 2018 by Networks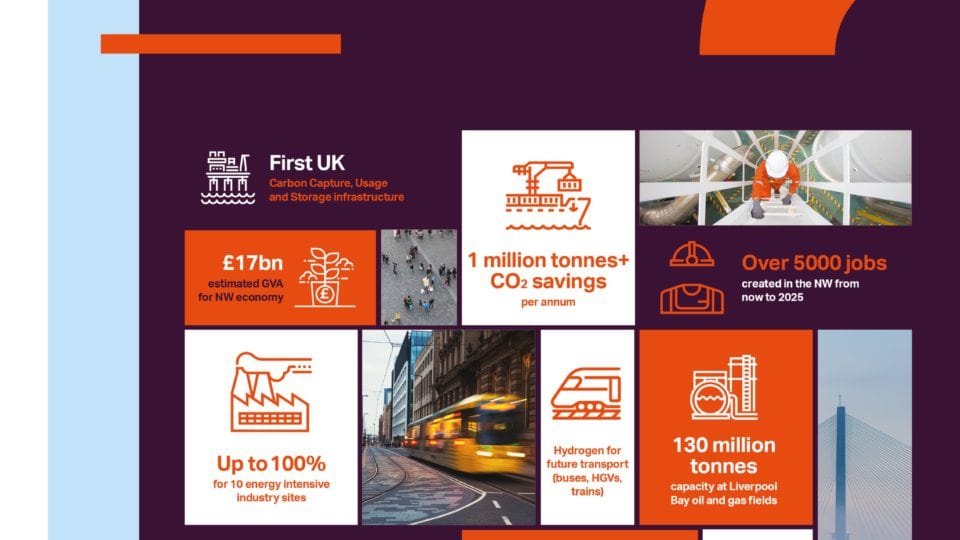 The UK's biggest gas distribution network has published a report which explains how the North West will trailblaze a switch from a dependency on methane-rich natural gas to using more of low-carbon hydrogen.
The report includes details of the potential economic windfall set for the region through its 'HyNet' project and says that at least 5,000 jobs will be created.
First stages of a 30-year plan centre on a new hydrogen production facility planned for Cheshire, making gas for distribution locally and into Merseyside and Greater Manchester.
Central to HyNet is a promise to reduce carbon emissions by more than one million tonnes every year, or the equivalent of taking 600,000 cars off the road.
Cadent's report, published today (11 May), reveals more than 5,000 jobs would be created between now and 2025, with thousands more to follow as more plants and pipelines come online later.
Up-and-running by the mid-2020s, it would be a UK-first large-scale use of hydrogen in this way. Cadent say "it could open the door for the use of hydrogen as a 'clean' fuel for buses, lorries and trains."
Led by Cadent, HyNet already has the backing of big players in industry, as well as the region's two metro mayors, Andy Burnham and Steve Rotheram.
Simon Fairman, director of safety and network strategy at Cadent, said: "This is unquestionably one of the most exciting energy projects for the North West in years. We chose the region because it is already home to 10% of the UK's biggest industrial users of gas, as well as it having an ideal site on the doorstep to store the carbon that's produced in making hydrogen.
"HyNet will create and secure thousands of jobs – up to 80% locally – through the design, installation, construction and operation of the new hydrogen and carbon storage infrastructure needed. We're talking huge numbers, but we're also talking about a huge impact in solving a problem facing us all in the UK, how to decarbonise heat.
"We'll reduce the amount of carbon that enters the atmosphere by one million tonnes every year. What's amazing is that domestic users will simply use gas tomorrow the way they use it today, through the same appliances and pipework they have in their homes now.
"This is Cadent showing leadership through innovation. But we need to work together and clear some hurdles yet if we are to make this clean growth for the UK happen. We need a favourable Government policy mechanism for CCUS [carbon capture, usage and storage].
"We will also work closely with Government and our regulator Ofgem to discuss the right funding mechanism. And we also need to prove to the Health and Safety Executive that hydrogen is safe to use at these volumes in homes, which we're confident of doing through a project that's already under way at Keele's university campus."
Liverpool City Region Metro Mayor Steve Rotheram said: "The building blocks are rapidly falling into place to enable the Liverpool City Region and the North West to lead the way in finding cleaner, greener sources of energy. Using hydrogen to power industry and heat homes in phase one is very exciting, but this HyNet project also sets out a longer-term roadmap towards supplying hydrogen to fuel our trains and buses. It's visionary, timely and just what we need."
How HyNet works – in brief
At point of use, Hydrogen is a 'zero-carbon' gas – when it burns, it only creates two things: heat and water.
Cadent's HyNet project is based on extracting hydrogen from natural gas at a new purpose-built production facility, most likely located in Cheshire (with various sites being considered).
This will be delivered to big industrial users via a new pipeline connected directly to up to 10 sites, including oil refineries and manufacturing plants.
Over a million tonnes of carbon dioxide – which would be created during the process to extract hydrogen from natural gas – will be transported and stored in the repurposed Liverpool Bay Complex gas fields.
Hydrogen would also be blended (at volumes up to 20%) with the natural gas currently used for domestic purposes, meaning two million homes in Cheshire, Merseyside and Greater Manchester would reduce their carbon footprint overnight.
The proposals set out by Cadent explain how extra plants and infrastructure would emerge in the years following, enabling wider geographic use of hydrogen by industry and domestic users, as well as hydrogen as a fuel for transport.
---
Comments
Login on register to comment