Cadent scoops EI Technology Award
Cadent, Britain's largest gas distribution network and its partners, beat off competition from other major UK energy companies to win the Technology Award at the Energy Institute (EI) Awards.
22nd November 2017 by Networks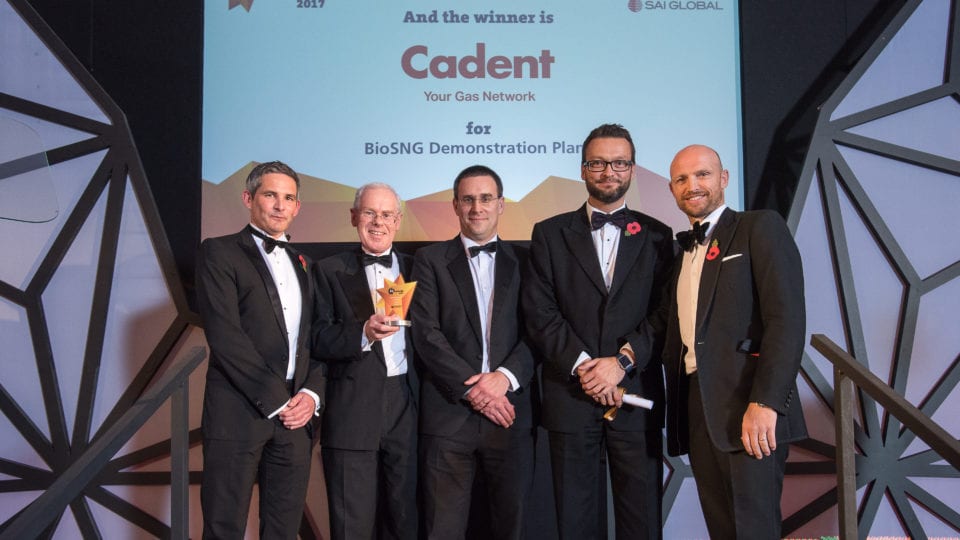 Representatives from the BioSNG project were handed the award at the 2017 EI Awards Dinner which took place at the Sheraton Grand Park Lane Hotel in Piccadilly on 9 November.
Cadent supported a successful trial in Swindon, which used game-changing gasification technology to make BioSNG (bio-substitute natural gas) from household waste. The trial was judged a success which proved the commercial and technical feasibility of the new technology. Cadent has also provided £8.6m of funding to support building the world's first commercially operating plant in the town.
David Pickering, Cadent's BioSNG project manager, said: "This award is the icing on the cake for a project which has been a great success.
"We're on the verge of a real green gas revolution here and Cadent is delighted to be associated with a technology that can make a major contribution to decarbonising both heat and heavy goods transport – sectors in which it has been extremely difficult to reduce greenhouse gas emissions to date."
The new commercial £27m BioSNG plant is being built by a consortium of partners made up of Advanced Plasma Power, Progressive Energy, Wales & West Utilities, CNG Services and Cadent. Backing of £11m for the plant was also awarded from Department for Transport's Advanced Biofuels Demonstration Competition in September 2015 and over £5m is being contributed from the Network Innovation Competition, run by energy regulator Ofgem.
You can see a full list of winners here.
---
Comments
Login on register to comment