Cadent adds BMW bikes to emergency response fleet
Gas distribution network Cadent has invested in four new police-style patrol bikes for emergency engineers as part of its expanded rapid response fleet.
13th February 2020 by Networks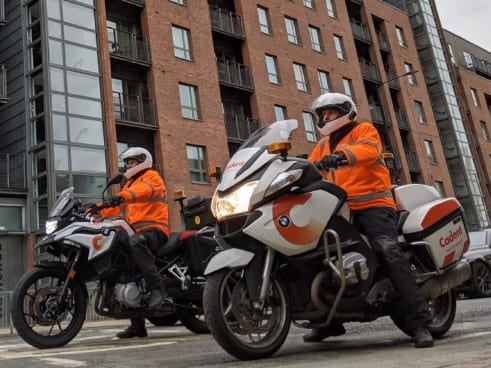 The new bikes have been purchased by Cadent's North London and North West divisions, while one of the former's old BMW RT1200 bikes has been transferred to the East of England division.
A recent trial of the bikes in the North West found that they allowed engineers to reach potentially life-threatening incidents 50 per cent faster than vans.
Cadent owns, operates and maintains the gas distribution network in four regions: the West Midlands, North West England, East of England and North London.
The purchase of four BMW 750GS bikes comes 25 years after the gas network's predecessor, Transco, first invested in emergency Honda Pan European bikes for the North London territory.
Transco later switched to BMW 1200 bikes.
Over the years, the bikes have contributed to event planning for major public events, such as the funeral of Diana, Princess of Wales, where the gas network worked with other emergency services on protocols for potential gas leaks.
The new BMW 750 motorcycles are smaller and lighter than the BMW RT1200, enabling them to negotiate tighter traffic spaces, potentially reaching incidents even faster.
The bikes are specially adapted with amber strobe lights, an expandable removable top box and panniers, plus satellite navigation systems. The bikes are also clad in Cadent livery.
Dominic Stephens, fleet specialist for Cadent, who played a major role in procuring the new motorcycles, said: "The motorbikes enable our engineers to get to incidents faster but with enough onboard storage capacity to still carry the tools and equipment they need to safeguard life and property.
"They're especially useful in congested urban areas like London, Manchester and around the M25 in places like Hertfordshire, as our engineers can filter around through the traffic and get to where they're needed fast."
He added: "Though we're not a blue light service we have found that with the amber lights, white helmets and hi-vis jackets motorists are very receptive in letting our riders filter through.
"From ensuring major events in London have not been disrupted to our recent successes in Manchester, Cadent has shown that motorcycles still have a strong future as working vehicles in the 21st century."
---
Comments
Login on register to comment