Bristol receives £10 million for low-carbon heat networks
Bristol's journey towards carbon neutrality has been boosted after the council received a £10 million government grant to help expand the city's heat networks to more communities.
4th March 2020 by Networks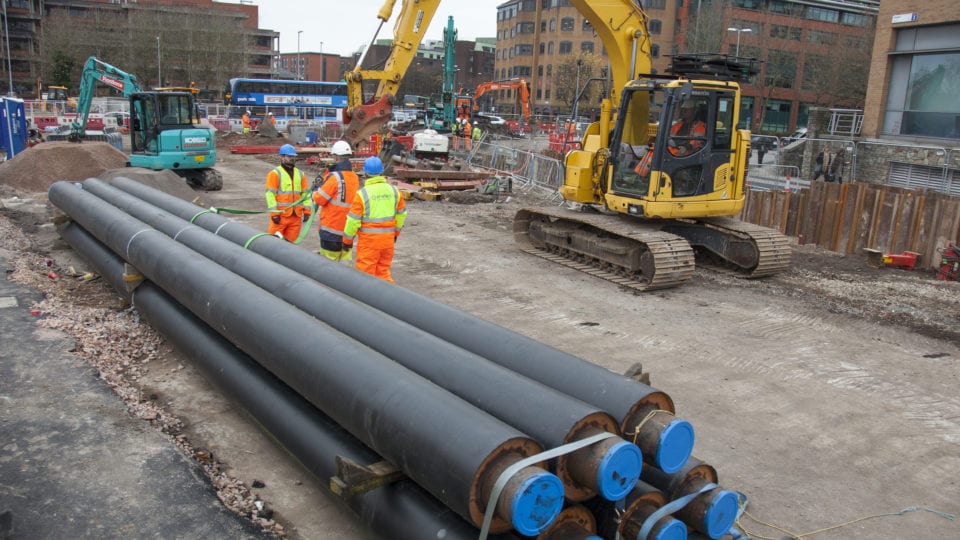 The Heat Network Investment Project (HNIP) funding will see the city's heat network – a system of underground pipes that transports hot water from different sources to homes and businesses in order to heat them – broadened, with the city council's Cabinet meeting on Tuesday (3 March) approving the establishment of a new company governance structure as one of the conditions of the grant.
The meeting also saw the approval of two reports relating to the council's low-carbon heat networks – core infrastructure to decarbonise Bristol's heat demand, cementing the city's steps on the journey to carbon neutrality.
Sometimes called district heating, the heat network replaces the need for individual buildings to have their own heating systems and often uses heat recovered from industry or from renewable sources, as well as producing fewer carbon emissions, being more efficient and cost-effective to run and protecting against future rises in gas prices.
Bristol's heat network currently supplies over 1000 properties with low-carbon heat from a variety of sources across the city and continues to expand to new areas across the city.
Bristol City Council last year became the first local authority in the UK to declare a climate emergency – recognising the need to rapidly accelerate progress in both carbon reduction and to create a climate resilient city. Since then, over 400 other councils and countless private organisations elsewhere across the UK have declared similar climate emergencies.
Part of this network expansion will include the creation of a large water-source heat pump which will produce zero-carbon heat sourced from Bristol's floating harbour, where another section will use waste heat from the University of Bristol's new campus development. This project will be the first of its kind for the council and will result in the largest water-source heat pump in the country.
Feasibility and design will also commence on the Bedminster branch of the heat network which will initially supply low carbon heat to new developments being built in this area of the city as well as existing buildings including Bristol South Pool. An energy centre is being proposed that will use heat from the adjacent main sewer in addition to potential waste heat from the area's former mine infrastructure in the area.
Councillor Kye Dudd, Cabinet Member for Energy and Transport said: "Our Bristol heat network has such a vital role to play in our city's journey to carbon neutrality. The council has invested over £7 million in this infrastructure over the last five years and will continue to expand the network to serve new communities with low-carbon heat.
"This new funding from BEIS is so welcome to support the growth of the network and will enable us to innovate with new technology that will provide zero carbon heat to a number of new developments in the city. It's also very exciting to see old fossil fuel infrastructure like the Bedminster coal mine being considered for use to provide zero carbon heat for the future – another example of Bristol's ability to find pioneering ways to tackle the climate emergency."
---
Comments
Login on register to comment