BEIS spotlights heat networks with consultation and grants
The Association for Decentralised Energy (ADE) has welcomed two new government announcements supporting heat networks: a consultation in advance of dedicated legislation and the award of £40m to seven projects through the Heat Network Investment Project (HNIP).
7th February 2020 by Networks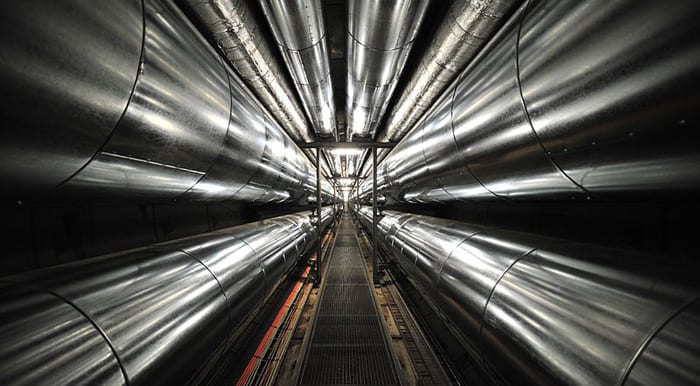 The consultation, from the Department of Business, Energy and Industrial Strategy (BEIS), sets out ideas on increasing levels of investment in the sector, and options for a market framework to deliver consumer protections equivalent to those offered to gas and electricity customers.
There are also proposals for developing technical standards, and certification and accreditation processes to improve the quality, cost and reliability of heat networks.
However, Heat networks: building a market framework stops short of proposing a full licensing regime for heat network operators, which it says would create an "unduly burdensome approach".
Instead it sets out options for a more flexible "general authorisation" regime.
For too long, the heat sector has played second fiddle in the fight against climate change, overlooked for more familiar technologies like electric cars and wind turbines

Ian Calvert, director, ADE
The seven projects to receive gap funding were announced by BEIS in partnership with Triple Point Heat Networks Investment Management.
The projects (see below) are the first beneficiaries of the £320m HNIP scheme, which is open to public and private sector organisations in England and Wales
Ian Calvert, director of the ADE said: "For too long, the heat sector has played second fiddle in the fight against climate change, overlooked for more familiar technologies like electric cars and wind turbines. The announcement today that the government will bring forward its consultation on heat networks is most welcome.
"We are delighted to see £40m invested in 7 projects that will bring jobs and unleash investment up and down the country. Significantly, these announcements signal the considerable potential that heat decarbonisation can make to reaching the net zero target.
"The Heat Network Industry Council, which the ADE has been convening, will release its offer to Government shortly and this consultation sets a strong direction for industry and Government working together to grow this underrated sector.
HNIP funding has been offered to:
Barking Town Centre Strategic Distribution Energy Scheme (£5m)
A low carbon district heating scheme in Barking Town Centre, serving new developments comprising more than 8,000 homes as well existing buildings.
Bristol City Council: Old Market Heat Network (£6.59m)
The Network will supply 17 buildings including 10 office blocks, 4 residential blocks, two hotels and one school.
Bristol Redcliffe Heat Network (£3.6m)
Expanding the existing network and the installation of a second low carbon energy centre, supplying new commercial developments.
Leeds City Council (£2.4m)
An extension to a recently completed heat network into the city centre, to deliver low carbon heat from the Recycling and Energy Recovery Facility (RERF) to five council buildings with capacity to allow future connections.
Energetik: Meridian Water Heat Network (£14.76m)
To supply low carbon waste heat to 10,000 homes and eventually connect to three other housing developments in the Borough to supply over 15,000 homes.
Veolia: South East London Combined Heat and Power Heat Network (£5.5m)
To create a new pipework branch from South East London Combined Heat and Power (SELCHP) energy from waste plant to transport waste heat to 3,500 new homes.
Peel Energy, part of Peel L&P: Liverpool Waters Heating Network (£1.3m)
To support the supply of heat to multiple residential and commercial buildings.
There are already around 500,000 customers receiving heat through heat networks, equating to around 14,000 heat networks, while the Committee on Climate Change has set a target to grow this to serve 1.5 million homes in 2030.
Charlotte Owen, heat policy officer of the ADE said: "These announcements recognise the contribution a decarbonised, high growth heat sector could make, right across the UK. The introduction of a regulator for consumer protection is greatly welcomed, and will support the market to continue to deliver good outcomes for consumers.
"In 2050, heat networks will represent a significant proportion of UK heating, and as such should be placed on an equal footing with other utilities. Consumer protection is a significant part of this. The proposed introduction of statutory undertaker rights, which will reduce costs, provide greater certainty around planning and place heat networks on an equal footing with other utilities, is a very welcomed move by government.
"However, in striving for net zero we must press for greater action. These are welcomed measures, but for the sector to deliver the level of investment needed to meet 17% of the UK's heating demand in 2050 we need to see sufficient policy backstops from government.
"The ADE would like to see the UK Government commit to policies that drive investment in the sector, including greater responsibilities for local authorities in identifying heat decarbonisation pathways through zoning. The proposals to pilot heat network zoning and explore mandatory connections is firmly a step in the right direction."
---
Comments
Login on register to comment