Asset management: moving from reactive to proactive
For almost as long as the decades old infrastructure on which the UK's power networks operate have been running, the approach to managing its operation and maintenance has been reactive.
24th April 2017 by Networks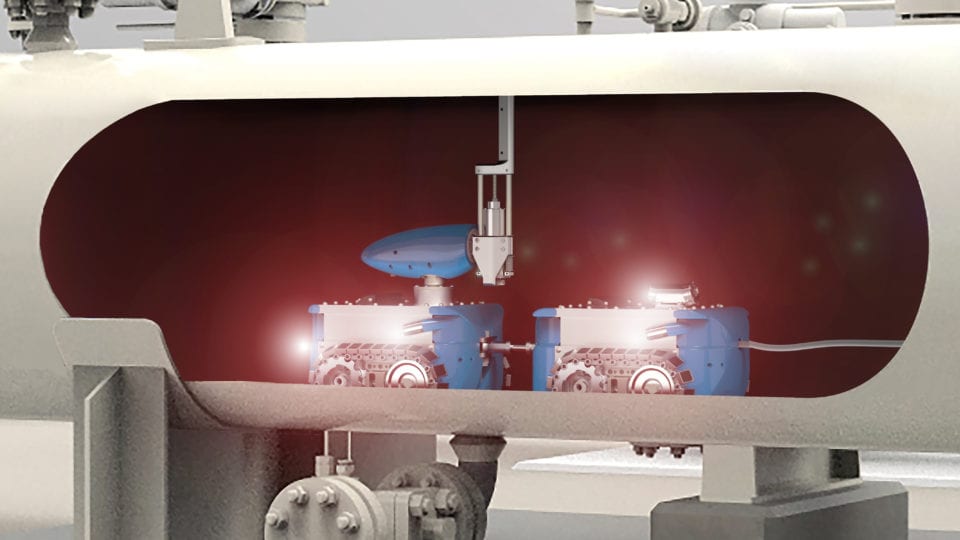 Partly down to cost, partly complexity, identifying faults and flaws in transmission and distribution, has been in response to their occurrence.
"Electricity North West expects that it will be able to release unused capacity up to four times quicker and 40% cheaper."
Those days however, appear to be numbered. With new demands set to be placed on operations from distributed generation and electric vehicles, there's neither the appetite nor the funds to invest in expanding or updating the infrastructure to cope. Networks across the country are having to find new ways of making more out of that existing infrastructure.
In order to enable that, assets are going to have to be better understood. Fortunately though, technological developments in areas such as robotics, sensors and detection, are helping to turn such endeavours into reality.
One area where big steps forward are already being taken is within low voltage networks. Due to their size and scale, little has been done in the past to understand to any great degree what goes on within these networks. However with a series of technological developments in smart network gadgets, operators are able to gather new levels of data.
Smarter methods of asset management
One project leading the way in this area is Electricity North West's Smart Street project, an ambitious initiative that combines sensors and monitoring technology with real time analytics in order to maximise efficiency of network operations.
Funded through Ofgem's Low Carbon Networks Fund, the £11.5 million project attaches a number of smart switches and circuit breakers to its existing LV infrastructure that enable close monitoring of demand. The aim of the project is to use this real time operational data to optimise the network to meet the real demands being placed on it, rather than just setting general parameters.
Attaching the WEEZAP low voltage vacuum circuit breaker and LYNX low voltage switch, both of which were developed by Northern Irish tech company Kelvatek, to its existing network enables ENW to capture real time data from the network and manage it to fit the existing demand.
With this enhanced understanding and control, operators are able to quickly release capacity and voltage headroom in order to connect distributed generation, such as domestic heat pumps or solar panels, a factor set to become increasingly important as networks continue to decarbonise.
Through the four year project, Electricity North West expects that it will be able to release unused capacity up to four times quicker and 40% cheaper. Furthermore, by using the data to optimise voltage levels to fit customer appliances, it expects to reduce energy demand by 3.5% and cut network losses by 2%.
Outlining the project, Electricity North West, said: "Smart Street will demonstrate a step change in the co-ordination and integrated operation of distribution networks in Great Britain. Utilising the most advanced technology today for LV network management, Smart Street challenges the current operational practices and demonstrates how to optimise HV and LV networks in real time."
New data brings new opportunities
In a similar move to maximise efficiency on its LV network, Northern Powergrid is investing £14 million in smart technology, in a bid to drastically reduce the impact of power cuts. As part of the investment package, the network is installing a series of BIDOYNG smart fuses throughout its network.
Composed of two separate fuses, the application is able to restore power after a cut within three minutes, with the second fuse automatically switching after the first is tripped. Crucially though, the technology also sends data back to the control centre to enable the location of the fault to be detected without the costly and time consuming exercise of a series of excavations to determine the location.
"This is a significant investment in state-of-the-art technology that works behind the scenes on our network for our customers," said Mick Hickling, head of West Yorkshire Zone at Northern Powergrid. "It delivers real benefits getting the lights on within three minutes for people who've had a power cut caused by an intermittent fault and helps us find low voltage network faults and maintain our network more effectively and efficiently."
Making the Graid
While advances in sensors and monitoring technology are enabling networks to gather previously unknown data on low voltage networks, developments in robotics are opening up new opportunities in asset inspection. At National Grid Gas Transmission, Project GRAID is developing a bespoke robot to withstand pressures far higher than those exerted on underwater submarines to travel through the complex pipelines of high pressure gas installations.
Through an assortment of devices that enable it to record and monitor the condition of the pipes, the robot will send real time data back to the control centre on wall thickness and pipe integrity. Developed in partnership with robotics specialist Synthotech, GPS mapping experts Premtech and data analysis firm Pipeline Integrity Engineers, the project will enable National Grid to move from a method of predictive modelling to forecast when maintenance will be required to actually inspecting the asset itself, saving around £60 million in costs over a 20 year term.
"Project GRAID gives an insight into the critical importance and value of asset data, allowing a truly holistic approach to asset management," explain Kirsty McDermott, project engineer at National Grid and Gary Senior, principal consultant at Pipeline Integrity Engineers. "The development and application of innovative technologies will allow the asset owner to generate increased quality and greater data volumes of asset condition data, which would be difficult to imagine ten years ago."
With projects such as GRAID and Smart Street gathering previously unavailable levels of real time data on assets, and a range of new DMS systems and applications, enabling it to be acted upon and managed, the approach to asset management is steadily moving away from being reactive and towards a proactive approach.
From altering voltage levels to meet actual demand, to scheduling maintenance operations based on the actual state of assets rather than its expected state, networks can take on the challenge of getting more out of the ageing assets rather than replacing them.
---
Comments
Login on register to comment