An alternative route to Black Start
Electricity interconnectors are increasingly adding flexibility to the high voltage network in Great Britain. But can their convertor capacity also offer a Black Start service to the grid? Oluwole Daniel Adeuyi and colleagues at the National HVDC Centre, operated by Scottish Hydro Electricity, discuss its recent scenario planning around an interconnector Black Start.
6th November 2019 by Networks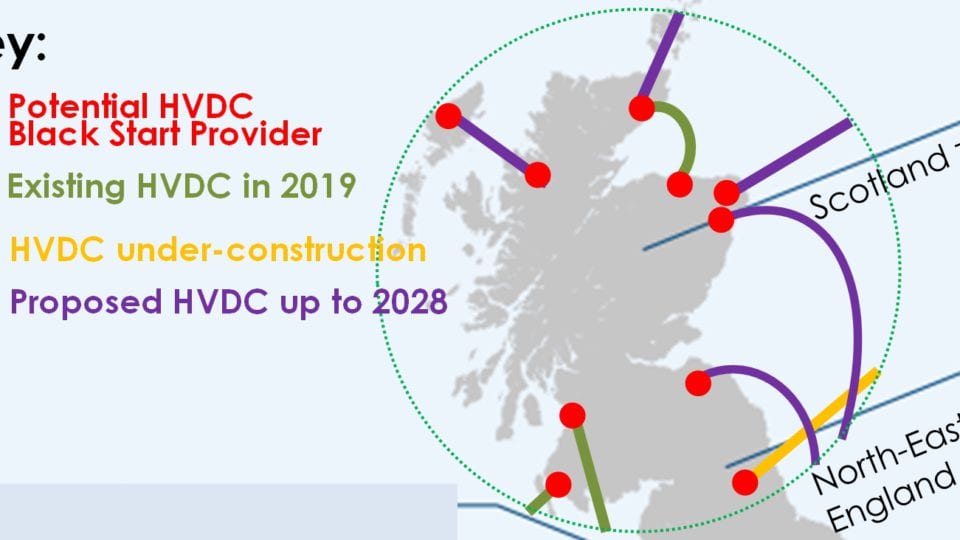 In the unlikely event of a total or partial shutdown of the electricity transmission networks, system operators use Black Start services to re-energise the grid and restore power to consumers as quickly as possible. "Black Start" has traditionally relied on the use of designated power stations with self-starting capability to re-energise sections of the network, then incrementally connect loads and additional generators to create "power islands". These "islands" are connected together to restore supply to consumers.
Traditionally, Black Start services have been provided by large coal and gas power stations. However, over the last decade, the electricity generation mix in Great Britain has seen a decline in coal and gas power station operation, creating a need to focus attention on the future of our Black Start and system restoration capabilities.
The future generation mix is expected to be dominated by non-synchronous renewable generation, which is inherently less suited to contribute to Black Start. UK nuclear plants, the alternative synchronous power option, have not traditionally been able (technically or from a safety perspective) to support emergency restoration.
A range of Black Start options can be explored, based on self-starting technologies enabled by power electronic converters; such devices can translate the power produced asynchronously or via direct current (DC) into alternating current (AC) power capable of restoring the grid.
A converter-based Black Start comes with the benefit that the converters can start from "cold" which can be problematic for traditional power stations. However, unlike a large conventional power station, converters do not have the same levels of overload capabilities to deal with short term high-power needs across Black Start, and for many renewable technologies the intermittency or predictability of the energy resource could also be a limiting factor.
These opportunities and constraints are currently being explored by National Grid ESO in its three-year programme to identify a mix of suitable candidates and devise protocols for a Black Start reliant on Distributed Energy Resources [DER], including converter-based low-carbon technologies (see interview).
However, one converter technology approach is to rely on high voltage direct current interconnector (HVDC) schemes that connect the GB grid to those of neighbouring countries, where the size of their DC to AC converter capacity provides the flexibility to support Black Start while also having the advantage of dependable power from another independent system.
International connections
HVDC technology is not a source of generation in itself; rather it is an alternative to high voltage alternating current (HVAC) used for the implementation of circuit connections in electricity transmission systems.
There are five point-to-point HVDC interconnectors connecting the GB grid to adjacent grids, with more in construction and planned. Currently, the GB grid has connections to Northern Ireland, Ireland, France and the Netherlands. Sophisticated control of semi-conductor switches within the convertors enable a sequence of "gates" across which power can flow to construct DC voltages and current.
Two principle technologies are used in these converters:
• line commutated converters (LCC), which require an AC voltage and a strong enough AC system to be present in order to construct a DC voltage; and
•voltage source converters (VSC) which can construct their own AC and DC voltage and can self-start, hence it is more suitable for Black Start restoration compared to LCC schemes.
VSC-HVDC is expected to be the dominant technology in future developments on the GB grid. According to the National Grid ESO, the benefits of VSC technology include a reduced land footprint compared to an equivalent LCC installation, and the capability to provide services such as Black Start functionality to network operators. HVDC interconnectors also offer access to generators in an area which is not blacked out, allowing access to a greater diversity of fuel sources, improving overall resilience.
Currently there is 5GW capacity from HVDC interconnections to the five other national external networks, of which some 1.5GW is VSC technology. In the next 6 years, this capacity is expected to rise to between 8-17GW, based on the National Grid ESO's Future Energy Scenarios (see panel, right).
Learning laboratory
The National HVDC Centre (hvdccentre.com), based in Cumbernauld, is a Scottish Hydro Electricity Transmission facility operating on behalf of network owners and operators to de-risk HVDC integration within GB. The centre combines a range of state-of-the-art analytical and testing capabilities together with specialist personnel to support and de-risk the integration of HVDC schemes on the GB grid.
The HVDC Centre has recently supported the Scottish government (together with GB transmission network stakeholders) to investigate how to maximise the use of HVDC schemes to support Black Start energisation, with in-depth studies on how HVDC schemes can support Black Start and system restoration.
The scope of the centre's study comprised: a detailed literature review of HVDC technology status and international experience on HVDC-led Black Start; methodical analysis of HVDC applications against GB Black Start services requirements; evaluation of a case study on restoration of Scotland and north east England considering key capabilities needed; and developing specific recommendations to enhance the use of HVDC links for providing Black Start.
In consultation with industry stakeholders, the work concludes that there are key areas in Black Start control system design and testing that would benefit from early specification and definition to minimise cost to the end consumer from using HVDC for Black Start.
It recommends that combining factory testing of HVDC converter control and protection systems, together with field trials and operator training, would build confidence in the robustness of an HVDC-led Black Start operation.
The study also identifies that there are benefits from complementing this HVDC-led Black Start strategy with the use of synchronous condensers within the network being restored; and that clarity and review of the service definitions of Black Start technical requirements would be of value to enable these options.
Mock run through
For the case study looking at a hypothetical Black Start in Scotland and north east England, the HVDC Centre concluded that the expected capabilities and high capacities of the future HVDC links could deliver the required Black Start ability for that area (assuming the appropriate control system enhancements are implemented).
Figure 1 (top image) illustrates the existing and planned HVDC schemes considered in the case study of Scotland and north east England. The two zones have three existing HVDC schemes (Moyle, Western Link, and Caithness-Moray) and could host around four additional HVDC schemes by 2028. The future HVDC schemes expected in that area include two cross-border interconnections (North Sea Link (NSL) and NorthConnect, between GB mainland and Norway), two embedded schemes (Eastern Link) and two Island connections (to Shetland and Western Isles).
It should be noted that contracting for HVDC interconnector Black Start services represents an additional area to the current legal agreements governing interconnectors. The strategy and requirements for Black Start services would be managed via market arrangements where the National Grid ESO has responsibility, and on which it would conduct separate consultations.
The findings from this investigation will be available in a public report, which will be published on the HVDC Centre website when finalised. The report concludes that there is an opportunity for government and industry to engage at an early stage with the developers of planned cross-border HVDC schemes (see listing, above) to ensure appropriate control systems for provision of Black Start and system restoration services are included within these future HVDC schemes.
This article is adapted from the full report, "Maximising HVDC Support for GB Black Start and System Restoration", prepared by: Oluwole Daniel Adeuyi; Abdullah Emhemed; Simon Gill; Benjamin Marshall and Simon Marshall. www.hvdccentre.com
---
Comments
Login on register to comment