Engineering firm makes leadership pledge
Burns & McDonnell has pledged that a third of its senior leadership team will be female by 2023.
16th September 2019 by Networks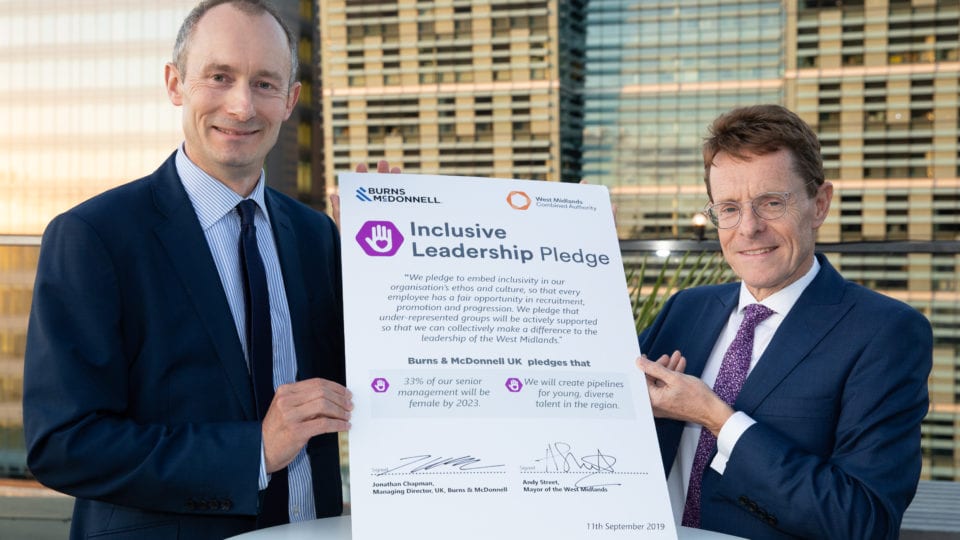 The company, which opened a new expanded office in Birmingham last week, has committed to continue efforts to embed inclusiveness in the company's culture and promote diverse talent in the West Midlands.
The new offices were officially opened by Andy Street, mayor of the West Midlands, with Burns & McDonnell's UK managing director Jonathan Chapman signing the West Midlands Combined Authority's Inclusive Leadership Pledge.
The company marked the occasion with a reception attended by the mayor and guests from businesses across the West Midlands and the UK.
Since establishing its first UK and European headquarters in Birmingham in 2017, US-founded Burns & McDonnell has doubled its staff in the UK. The company has a 10-year UK investment strategy for developing vital energy infrastructure in the West Midlands and across the country.
Jonathan Chapman said: "This is a big milestone for Burns & McDonnell and we are thrilled that the mayor is celebrating our expansion with us. His continued support of Burns & McDonnell has been a critical part of our success over the last two years. We are looking forward to continuing to work with him and his team to create the ambitious, innovative infrastructure projects and high-skilled jobs that will generate long-term prosperity in the West Midlands.
"We are absolutely dedicated to growing a skilled workforce in Birmingham, drawn from a diverse pool of talent from across the West Midlands and beyond. We are here for the long term, as our brand-new office proves, and are delighted to commit to promoting diversity and inclusion in everything we do through the mayor's Inclusive Leadership Pledge."
Kenneth Gerling, vice president of transmission projects at Burns & McDonnell, said: "The UK is an incredibly important market for Burns & McDonnell. The West Midlands, with its talent and unparalleled technical skills, is the perfect region for us to lead energy sector projects that draw upon the best in technical ability and knowledge.
"Our clients and projects span the globe, and so do our people. We appreciate the differences that define each one of us. The connections and collaborations among a diverse workforce give us new perspectives and drive our innovation. I'm pleased to see that Burns & McDonnell in the UK has pledged to play its part in ensuring its workforce reflects its community and that the opportunities it creates are open to all."
Andy Street, mayor of the West Midlands, said: "Investment from world-leading companies like Burns & McDonnell is essential to the continued prosperity of the West Midlands, and so I am delighted in this vote of confidence in our region.
"As the WMCA and I continue to work to deliver improved transport links and infrastructure across the West Midlands, partnerships with private organisations like Burns & McDonnell, with their expertise and capabilities, will be important."
---
Comments
Login on register to comment