Up to 3m EV charge points could be needed by 2040
As many as three million electric vehicle (EV) charge points may need to be installed at industrial and commercial sites across Great Britain by 2040, a new report has found.
18th October 2018 by Networks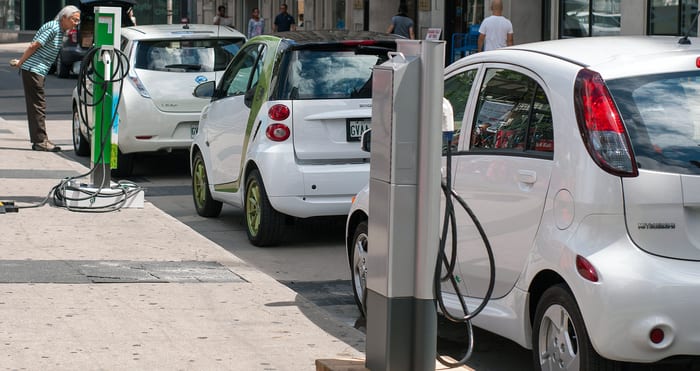 Analysis by Aurora Energy Research found that the mass rollout of EVs – driven by the government's plans to ban the sale of new petrol and diesel vehicles – could unlock an investment opportunity worth up to £6 billion.
Based on the highest forecast from National Grid's latest Future Energy Scenarios report of 35 million EVs on the roads by 2040, Aurora concluded that between one and three million charge points may be required for the four main applications examined by the new study: fleet vans, workplace charging, public car parks and motorway service stations.
This would necessitate an investment of between £2 billion and £6 billion, excluding the cost of reinforcing electricity networks. Utilising technologies such as vehicle-to-grid (V2G) charging, energy storage and solar panels would enhance the commercial opportunities for suitable sites, lower electricity prices for consumers and limit grid upgrade costs.
As early adopters are expected to do more charging at home than those that follow, Aurora said the requirements for commercial and industrial charge points are not anticipated to scale proportionally with EV registrations and would likely be significantly lower under the central forecast of 17 million by 2040.
The company's head of flexible energy and battery storage, Felix Chow-Kambitsch, said: "High electric vehicle deployment over the next 20 years will radically transform Great Britain's energy system, stimulating innovation through a shift to 'smart', increasing flexibility and enhancing the role of renewables in the energy mix.
"Commercial and industrial smart charging has a key role to play in meeting high levels of consumer away-from-home EV charging demand and represents an exciting development for the whole energy industry.
"Additional commercial opportunities offered by V2G, solar and energy storage will help to make the system more flexible, and greener, contributing to meeting decarbonisation targets."
John Robb, segment leader for commercial buildings in Europe, the Middle East and Africa at power management firm Eaton, added: "Smart regulation is key to unlock the large scale private investment needed in public EV charging infrastructure.
"It is clear from Aurora's economic study that the business case for EV charging investment will be greatly enhanced with regulation that helps fully realise important additional revenue streams associated with vehicle-to-grid, energy storage and demand response."
Renewable Energy Association chief executive Nina Skorupska said: "Charging infrastructure deployment is crucial for building consumer confidence in EVs, for growing EV sales, and for achieving our industrial strategy goals of manufacturing EVs in the future."
She continued: "We are happy to see the emphasis of the benefits of co-locating multiple clean technologies in this report, including solar and energy storage, as this represents a development in the maturation of the clean energy sector."
---
Comments
Login on register to comment