Northern Powergrid supports new manufacturing technique for electricity poles
Northern Powergrid is championing a new sustainable ultra-strong wood pole manufacturing technique that reduces material use by up to 85% and could be used for electricity poles.
4th July 2018 by Networks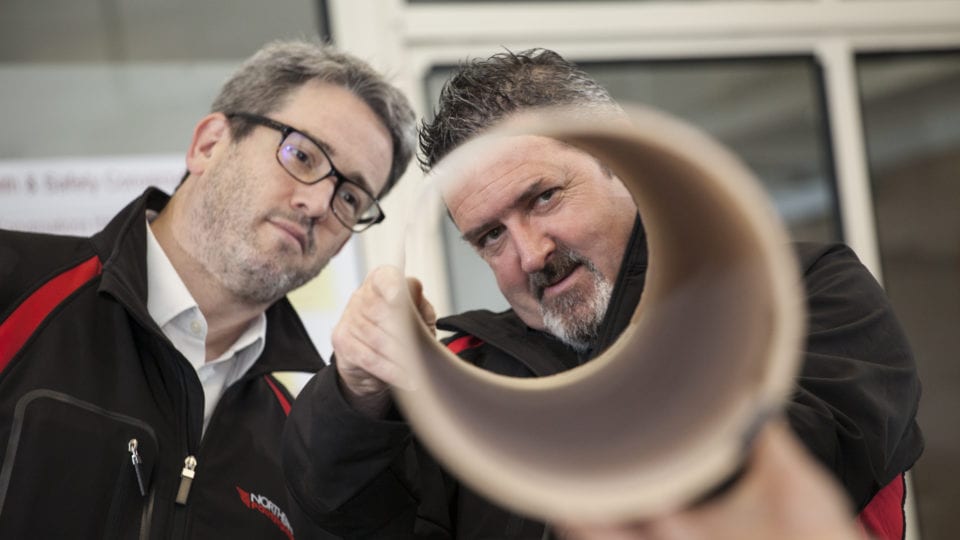 The distribution network operator is now calling on industry colleagues from across energy and construction to support the development of Pollywood Ltd, a British start-up, to help it deliver significant environmental benefits in new markets across the globe.
With Northern Powergrid's support, Pollywood has developed a new super-strong construction material that has a better weight to strength ratio than steel, using a fraction of the raw materials. The innovation follows a project originally kick-started by international innovation broker the Energy Innovation Centre (EIC).
Now the companies are urging more businesses across multiple sectors to get involved to bring it to market and realise benefits across many UK sectors.
Steve Crighton, managing director of Pollywood and the inventor of the technology, confirmed: "We've started to develop it for the electricity industry, however a materials innovation exercise showed nearly 200 potential uses across more than ten industrial sectors – making it a British-grown innovation that could change the face of construction and open up a new lease of life for the British wood industry with a new sustainable, valuable material."
Northern Powergrid's support and £106,000 investment via the EIC progressed this project from initial conception to Technology Readiness Level 3 over the past 24 months. To date it has successfully proved its feasibility with a 1.5-metre prototype. A further £1.4m investment is now needed so Pollywood can develop new machinery capable of creating larger structures and progress to Technology Readiness Level 9, when it will become ready for market roll-out.
The innovation will also see manufacturing jobs returning to Teesside, as the inventors look to grow the business with British talent. Ten to 12 jobs will be created in the next phase with hundreds created when the business moves into full scale production.
A staggering 60,000 new wooden electricity poles are needed in the UK every year, with a further 50,000 in the telecoms industry. The current poles can also take up to 18 months to source and deliver, because exactly the right kind of Pine tree has to be sourced.
In response to these challenges, Pollywood invented a new manufacturing method that can create between six to seven hollow Pollywood poles from one tree and requires no coating substances. The prototype tubular poles are made by sustainably combining the raw materials to make a long lasting, lightweight and cost-effective product made from wood fibre and natural bio-based resins.
Traditionally, one tree can only create one pole and so Pollywood has the potential to save more than 90,000 trees a year.
Northern Powergrid plans to use Pollywood poles across its operations.
Iain Miller (pictured left), head of innovation at Northern Powergrid, commented: "We have a strong culture of innovation at Northern Powergrid. Our investment in Pollywood is a part of a £29m innovation project designed to discover and develop products and projects that can have a lasting positive impact on the environment, our business and our region – and improve the services we deliver for our customers. Pollywood has captured our attention because it covers these impact areas so well. As a business it's a real challenge to keep enough stock of poles and we are forced to stockpile huge quantities just in case of a bad storm. Not only will Pollywood shorten sourcing times due to their manufacturing methods, but we'll also get a stronger and more sustainable, durable product that should be able to withstand more arduous weather conditions – leading to less replacement need and improved reliability for our customers."
Tony Knowles, technical manager at the EIC, said: We are thrilled that we have been able to facilitate progress between Pollywood and Northern Powergrid on this ground-breaking project. The EIC is a broker, a partner, a scout and a gateway for innovation, with access to a range of commercial partners and a community of more than 2000 global innovators. Our linking of Northern Powergrid with Pollywood demonstrates our drive and determination to work alongside key players to bring the seed of an innovative idea to fruition."
---
Comments
Login on register to comment