Honda and Moixa convert Islington to smart EVs
Islington Council, Honda and smart battery electric vehicle charging specialist Moixa are collaborating on a smart EV charging project to switch the council's fleet to electric vehicles and create "vehicle to grid" (V2G) flexibility capacity.
16th January 2020 by Networks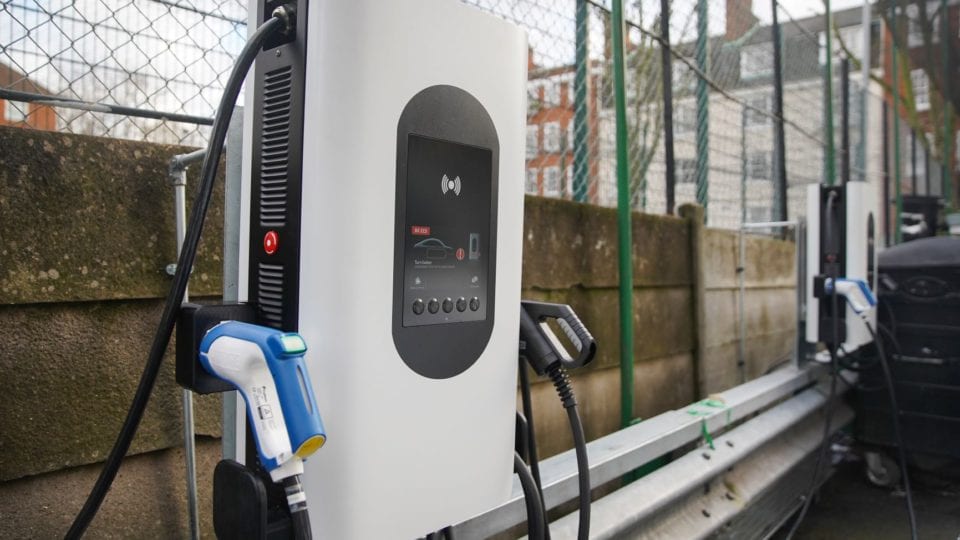 The project is part of Islington's goal to operate its services on a net zero basis by 2030, and meet the standards of central London's Ultra-low Emissions Zone (ULEZ).
In the first phase of the project, five bi-directional vehicle to grid (V2G) chargers, manufactured by EVTEC and jointly developed with Honda, will be installed with Moixa's GridShare software outside Islington Town Hall.
They will charge the council's growing EV fleet, and also store energy that can be exported to the grid, via demand response aggregator Flexitricity.
Islington currently has 24 EVs – mainly cars and vans – on the road, with 15 ordered pending delivery, and 46 due to be ordered before the end of the financial year.
Its goal is to electrify its entire fleet, cutting 1,400 tonnes of CO2 emissions every year.
The EV revolution will put millions of 'batteries on wheels' on our roads in the next decade

Chris Wright, chief technology officer, Moixa
Moixa's GridShare software will charges the EV batteries when power on the local network is cheapest and cleanest, and discharge power when it is most expensive and carbon intensive. The system can provide enough power to offset the town hall's base load.
The project partners say that similar, scalable smart charging solution can be applied to all local authorities and businesses with large vehicle fleets, such as logistics companies and utility companies.
On London's roads there are 4,844 council-managed vehicles in London alone, 90% of which are diesel, which will need to be removed from the capital's roads in the coming years to meet net-zero carbon emissions and air pollution targets.
Chris Wright, Moixa's chief technology officer, said: "The EV revolution will put millions of 'batteries on wheels' on our roads in the next decade. By using AI-driven charging technology, we can intelligently manage these fleets of batteries, securing lowest-cost charging and highest-impact carbon savings.
"Our project with Honda and Islington shows what is possible and provides a blueprint for all large organisations to follow."
Councillor Rowena Champion, Islington Council's executive member for environment and transport, (pictured centre) said: "We're working to ensure our residents have clean air to breathe, while also saving money that can be spent on delivering essential services for the people of Islington.
"We're working with industry leaders – Honda and Moixa – to electrify our fleet in the most effective way for our residents and acting as a pioneer for others to follow."
Moixa's GridShare software will enables real-time aggregation and smart charging by optimising charging patterns based on factors such as driver behaviour, cost of energy and weather forecasts.
By facilitating flexible storage, the software will also help to enhance the resilience of local power networks.
Moixa was chosen as Honda's European smart charging partner in spring 2019, and is supporting Honda to deliver a European energy management solutions business.
Jorgen Pluym, project leader of energy management at Honda Motor Europe, said: "As the shift towards electrification accelerates, we must continue to innovate with projects like these – helping to drive awareness and uptake of charging solutions and advanced vehicle-to-grid technologies.
"Honda is committed to promoting sustainable future energy management in Europe, and this project in Islington represents an important part of our vision for future energy solutions."
Moixa is also partnering with Flexitricity on the project. Its founder and chief strategy officer Alastair Martin, said: "We're delighted to be able to utilise our expertise in aggregating and dispatching flexibility to help Moixa and Honda realise this innovative project.
"There is huge value in flexibility and Flexitricity's job is to make sure all types of energy users have access to it – from large commercial and industrial energy users down to every EV customer.
"It's very exciting to see how partnerships like this one are moving us closer to our vision of a greener and fairer energy system. The initial tests went very smoothly and the operators in our 24/7 control room in Edinburgh are poised and ready to dispatch the flexibility from the EV fleet to help National Grid balance the system, driving revenue and savings for Islington Council in the process."
Moixa's GridShare platform already hosts the world's largest single fleet of domestic batteries across more than 14,500 homes in Japan, with the total growing by more than 1,000 a month.
---
Comments
Login on register to comment