EVs: a car park of storage
Electric vehicles are being hailed as the mobile storage solution, but power needs to flow both ways.
30th August 2016 by Networks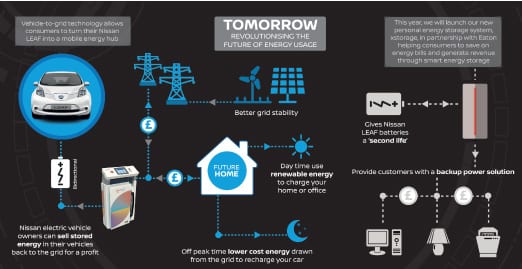 For electric vehicles (EVs) to achieve their maximum potential benefit for both the transport sector and the energy sector, closer collaboration between the two sectors is essential. So far, most of the learning around how EVs will affect DNOs has come from projects undertaken by DNOs themselves, but earlier this year automotive manufacturer Nissan launched a trial in the UK that could be of great benefit to DNOs.
Nissan, one of the leading EV manufacturers, has teamed up with Italian DSO Enel to conduct the UK's first vehicle-to-grid (V2G) trial in the UK. The trial will install 100 of Enel's bidirectional charging units at locations across the UK agreed with private and fleet owners of the Nissan Leaf and e-NV200 electric van. Nissan said it is undertaking the trial because the path forward can be seen, but "we need to make sure it happens as it should do."
The technology benefits all parties involved. EV drivers have the opportunity to tap into an additional revenue stream by making their EV battery available to the grid; DNOs can call upon what will become several gigawatts of power, or storage capacity, to balance the system and cut down on costly network reinforcement; and Nissan improves the attractiveness of its commercial offering and carves itself a niche as market leader in the field.
Key Points

First ever vehicle-to-grid (V2G) trial in the UK
Nissan electric vehicles become mobile energy hubs supplying the grid
Trial comprises 100 V2G units
Nissan EV owners can sell stored energy in their vehicles back to the grid for a profit
The trial is the second V2G project launched by the partnership after an agreement was signed in Paris in December 2015 during the 21st UN conference on climate change. In the first trial, which kicked off in Denmark in January this year, 44 V2G units will installed across the country.
So why has the partnership chosen the UK for its biggest trial to date? Nissan's overseas programme director, Francisco Carranza, said at National Grid's Power Responsive event in June that the UK has the largest potential market for V2G in terms of scale.
Project partner Enel has been active in e-mobility since 2007 and has installed more than 2,700 charging stations in Europe (mainly in Italy, Spain, Romania and Greece), all remotely managed and controlled in real time through Enel's Electric Mobility Management system. It has also undertaken a project with IKEA to install recharge columns in its stores in all 18 cities where Enel is the DSO. But while automotive manufacturer Fiat does not have an EV model, no real meaningful EV market exists in Enel's native Italy.
Enel has also been active in Latin America, and is the official power partner of the Formula E Championship, where the group is delivering smart metering, energy management, renewable energy generation, storage and charging technologies.
One issue that has already emerged with charging is the lack of an international standard, which means Enel is currently working to two different standards with its charging technology.
So far the V2G project in the UK has required little involvement from DNOs themselves despite the likely relevance of the findings to DNOs operations. Carranza added that enthusiasm for V2G "varied" among the DNOs he has spoken to, with the more forward-thinking ones embracing it, while with more traditionally minded operators, "it is like speaking a different language".
---
Comments
Login on register to comment