ENW buys electric diggers to dig the road to zero carbon
Electricity North West is turning its streetworks operations a darker shade of green by purchasing two innovative JCB electric mini diggers, following a successful trial period.
26th November 2019 by Networks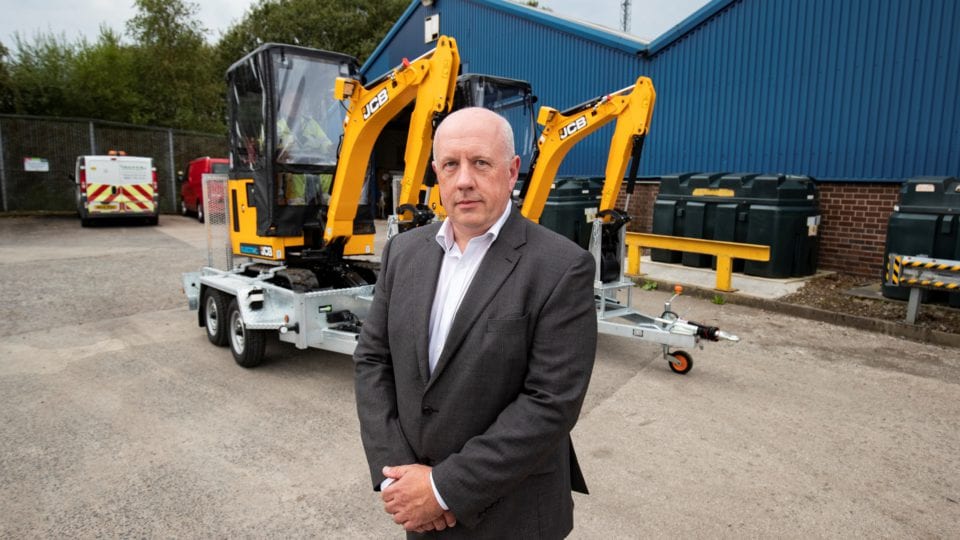 The fully electric models, with zero exhaust emissions, are the first e-diggers to go into full production.
Electricity North West will deploy them to install underground power cables after making a commitment to phase out diesel mini diggers to reduce its carbon footprint.
In March 2019, it also launched its "Leading the North West" to zero carbon plan, which sets out how it is investing £63.5m over the next four years, to drive down its own carbon emissions and help businesses and customers to do the same.
Steve Cox, engineering and technical director at Electricity North West (pictured above), said: "We're looking closely at our own operations and how we can decarbonise them.  Collectively, small changes can make big impacts and this shows what can be done now to reduce carbon without having a negative impact on customer service, performance or cost."
Rated as being five times quieter than its diesel counterpart, the new machines can be fully charged in two hours making it suitable for 24 hours a day operations.
Electricity North West trialled the electric mini diggers for a six month period prior to the purchase.
The new diggers are already being used across various sites in the North West.
"The diggers are excellent machines, our team find them more powerful than diesel diggers and another major positive is the reduced noise levels," added Cox.
"Power cuts can happen at any time of the day and night and sometimes, we're required to dig up roads and footpaths to repair faults. Using the new electricity diggers, which have reduced noise levels, means we can work into the night without impacting our customers."
As well as lower emissions, the 19C-1E model is said to be cost effective: JCB suggests that, over the first five years, charging costs will be 50 per cent cheaper compared to using red diesel.
Servicing costs are also expected to be up to 70 per cent lower compared to the diesel model.
The machines will be charged at Electricity North West depots using electricity generated from renewable sources.
JCB chief innovation officer, Tim Burnhope, added: "We are delighted to go into full production with the industry's first fully electric mini-excavator. The machine has a very promising future ahead of it.
"I'm delighted to see Electricity North West lead the way by purchasing two of the electric machines. It reaffirms Electricity North West's commitment to being at the forefront of transitioning to a zero carbon future.
---
Comments
Login on register to comment