EDF buys storage-to-charging challenger Pivot Power
EDF Group has announced a deal to acquire Pivot Power, the UK battery storage start-up with a programme to develop 40 sites of 50MW storage capacity, each combined with rapid charging services for the road transport network.
4th November 2019 by Networks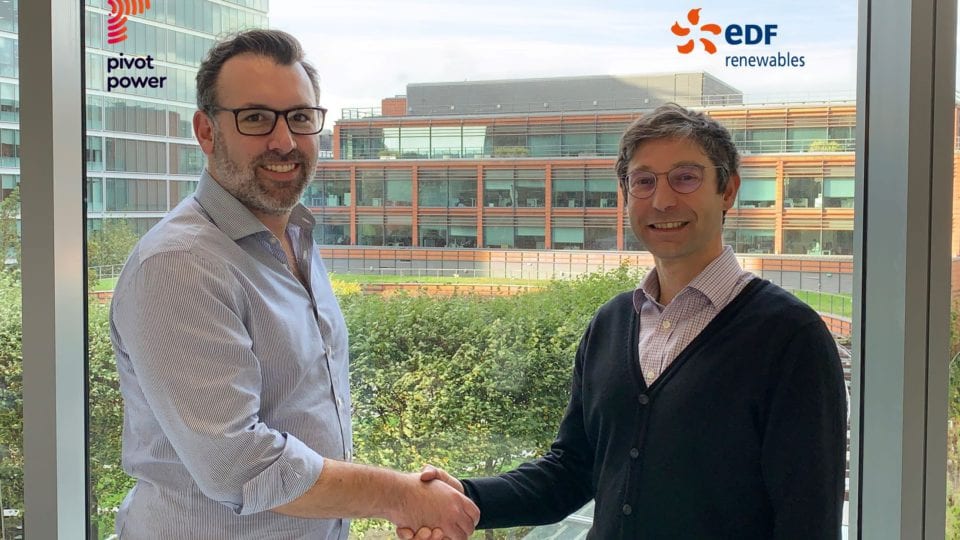 Under the deal, for which the price is undisclosed, the Pivot Power brand and name will continue as a subsidiary of EDF Renewables, and will be steered by the trio of entrepreneurs who launched the company in February 2018.
For EDF, the deal aligns with its ambitions to become a dominant player in battery storage. It is targeting 10GW of storage capacity in Europe by 2035, of which Pivot Power's forward programme could deliver 2GW.
EDF already owns and operates a 49MW battery storage site at West Burton, Nottinghamshire, installed under National Grid's Enhanced Frequency Response tender.
The company has also stated its aim to become a leader in electric mobility in the UK, France, Italy and Belgium by 2022, targeting a market share of 600,000 electric vehicles and 75,000 charging points.
Our doors are open, we really want to engage with the general public, fleet owners and operators, local councils, bus companies, taxi companies.

Matt Allen, chief executive, Pivot Power
Pivot Power co-founder and chief executive Matt Allen, whose career prior to launching the business was in energy markets consulting, launched the business alongside chief technology officer Michael Clark and chief commercial officer Matthew Boulton.
Allen said: "There is a clear alignment with what we're looking to do and EDF's track record and longer term plans. From a personal standpoint, the entire team is staying on board and maintaining our presence and brand in the market."
Allen told Network that the major difference under the deal will be the "credibility" lent by the new parent company.
"This is a credibility transfer with EDF being our new parent. We're hoping that confidence will increase substantially that Pivot Power can and will deliver their plans.
"If there's an established player with a reputation, versus a start-up without a reputation, where does your confidence sit? Those are the questions we all ask ourselves all the time.
"With a known brand, and a known entity that has the understanding and knowledge of the power networks, and knows about the green grid and renewables – and when it comes to electrification of the transport, a company such as EDF has to play a significant part – we are impressed and honoured that they liked what they saw and wanted to come on board with our plans."
It would then either enter into "private wire" arrangements with clients such as bus companies, distribution companies or fleet operators to provide charging infrastructure.Pivot Power aims to offer rapid charging capacity by siting battery storage facilities on substations sites owned by National Grid, then taking power direct from the high-voltage transmission network – timing its acquisition of energy to favour gluts of renewable power to reduce costs.
It would also offer public rapid charging stations to private or business motorists in the area, offering an alternative to the charging facilities likely to be offered by today's petrol station operators.
Of its programme of 40 sites across England and Wales, 10 already have planning permission for both battery storage and charging, and 30 are in various stages of development.
Out of the 10 advanced sites, two, at Kemsley in Kent, and Cowley, Oxford, have land, planning and grid connection agreements in place, and are due to become operational "at the back end of 2020," Allen said.
He wanted to stress that Pivot Power was open to new business. "Our doors are open, we really want to engage with the general public, fleet owners and operators, local councils, bus companies, taxi companies. We have the ability to provide that power infrastructure that allows their strategies to become reality."
Meanwhile, in the US, EDF Renewables acquired PowerFlex Systems, a California start up that also offers technology to scale up electric vehicle charging, in September.
Bruno Bensasson, EDF Group's senior executive vice president, renewable energies and chairman and chief executive of EDF Renewables, said: "Following PowerFlex Systems recent acquisition in the United States, this new acquisition of smart electricity storage and electric vehicle charging systems player is strengthening our expertise globally.
"Thanks to the skills developed within this specific field of electricity, the Pivot Power team will be a great addition to EDF. This is another positive step in the rollout of the group's Electricity Storage and Mobility Plans."
Simone Rossi, EDF Energy chief executive, said: "Battery storage and electric vehicles are two key technologies which will help lower carbon emissions, alongside generation from renewables and nuclear. The acquisition of Pivot Power shows EDF is investing in a wide range of projects to deliver the huge shift to low carbon energy the UK will need to reach net zero by 2050."
---
Comments
Login on register to comment