Eaton launches UK storage roadshow
Industrial products and energy management company Eaton has launched a UK roadshow to promote its growing portfolio of energy storage solutions.
11th July 2016 by Networks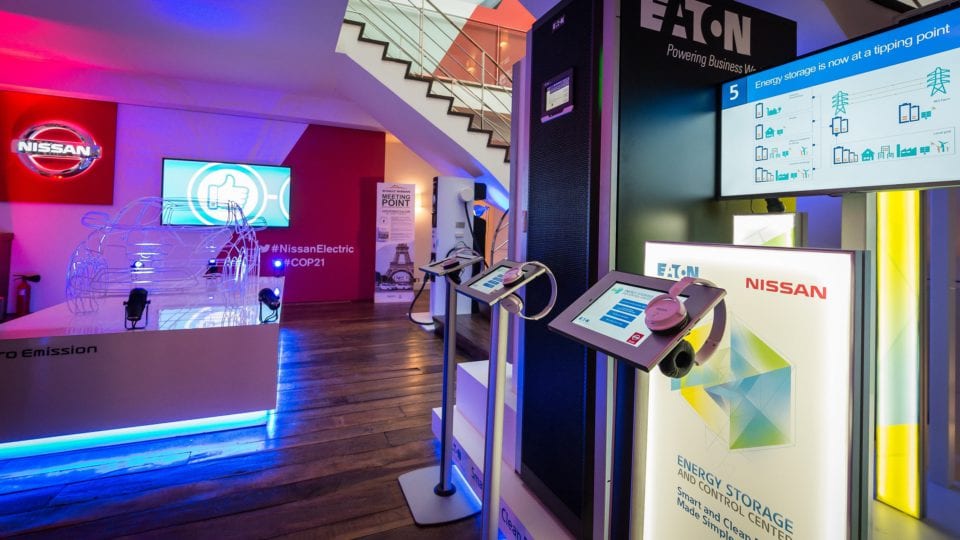 The focus of Eaton's UK tour will be its xStorage solution, developed in partnership with Nissan to give a "second-life" to EV batteries. It is thought EV batteries retain around 70% of their original capacity at the end of the average ownership cycle and could have an extended life of around 5-10 years in energy storage applications.
Eaton has combined old EV batteries with uninterruptible power supplies (UPS) to achieve a single, packaged system which can integrate with solar PV. The system minimises losses by integrating the PV connection inside the UPS on the DC bus.
The first working demonstration of the system was installed at the Nissan pavilion during the United Nations conference on climate change COP21 end of 2015 in central Paris.
The system integrated power electronics, control software and stationary storage with the possibility to combine up to four 17 kWh second life batteries in parallel providing an output of up to 50 kW at voltages of 230V/400V.
After a London launch event, Eaton is now taking its "Tech-bus" to locations around the UK to show consumers how the system works and the benefits it can bring in energy security and independence.
Eaton also has a modular and scalable grid-scale energy storage solution which has been deployed in European locations including the Netherlands and Ireland.
"Energy storage systems are becoming crucial components in the development of smarter grids," said Cyrille Brisson, vice president marketing, Eaton Electrical EMEA. "These technologies facilitate the wider adoption and deployment of renewable generation, and they hold the potential to give people greater control over their energy supply and consumption.
"Each energy storage technology solution is different in its own way. But there are some common and wide-ranging benefits, which include continuity of supply, increased grid stability and efficiency, avoidance of peak energy tariffs and a reduction in the reliance on expensive fuels like diesel to compensate for no-grid or poor-grid situations. Energy storage clearly has a very bright future."
---
Comments
Login on register to comment