Council's 'pioneer' subsidy free solar farm goes live
Renewable energy company Gridserve has completed and handed over a subsidy free 34.7 MW solar farm in York to Warrington Borough Council, a project that it says is the UK's most advanced solar farm to date.
19th December 2019 by Networks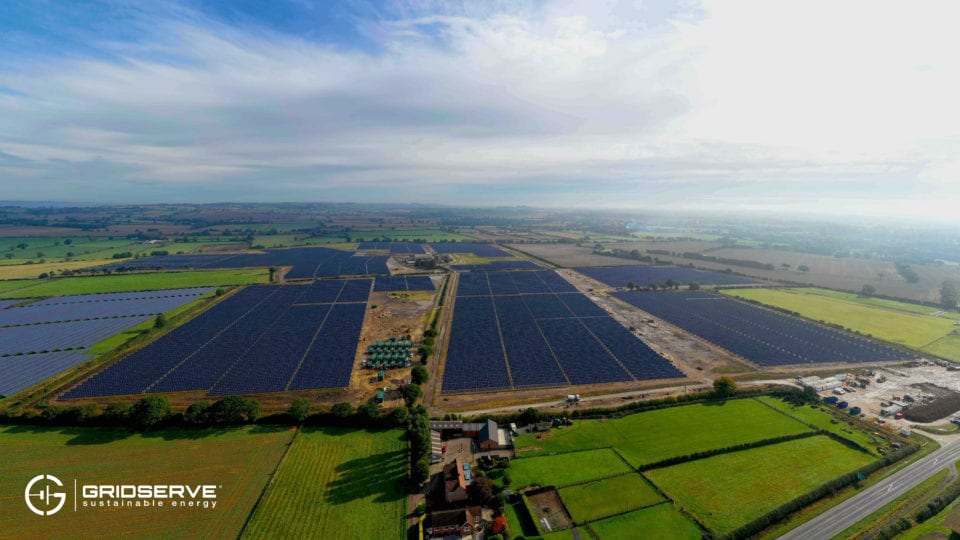 The project pioneers a new commercial model by combining generation with 30 MWh of battery storage to maximise revenues and help balance the grid.
The project demonstrates a number of technical "firsts" for the UK solar industry, including using bifacial solar panels, which generate electricity on both sides – the underside face catching sunlight "bounced" from the ground.
Trackers follow the sun to maximise generation over the whole day, with the two technologies together helping to increase solar generation by 20%.
Adjacent to the site, Gridserve plans to build one of the first of a network of over 100 Electric Forecourts designed to offer ultra-fast low-cost charging for electric vehicle drivers.
It is also an example of a local authority partnering with a developer for a project that generates both green electricity and revenue.
Toddington Harper, chief executive and founder of Gridserve, said: "Projects like this, which also require no government subsidy whatsoever, demonstrate that the UK can meet its net zero obligations well before 2050 and enable us to move the needle in delivering radical carbon reductions within the next 10-years.
"We've completely rethought the solar model to maximise value, and we've now demonstrated that we have what it takes to make projects like this a reality. To replicate this success, we are now looking to partner with additional landowners, developers, and to acquire project rights."
We expect it to generate an operating surplus of millions of pounds that can be ploughed back into delivering vital council services

Councillor Russ Bowden, Warrington Borough Council leader
In addition to the York hybrid solar project, Warrington Borough Council is also purchasing a second 25.7MWp solar farm at Hull, which is due to be handed over early next year.
Gridserve will operate and maintain both projects over their lifetimes, aiming to maximise system performance and value for the council.
Warrington expects the two projects to generate millions of pounds in profits every year and generate an operating surplus of over a hundred million pounds over 30 years.
Electricity from York hybrid solar farm will be sold on the open market, while the Hull project will supply all the council's energy needs, a deal that makes it the first local authority to produce all its own electricity.
Warrington Borough Council leader, councillor Russ Bowden, said: "This investment strengthens our commitment to tackle the climate emergency, and will also help us secure our energy supply, give us control over our energy prices, and contribute to reducing fuel poverty.
"At the same time, the solar farm is an important part of our 'invest to save' programme, and we expect it to generate an operating surplus of millions of pounds that can be ploughed back into delivering vital council services.
"We're delighted to be working in partnership with Gridserve on this cutting-edge scheme and we are proud to have delivered the UKs most advanced solar farm. It's great news for Warrington and also sets the bar for other local authorities in what can be achieved by working with the right partners, with a shared ambition."
The hybrid solar project in York, completed in just five months, contains more than 90,000 solar panels, 30 MWh of batteries and 500 km of cable.
In order to connect York hybrid solar farm to the grid, Gridserve had to demonstrate full control over mitigating the project's impact on grid voltage. Renewable generation fluctuates with the weather and changes in output can affect voltage, and Gridserve had to demonstrate sub-second response times to stabilise the system.
Toddington Harper said: "To reach net zero power, the new generation of renewable energy projects must solve grid problems, not create them. With York hybrid solar farm, we have demonstrated a sustainable energy blueprint that truly puts renewable energy at the heart of delivering dependable, clean, low cost energy that we can all rely on."
---
Comments
Login on register to comment