Council scales up battery storage site to reap income rewards
A battery energy storage site operated by South Somerset District Council (SSDC) is set to expand to its maximum capacity by developing another 5MW to help produce and store more clean and renewable energy, providing support to the National Grid.
1st November 2019 by Networks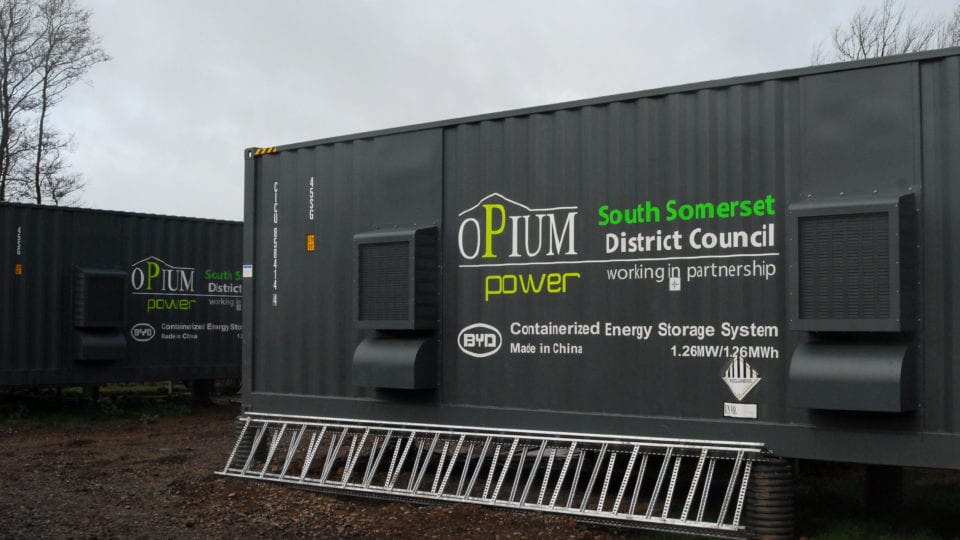 The council is working with specialist developer Opium Power, which controlled the site; National Grid; Western Power Distribution; control system provider Kiwi Power, battery producer BYD and connection supplier BSR Connect, amongst others.
The site near Taunton was developed earlier this year and is the largest council-owned battery storage facility in the country, and one of the largest overall.
At the time, the site was able to produce 25MW of power for the grid for one hour's duration, but SSDC, as part of a commitment under its new environment strategy, has opted to develop the facility to its maximum capacity of 30MW for one hour's duration.
The council's environment strategy promotes the development and adoption of a sustainable environment, economy and communities within South Somerset, to achieve a significant reduction in the region's carbon emissions.
The council also sees selling its "flex" capacity to the grid as a source of income in the future, as renewable sources become more dominant on the grid.
SSDC councillor Sarah Dyke, portfolio holder for environment, said: "With the new environment strategy being formally approved only last week, this is a great project to demonstrate just how important the environment is to our council.
"It highlights our commitment of taking immediate steps to deliver on our ambitious objectives, as we move to reduce our carbon dependence for the benefit of all. This is the first of many other exciting projects yet to come."
Councillor John Clark, portfolio holder for income generation, said: "Not only is this a strong project under the council's Environment Strategy, but a sensible and viable business decision to generate further income from our assets, within our balanced investment portfolio, ensuring that this council can deliver services to our communities for the future in a sustainable manner."
A spokesman from Opium Power added: "The services provided by this energy storage system are vital to the grid now and in years to come to ensure the grid remains stable and balanced. Currently, fossil fuels contribute over 40% of the UK's electricity supply.
"The provision of energy by renewable sources is subject to large variations due to the intermittent nature of the wind and sun. Battery energy Ssorage evens out the inevitable peaks and troughs of renewable energy supply and is therefore essential to enable a constant, balanced and controlled energy source for the nation.
"It is also important to note that this project will provide a significant financial return to SSDC over the next few decades. The undeniable emergence of renewable sources as the predominant provider of electricity in the near future secures this project's commercial value in the energy marketplace."
Thomas Jennings, head of optimisation at KiWi Power Ltd, said: "With two more coal plants due to close in March 2020 and renewable penetration increasing, prices will become more volatile, creating greater revenue opportunities for fast-acting battery energy storage assets. We will use our expertise and technology to optimise the battery in real-time and deliver maximum value and sustainability impact on behalf of our project partners."
The extension project was delivered thanks to around £2.5m in funding from SSDC's investment fund.
---
Comments
Login on register to comment