Almost 100 apprentices start work at SSE
SSE is putting its latest generation of energy workers at the forefront of tackling climate change with the appointment of almost 100 apprentices who started work this week.
11th September 2019 by Networks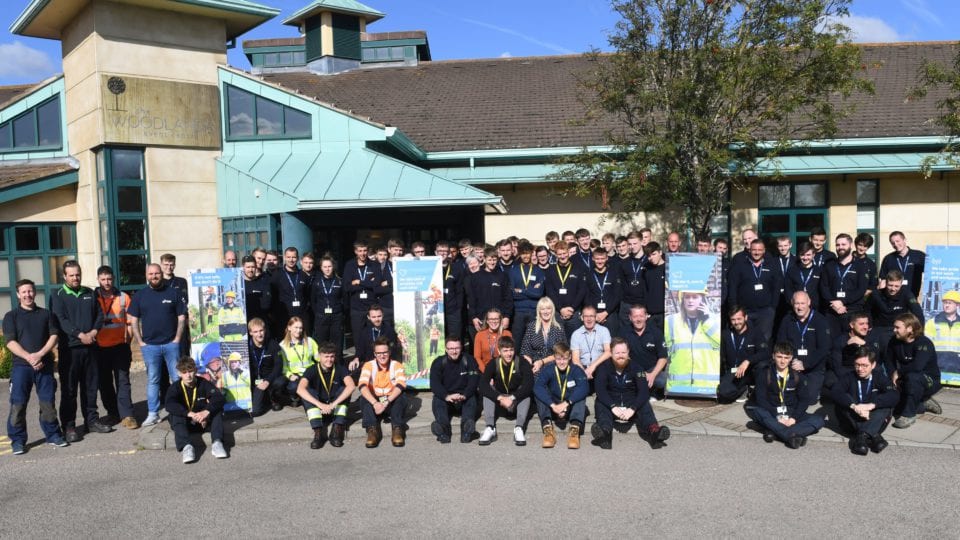 With government setting ambitious targets to achieve net zero by 2050 the new recruits will be at the frontline of efforts to decarbonise the UK; from building wind farms to maintaining flexible electricity grids to transporting more clean power.
Director of HR John Stewart said: "Young people have been at the very centre of the climate change movement and our new apprentices will play a significant role in the quest for the low carbon world of tomorrow.
"They'll be working across our businesses to maintain, manage and operate the vital green energy assets, infrastructure and support industry to help the UK meet its climate change commitments.
"Our business is investing £6bn over five years to help decarbonise the UK and Ireland and our apprentices have a bright future at the frontline of delivering net zero for future generations."
In the last five years SSE has recruited more than 650 apprentices with around £80,000 invested in the training and development of each.
SSE's apprenticeship programme sees recruits gain a range of practical and classroom-based skills and experience in a fast-changing industry.
Positions include apprentice jointers, linespersons and electrical fitters working on the electricity network in the north of Scotland and central southern England, the pylons and wires delivering green energy to customers.
One apprentice just beginning her career with SSE is Jasmine Allen from Beccles, Suffolk.
The 19-year-old is starting life as a wind turbine technician.
After leaving school, aged 16, she enrolled at her local college on an Energy Skills programme before applying to SSE's Apprenticeship Programme.
She said: "Growing up I heard all the stories about grandad's job. Seeing how people in our family talked about his work and the things he achieved I was really attracted to the practical side of work, building and making things with my hands. I've always known it's where I wanted to go.
"I was really pleased to have been accepted to SSE's Apprenticeship Programme, it's another step in a career I am really excited about.
"I've been really impressed with everyone I've spoken to in the business and the high standards they set. It really is great to think that I'll be working on the future of energy in renewables, in a challenging and hands-on environment."
UK Government Education Minister, Kemi Badenoch, said: "This is a fantastic opportunity to be at the forefront of tackling climate change in this country, and I wish all the new apprentices good luck for the future. As a former apprentice myself, I know first-hand how apprenticeships can change lives and improve businesses, so I'm really pleased to see that SSE are investing in apprenticeships and offering more young people the chance to gain the skills they need to forge successful careers."
The Scottish Government Fair Work Minister, Jamie Hepburn, said: "Following Scottish Government's announcement setting an ambitious climate change target of reaching net-zero emissions by 2045, I welcome SSE's commitment to recruit more Apprentice energy workers in Scotland to help tackle climate change. These Apprenticeships will provide employees with the right skills and training to meet current and future business needs.
"As SSE recruits the next generation of energy workers, developing Apprentices in Scotland remains key to SSE's recruitment strategy."
---
Comments
Login on register to comment