A golden age: EA Technology celebrates 50 years
From state-owned research body to market-led solutions provider, 50 years have seen EA Technology change beyond all recognition, says chief executive Robert Davies as the firm celebrates its golden anniversary.
9th September 2016 by Networks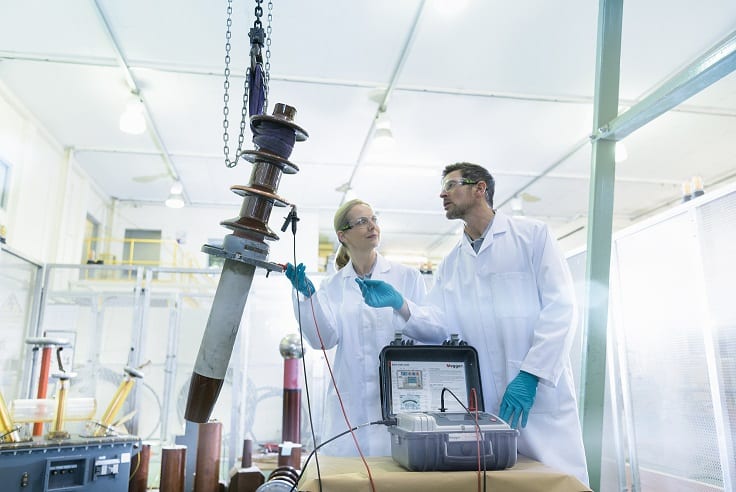 What has changed most about the way EA Technology works today compared with when it was established?
Our roots as a state-owned research centre meant that the early years of the business were shaped by a culture of intellectual enquiry and the needs of the market were often the last thing on employees' minds when developing new solutions.
Today, things could not be more different. We operate in a highly competitive market and although we still push technological boundaries, we are intent on responding directly to customer challenges. Since 2008 that has increasingly meant responding to global challenges. Today 40% of our business is international and that is growing.
What does that increased customer and market focus mean for operations?
It has transformed the way we work – and where. As opposed to primarily developing products in laboratories, a third of our business is now delivering technical services in the field. Another third is taken up with manufacturing instruments for monitoring system health and performance and the final third of our business is consulting.
It's this area which is now presenting an exciting view of how our customer focus will continue to evolve. Our work in this area is increasingly focused on the end customer – for example, assessing the impact of cluster electric vehicle installations on local networks.
This is really important for us as it is now recognised that the "edge of grid" is where most of the action is going to take place in terms of innovation in the coming years. Developing technologies for interfacing with energy users – or their intermediaries – is therefore now becoming a huge area of interest.
What are the biggest technological leaps that EA Technology has made in the past 50 years?
Our UltraTEV Range of instruments is certainly among those that have made the biggest impact. These anticipate potential failure of high-voltage network assets and direct interventions to avoid it. In some parts of the world, particularly in places like Hong Kong and Singapore, these monitoring technologies are now almost ubiquitous and are massively improving network performance.
Another innovation I have to mention is our Condition-Based Risk Management methodology. This creates a picture of the health of assets and uses this, along with a definition of the criticality of an asset, to inform decisions about where to direct investment. It's a "smart intervention" approach that has been adopted around the world as best practice.
Relatively new to our portfolio is the addition of the ALVIN range of products, which is designed to self-heal low voltage networks. This range has huge potential for growth around the world and marks a significant evolution of networks towards automation and distributed intelligence.
"It is now recognised that the "edge of grid" is where most of the action is going to take place in terms of innovation in the coming years."
How easy has it been to get new technologies and ideas into business as usual operation?
Not easy at all. But just think this through for a minute. We are selling our technologies to companies that are responsible for keeping the lights on for our communities. What we want more than anything is that they are safe and reliable networks.
To ask those companies to take risks on their networks with new technologies that may not be fully proven is indeed a big ask. Nobody would thank the utilities if their lights went out and the explanation given was that they were trying out a new technology, so we have to accept that there is cautious uptake when new solutions come along.
Sure, I'd like technology uptake to be quicker. We'd see a quicker return on our investment and would be able to plough more back into new developments, but ultimately, we have to see the bigger picture.
Ofgem has made a fantastic impact on the investment in innovation over the past decade or more. If they get the incentives right for early adoption and rollout of new technologies, then the potential for faster progress and earlier adoption is certainly there.
"I think the outsourcing of intelligent network monitoring and asset optimisation to key partners will define a new age of power system innovation."
Do you think the next 50 years will see as much change for EA Technology and the power system as the last?
No. I think both will see much, much more change than previously. The network operators we serve simply have to evolve, rapidly, as the diverse range of energy uses and sources of generation start to proliferate. How the networks interface with these diverse and distributed sources of generation as well as how they work with those co-ordinating new sources of consumption will ultimately determine their role in an emerging new market.
Similarly, EA Technology will need to transform again. We have to find investment partners to help deliver and then globally commercialise our products. We have to move towards "edge of grid" in the solutions we provide and this might mean that our customer base diversifies. I can see a world in which we have more to do with companies like Google and Amazon, for instance.
All of this change also demands that we continue to accelerate our level of innovation and find novel ways to share risk with the network operators so that we can see those innovations deployed more quickly. Service solutions will be the key here.
I think the outsourcing of intelligent network monitoring and asset optimisation to key partners will define a new age of power system innovation. We've already started delivering this internationally via our Astute HV offering and I expect this to come to the UK in a big way in the next few years.
It's a very exciting but challenging future. With 50 years now behind EA Technology, the opportunity is for us to use our heritage and maturity as a springboard to continue adapting and delivering new solutions when and where they are needed in the market. If we get it right, by attracting the right investment and talent then we can become a truly global business of significant scale and influence.
---
Comments
Login on register to comment