SP Energy Networks awards £20m green funding
SP Energy Networks has unveiled 13 projects that will receive funding from its £20 million Green Economy Fund.
14th November 2018 by Networks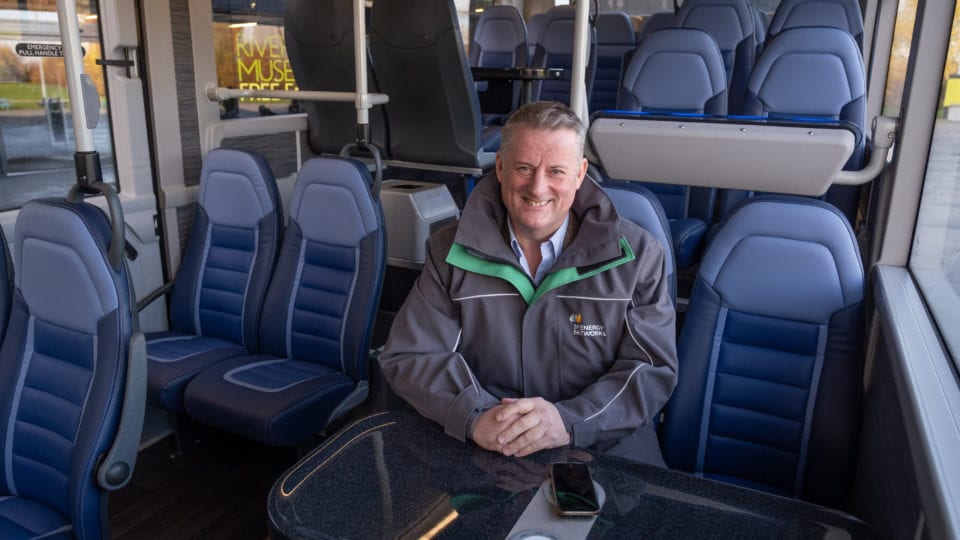 The fund, established earlier this year by the electricity network operator, supports the ambitious green targets of the Scottish Government to boost local economic growth, improve air quality in cities and deliver a better future, quicker.
Almost £6m has been awarded after the first round of funding applications – including a ground-breaking new partnership with First Glasgow, Scotland's biggest bus operator, to bring the first large passenger electric buses to Glasgow.
And in a double boost for the city's green transport systems, the Green Economy Fund will also ensure the city's only previous electric bus, which was set to stop running because of a lack of funding, will continue to operate on its popular museums route for the next three months.
In Edinburgh, a mini hydro-electric scheme on the Water of Leith at Saughton Park will also receive funding as will an innovative app which tracks electric vehicle charging points.
SP Energy Networks' CEO Frank Mitchell (pictured) said: "There are many projects, large and small, which are carrying out innovative and inspiring work to expand Scotland's green economy and accelerate local economic growth. The Green Economy Fund can provide them with the financial boost required to make great ideas a reality.
"The Scottish Government has an ambitious plan to reduce carbon emissions and to grow Scotland's use of electric vehicles and SP Energy Networks is ready to help deliver that plan. We want to promote the uptake of electric vehicles and the development of the infrastructure required; we want to help with the provision of affordable low carbon heating to address fuel poverty and we want to encourage low carbon job creation.
"But the Green Economy Fund isn't just about individual green projects; it is about creating and accelerating a green economy for Scotland – to deliver a better future, quicker. The projects that have been helped with this first round of SP Energy Networks' funding will help to do that; to make Scotland a cleaner, greener place for generations to come."
Welcoming the project funding, Scottish Government Minister for Trade, Investment and Innovation, Ivan McKee, said: "Innovation is key in supporting the decarbonisation of heat and transport – and delivering our vision of a whole energy system that works for everyone.
"Securing funding is a crucial first step for many projects, and initiatives such as the Green Economy Fund play a vital role in supporting investment in low carbon technologies. I am particularly pleased to see that the fund will target communities and social groups which may not have had the opportunity to fully engage in the transition to a low carbon economy but that deserve equal access to the benefits it can bring."
Initiatives supported by the Green Economy Fund include:
£1.5million has been awarded to establish Glasgow's first permanent electric bus routes, the M3 First Glasgow service. With support from SPT, two electric buses manufactured by Alexander Dennis will operate between Milton and Glasgow city centre serving over 200,000 passengers annually.
City of Edinburgh Council's refurbishment of Saughton Park to introduce a micro-hydro scheme to power ground source heat pumps that will, in turn, produce electricity for community facilities, the Winter Gardens glasshouse, electric vehicle charge points and park lighting.
£2.1million will support Scotland's biggest and most ambitious regeneration project, the Clyde Gateway, to create a self-sufficient local energy supply and generate income that can be reinvested into local projects and reduce fuel poverty. This will be achieved by introducing heat pump technology into its waste water treatment centre.
Community Transport Glasgow, Scotland's first civic transport organisation to be fully low carbon, replacing ageing diesel minibuses with a new fleet of electric and low-carbon minibuses to provide life-line transport for more than 75,000 elderly, disabled and vulnerable passengers.
Glasgow's council-operated 100 service which connects the Riverside Museum with Kelvingrove, the SEC and the city centre, will also receive three-months funding of £25,000 while SP Energy Networks works with the operators to find a permanent solution to prevent it from closure.
The development of WattsUp, an app to guide drivers to their nearest electric charging point. It will collate data from all of Scotland's network operators and provide real-time data on when and where to stop.
A programme of local 'smart energy' action plans and feasibility studies developed with community councils in Dumfries & Galloway, the Scottish Borders, Fife and Glasgow led by the team at Community Energy Scotland.
The Green Economy Fund focuses on the communities in which SP Energy Networks operates – central and southern Scotland – and will run for two years.
Applications are now being invited for the second round of funding.
---
Comments
Login on register to comment