Riding out the storm: Using weather data to prepare for climate change
Climate change will bring new and increasing challenges for network operators, but a new source of earth system data will help them thrive in adversity.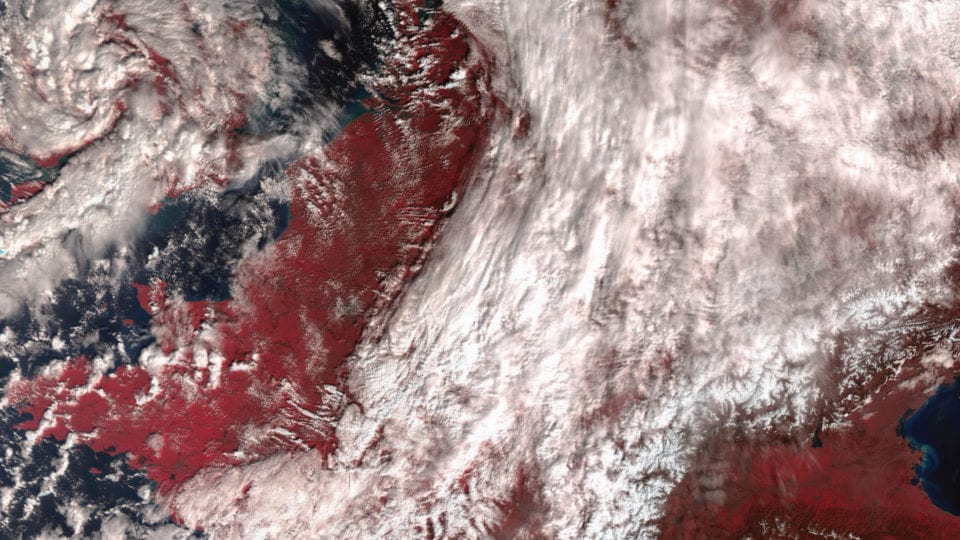 As the UK seeks to maintain a diverse energy mix, securing and prioritising investment to create the integrated, resilient grid we need for the future is essential. Climate change, pollution and severe weather can all undermine the assumptions that underpin policy and investor confidence. Faced with this, it is incumbent on the network industry to be ready.
Targeting investment in smart solutions now is vital to long-term efficiency, sustainability and security of supply.
Data could be a potent tool in fulfilling these ambitions – and Copernicus, the European Commission's Earth Observation programme, can make that data accessible and applicable for energy network operators.
The programme began in 2014 and has 4.3 billion euros of funding at its back out to 2020. It is using state-of-the art numerical models to harness the predictive power of millions of real-time readings and a century of archive data. By examining the behaviour of the Earth system (the complex interaction of processes which make up our environment) the programme is forecasting atmospheric conditions, evaluating historical trends and in future will be able to monitor and predict climate change.
The Copernicus system produces data on more than 20 climate variables, past, present and future.
Proof of concept projects working with the European Centre for Medium-Range Weather Forecasts (ECMWF) based in Reading – which operates the Copernicus Atmosphere Monitoring Service (CAMS) and Climate Change Service (C3S) on behalf of the European Commission – are already working with this data to develop predictive tools with applications across the network sector; turning data into information.
In time, it is envisioned that Copernicus data will enable seasonal predictions up to six months ahead and also customisable climate projections for key sectors.
Actionable insight for network operators
The implications for network managers, government and investors are vast. Network infrastructure is designed to last for decades, making investment a tricky balance between immediate need and long-term planning. Planning effectively not only involves social and economic considerations, such as the impact on communities and preventing stranded assets, but has long-term implications for sustainability and security of supply.
The information Copernicus provides could support the selection and management of generation sites, assist with day-to-day balancing, offer insight into the likelihood of faults, as well as help the sector assess risk due to extreme weather (wind, flooding, lightning, solar heat) – all to inform investment policy.
For example, by harnessing insight into the probability of adverse weather conditions where grid infrastructure is planned, climate data could help companies make the case for undergrounding or reinforcement during price controls.
Weekly atmospheric forecasts are already allowing planners to assess the likely yield of solar generation and solar panel maintenance needs. In future, climate projections could help provide the evidence base to invest in storage to reinforce security of supply, make the most of low carbon generation and prevent assets from becoming stranded.
What comes next?
All the data that underpins the Copernicus programme is already available free to network companies. In addition, a number of services are already in development to transform this raw data into user friendly information. These include:
• CLIM4ENERGY. Producing seasonal climate forecasts with a focus on the energy sector to predict generation yield and assist with balancing.
• European Climatic Energy Mixes (ECEM). Developing a demonstrator to help the energy industry and policymakers assess how well different energy supply mixes will meet demand in future.
• Windstorm Information Service (WISC). Building a database of windstorm tracks and outline indicators of exposure and vulnerability, aimed primarily at the insurance sector.
There is now an opportunity for companies to shape this work at the developmental stage.
Climate change, changes to the composition of our atmosphere, extreme weather and the evolution of the UK generation mix are all realities that the networks community must face.
Winter storms regularly leave thousands without power, while wind power is still regularly constrained off the grid. However, data and the climate indicators it can provide have the potential to transform the knowledge base that companies use to plan for the future.
The UK government has identified that more than £40 billion in investment could be required in energy networks in the next five years. There is both a moral and economic imperative to ensure that it is well spent. Climate data provides that opportunity.
---
Comments
Login on register to comment