Innovation delivered
The pace of change across the UK's gas, power and heat networks continues to advance. At the heart of this change lies collaboration and innovation. With this in mind editor Alec Peachey spoke to UK Power Networks head of innovation Ian Cameron about the work the network operator is doing.
9th June 2019 by Networks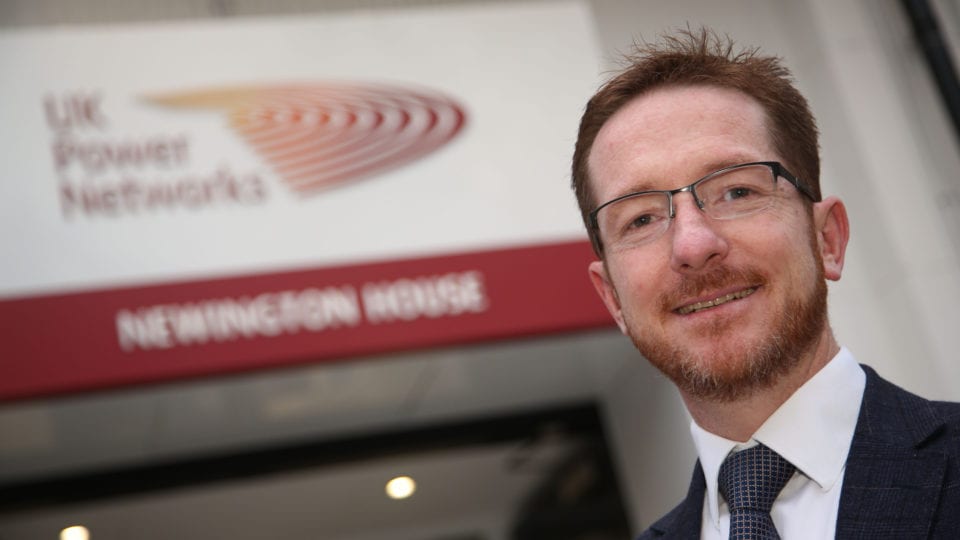 Measuring the impact of innovation is never easy, but it's something that UK Power Networks take very seriously. Delivering value to customers is a key measurable of the innovation team and with so many projects live at any one time it is easy to see the benefits that are being brought about.
Speaking to me at UKPN's head office in London, Cameron said: "We've got about 30 people doing around 50 live projects at any one time. The portfolio flexes as new projects come in and out. The value of that is around £65 million flowing in the portfolio at any one time."
Of the 30 people in the innovation team, just four are electrical engineers. According to Cameron this reflects the changing nature of the sector.
"I've got chemical engineers, data scientists. What I do is I take a problem from the asset teams and give it to a diverse bunch of people, and they come up with a bunch of solutions. I call it reverse learning.
"One example is transformers – a really passive asset. We asked how do we get more out of these assets. We employed a data scientist to take a look. We only knew the heat at the top of the transformer because we've got a probe at the top. What we're really worried about is the winding on the inside that gets hot. He said can't you do a correlation calculation. I said what does that mean in terms of value?
"We decided to measure eight sites with probes at the top. We gathered a lot of data, looked at the load, and created an algorithm that proves there's a correlation between the top of the tank oil temperature and the winding. He said you can push that transformer harder if it's a bit cooler. I would never have got that discussion going without that type of human in my team."
Cameron, who has been head of innovation since late 2016, explains the mandate he was given by chief executive Basil Scarsella when he took over.
"When I took over my mandate was to create pace, bring value, deliver impact and take credit. Those are the ultimate things that we are trying to achieve."
So how does the company measure the impact of innovation?
"First off you aim to deliver the most value to customers," states Cameron. "Well how do you measure that? That's E6 in your environmental table. There's a regulatory table where you provide evidence of the savings. We've saved £149 million in the first three years of ED1. What does business impact look like? That's the measurement of how many innovation solutions you take forward and deliver into the business. We sit at 22 (at the time of the interview), which is probably double any other network now. It's about the pace of transition, taking a good idea and turning it into something in the business that delivers benefits as fast as you can."
Before being called the innovation team the team were known as Future Networks. It is something that Cameron wanted to change.
He said: "It bugs me because everyone talks as if we're only preparing for the future, but we're there already. Ultimately, I took the team over and the mandate was innovation, value today and staying ready for the future. Future Networks had been around since 2010 and it needed a refresh because it was focused on what's called white coat, research and development (R&D), and had too much future focus. Basil likes a balance. He wants value for customers, and he'd like us to be ready for the future – to be leading the way and demonstrating what that looks like. There's a balance and the way we deliver that in our business is through our innovation strategy. Innovation is a key support function."
Highlighting innovation
During our time together Cameron refers to several innovation projects that the operator has been working on.
Earlier this year the company put on an innovation showcase at the Institution of Engineering and Technology in London to highlight a range of cost-saving projects.
Funding from Ofgem's Network Innovation Allowance (NIA) and Network Innovation Competition (NIC) plays a central role in many of the projects, with almost £149m saved through the deployment of cost-saving technology since 2015.
Whether or not these funding mechanisms remain during RIIO2 in their current form is a question that's still up for debate.
"Under NIA, if you have a look at the portfolios registered on the smarter networks portal, you'll see a fairly good balance that says it's about bringing value to customers today," remarked Cameron.
"Of the £149m, about 70 per cent is the NIA value. The key message is that the stimulus needs to continue. The way it comes is the question. What we as networks have got to do is clearly show the value that innovation has brought. There's inconsistency in this. That's the challenge – we need greater consistency from networks in the way we report and demonstrate the value of that fund. We spend a lot of time submitting these reports to show the true value of what this team are doing. Innovation is a business at UKPN. The input needs to be lower than the output. You need to save money out of it and then share it with customers."
Cameron talks about putting a stamp on any innovation projects that benefit customers at the lowest possible cost without compromising safety, network capacity or efficiency.
"It's about 'innovation delivered'," he comments. "We aim to brand these projects. If you develop a solution put a logo on it because it's about innovation delivering value to customers and businesses now."
One example of a project that the operator is working on is Optimise Prime – a trial which will bring together leading power, technology, fleet and transport companies to test and implement the best approaches to the EV rollout for commercial enterprises.
Led by global data technology solutions provider Hitachi Vantara and UKPN, the trial will see up to 3,000 electric vehicles from Centrica, Uber and a large UK depot-based parcel carrier take to the road, supported by distributor Scottish and Southern Electricity Networks, Hitachi Europe and Hitachi Capital Vehicle Solutions.
Cameron said: "For electric vehicle fleets it's no longer a case of the tipping point, but rather the jump point, because when large-scale commercial electric vehicle operators decide to switch from petrol or diesel to electric the impact will be instant. There's incredible potential to improve the air quality of our towns and cities and we want to help that happen at the lowest possible cost to our customers."
Although innovation at UK Power Networks is continuing at pace, Cameron does offer a note of caution about the future, using a 'dumb middle' analogy to explain his thinking.
He said: "We have a great brain – that's our advances in the control room, Active Network Management and Distributed Energy Resource Management (DERMS).
"We have our running shoes on – that's the smart meters in our homes and grid edge technology like smart appliances, domestic storage and smart EV chargers.
"But we have a 'dumb middle' – that's the love handles. It's the substations and transformers that need to get smart."
So, what does he think the network of the future will look like?
"It's going to look more like it is today than it was five years ago, but it's going to look different. It's going to be system operation first and at the same time keeping the asset base strong and resilient. It's a good mix. Strategically it's going to require a bit of business and structural change, which you'll find if you talk to any network.
"Systems are smart, but we've got to sort out that love handle. The passive middle has to be dealt with to help make the whole system smarter."
---
Comments
Login on register to comment